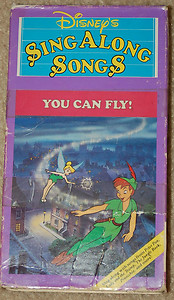 Disney Sing Along Songs: You Can Fly! is a Disney Sing Along Songs video released on February 2, 1988. Notably the first video in the series to feature Professor Ludwig Von Drake as the host, all of the featured songs are either about flying or taking place in various nations.
Songs
Little Black Rain Cloud (Winnie the Pooh and the Honey Tree or The Many Adventures of Winnie the Pooh)
You Can Fly Reprise
Trivia
Released in 1988 to mark the 35th Anniversary of Peter Pan.
When Ludwig introduces the first song, You Can Fly, a scene from From All of Us to All of You for the intro has been revealed.
†He's a Tramp was cut from the 1994 print and the 2006 DVD, but was retained in the Spanish version.
Known as Peter Pan: Voloras, Voloras in Spanish, released in Spain and the United States. When the Spanish version was released around 1993, He's a Tramp was still on the Spanish version even though it got cut in the English version.
Known as Peter Pan: Tu T'Envoles in French, released in France and the United States.
Scenes from Fly with Von Drake and Carnival Time have been used for this video such as Ludwig attempting to "fly like Peter Pan" before the reprise of You Can Fly plays.
With the Talents of
Uncredited
Julie Andrews - Mary Poppins (archive footage)
James Baskett - Crow (archive footage)
Edward Brophy - Timothy Q. Mouse (archive footage)
Jim Carmichael - Crow (archive footage)
Bob Holt - Mr. Codfish (archive footage)
Hall Johnson - Crow (archive footage)
Tommy Luske - Michael (archive footage)
The Mellomen - Dogs in pound (archive footage)
Nicodemus Stewart - Crow (archive footage)
Gallery