Hi Wikians! This is the page for Image Organization, or how to categorize images. This focuses on the cluttering of the images on the Disney Wiki with the goal in categorizing all present photos within articles and galleries, as well as potential photo uploads. Because the wiki image selection is vast and large, this requires active user participation in adding images in every available page to a certain image category while simultaneously renaming ones that need a proper name. 
Main Image Categories
Example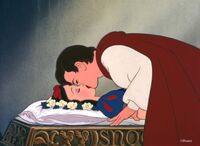 An image like this is a screenshot that came from a film. Thus, it goes under "Images from movies." However, because it's from a specific production, it also goes under "Snow White and the Seven Dwarfs" images.
Note: Some image categories can be used more than once for a specific set of images (i.e. Covers and Print images for comics)
Community content is available under
CC-BY-SA
unless otherwise noted.