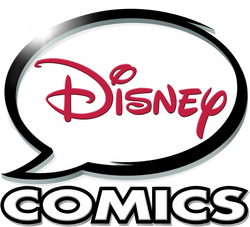 Disney comics are comic books and comic strips featuring Disney characters.
The first Disney comics were newspaper strips appearing from 1930 (with the exception of Mr. George's Wife, a primitive comic strip by Walt Disney made in the early 1920s). In 1940, Western Publishing began producing Disney comic books in the United States. The most notable American Disney comics books are Walt Disney's Comics and Stories and Uncle Scrooge.
In recent decades, Disney comics have seen a decline of popularity in their country of origin. However, in the rest of the world Disney comics remain very successful, especially in Europe.
Production by country
Comic strips
The first Disney comics appeared in daily newspapers, syndicated by King Features with production done in-house by a Disney comic strip department at the studio. The Mickey Mouse daily comic strip began on January 13, 1930, featuring Mickey as an optimistic, adventure-seeking young mouse. A Sunday strip started January 10, 1932 with a topper Silly Symphony strip.
Silly Symphony initially related the adventures of Bucky Bug, the first Disney character to originate in comics. It subsequently printed adaptations of some of the Silly Symphony cartoons; several extended periods of stories involved Pluto and Little Hiawatha, along with adaptations of Snow White and Pinocchio.
Donald Duck made his first comics appearance in the Silly Symphony adaptation of the 1934 Disney short The Wise Little Hen, which ran from September 16 through December 16, 1934. As Donald's popularity grew, he became the star of the Silly Symphony strip for an extended run (August 1936 to December 1937), and then got his own daily strip starting on February 7, 1938. A Donald Sunday strip began December 10, 1939.
An oddity in the 1930s was that a Disney strip was done seemingly outside the purview of the Strip Department for a national audience. It was created by Fred Spencer, an animator at the studio. Entitled "Mickey Mouse Chapter", it appeared in the International DeMolay Cordon, the monthly newsletter of Demolay beginning with its December 1932 issue through May 1933 (except March 1933). This was a two-tier black and white strip depicting happenings in the Demolay Chapter formed by Mickey and his barnyard friends. Spencer and Walt Disney were both members of Demolay. While the last installment promised the series would return in the September 1933 issue, it inexplicably did not. The extant installments have been reprinted as part of the first volume of Sunday Mickey Mouse comic strips by Floyd Gottfredson, published in 2013 by Fantagraphics.
The Silly Symphony Sunday-only strip ended July 12, 1942. It was replaced with an adaptation of Bambi (no longer a topper to the Mickey Sunday strip), after the conclusion of which (beginning October 11, 1942) a José Carioca Sunday only strip was launched which ran until it in turn was replaced by Uncle Remus in 1945.
Initially, Floyd Gottfredson, aside from doing the Mickey comic strip, oversaw the Disney comic strip department from 1930 to 1945; Frank Reilly was then brought in to administer the burgeoning department from January 1946 to 1975. Greg Crosby headed the department from 1979 to 1989.
Besides the strips described above the other Disney strips distributed over the years included:
For the first eight months, Scamp had continuity and was written by Ward Greene, the King Features editor whose short story and novelization contributed to the development of the storyline for Lady and the Tramp. Advance publicity for the strip noted Greene's participation and the strip carried the byline "By Ward Greene". Disney historian Jim Fanning notes Scamp likely is "the only strip written by the original author of the work from which it sprang".
Sunday strips adapting Cinderella and Alice in Wonderland were distributed as stand-alone specials in 1950 and 1951, respectively. The following year the Sunday adaptations of Disney films began being issued under the title Treasury of Classic Tales as part of an ongoing strip.
Beginning in 1960, a special daily strip with a holiday theme utilizing the Disney characters was offered each year through 1987. It generally ran for three weeks with the concluding strip appearing on December 25, often promoting the latest Disney release or re-release. These were unique in that they in some cases showcased crossovers of Disney characters that otherwise rarely interacted (e.g. the Big Bad Wolf and the fairies from Sleeping Beauty). The tradition was revived in the mid-1990s to publicize contemporary Disney feature animated films: Beauty and the Beast (1992), Aladdin (1993), The Lion King (1994), Pocahontas (1995), The Hunchback of Notre Dame (1996), and The Little Mermaid (for its 1997 re-release). Newspaper Enterprise Association offered a similar holiday themed special strip from 1936 to 2010.
Among the artists working on the Disney comic strips were Floyd Gottfredson (Mickey Mouse, Treasury of Classic Tales, holiday), Roman Arambula (Mickey Mouse), Rick Hoover (Mickey Mouse, Gummy Bears), Manuel Gonzales (Mickey Mouse), Bill Wright (Mickey Mouse, Uncle Remus), Ted Thwaites (Mickey Mouse), Riley Thomson (Uncle Remus), Chuck Fuson (Uncle Remus), John Ushler (Treasury of Classic Tales, Scamp, Uncle Remus, holiday), Carson Van Osten (Mickey Mouse), Al Taliaferro (Donald Duck), Frank Grundeen (Donald Duck), Al Hubbard (Donald Duck), Kay Wright (Donald Duck), Ellis Eringer (Donald Duck), Dick Moores (Uncle Remus), Paul Murry (Jose Carioca, Uncle Remus), Daan Jippes (Donald Duck, Mickey Mouse), Tony Strobl (Donald Duck, holiday), Jim Engel (Mickey Mouse), Ken Hultgren (Mickey Mouse and His Friends), Julius Svendsen (Mickey Mouse and His Friends, Treasury of Classic Tales), George Wheeler (True Life Adventures), Jesse Marsh (Treasury of Classic Tales), Richard Moore (Winnie the Pooh), and Bob Grant (Merry Menagerie). Writers included Merrill De Maris (Mickey Mouse), Ted Osborne (Mickey Mouse), Bill Walsh (Mickey Mouse, Uncle Remus), Bob Karp (Donald Duck, Merry Menagerie), Carl Fallberg (Treasury of Classic Tales, holiday), Frank Reilly (Treasury of Classic Tales, holiday), Milt Banta (Mickey Mouse and His Friends), Roy Williams (Mickey Mouse and His Friends), George Stallings (Uncle Remus), Jack Boyd (Uncle Remus), Dick Huemer (True Life Adventures), Don Ferguson (Winnie the Pooh), and Floyd Norman (Mickey Mouse, holiday). Norman in an article listed the writers working in the comic strip department in the 1980s and mentions Cal Howard, Del Connell, Bill Berg (Donald Duck, Scamps), Don Ferguson, Tom Yakutis, and Bob Foster and notes that their boss, Greg Crosby, had gotten his start as a writer for the strips before moving into management.
In 1990, the Donald strip was discontinued, and Disney closed its comic strip department. The Mickey strip continued, supervised by King Features with Floyd Norman as the writer and Rick Hoover as the artist. Norman convinced the syndicate to allow him to drop the gag a day format in favor of adventure continuities of up to four weeks, much in the style of the classic Gottfredson era. By 1994, the strip was running in only 30 newspapers and by mutual agreement of Disney and King Features it ended.
Currently, reprints of Merrie Menagerie are a regular feature of Disney Newsreel, a bi-weekly magazine for Disney employees in Southern California. Disney's fan-oriented website D23 daily posts an installment of the Scamp strip with links to an extensive archives of past installments (which includes the Mickey and Donald strip). Among the regular features of the quarterly Disney Twenty-Three magazine for D23 members is "The Funny Pages", a section reprinting classic Disney comics strips.
In recent years, Creators Syndicate has offered reprints of the Donald Duck, Mickey Mouse and Winnie the Pooh strips as part of a "classics" package and posts the current strip on its site (without archiving). Domestically the strips have 20-30 clients at any one time; they also appear in many newspapers outside the United States (exact number unknown).
Comic books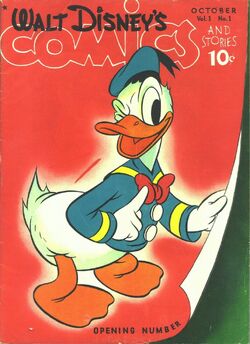 Notable American Disney comic book writers and artists include Carl Barks, Tony Strobl, Paul Murry, William Van Horn, and Don Rosa. Van Horn and Rosa now work for European publishers.
Disney comic book titles published in the USA have included:
Of the numerous titles, Walt Disney's Comics and Stories, Mickey Mouse, Donald Duck, and Uncle Scrooge are considered the "core four" titles of any Disney comic book line.
Publishing history
Comic book publisher Western Publishing brought the Disney strips to comic books in 1940, through Dell Comics Four Color title. The Four Color books reprinted a variety of newspaper strip material, and issue #4 featured a selection of Donald Duck strips. The Disney reprints were a big seller, and encouraged Western to convert Mickey Mouse Magazine [third series] (which had included comics along with text stories, poems, jokes, puzzles, games, and full-page illustrations) into a full-fledged comic book, Walt Disney's Comics and Stories, whose first issue was dated October 1940 and by the mid-1950s was the best selling comic book in America with a circulation hovering around three million a month (with the highest level reached being 3,038,000 for the Sept. 1953 issue). In addition many releases in its popular Big Little Books series adapted Disney comic book and comic strip stories.
By the late-1950s, relations between Dell and Western had become strained. Former Western writer Mark Evanier states part of this was due to "... a small battle going on between the two companies over the ownership of properties in non-licensed comics." Eventually in 1962, Western ended the partnership and continued their comic book line under the Gold Key Comics label. Comic book historian Joe Torcivia has dubbed the mid-1960s "... a period of creativity for Western Publishing's Disney line not seen since its formation, and never seen again."
By the 1970s, Disney comics were undergoing a steep decline in circulation, with newsstand distribution discontinued in 1981. Western thereafter released its comics under the Whitman label, distributing them to candy stores and other outlets in bags containing three comics and also eventually distributed them to the emerging network of comic book stores. Western ceased publishing comics in 1984.
Starting in 1986, Disney comics in the USA were published Gladstone Publishing (a subsidiary of Another Rainbow Publishing dedicated solely to Carl Barks). Impressed by Gladstone's unanticipated success, Disney revoked their license in 1990 to publish the comics themselves under the subsidiary of Disney Comics. A large expansion was planned; however, following the Disney Implosion in 1991, Disney gradually returned licensing to Gladstone again (for the classic characters) and Marvel Comics (for the modern characters). Respectively, reprints of classic Barks stories were licensed to Gladstone again from 1991, while it took Gladstone until the demise of Disney Comics in 1993 to fully regain the license for other stories containing the classic characters. Gladstone from then on remained publishing Disney comics until 1998.
Between 1999 and 2005, Dark Horse Comics published occasional comic adaptations of new Disney movies.
In 2003, after a couple of years' hiatus, regular publication of the "core four" titles was restarted by Gemstone Publishing, a reformed version of Gladstone. However, the license was not renewed with the last releases dated November 2008.
In the later half of the 2000s, Disney licensed some of their modern properties to Slave Labor Graphics (Gargoyles) and BOOM! Kids (The Muppet Show and Pixar films). Boom! later obtained the license for the "core four" titles, and began publishing them in 2009. Boom! expanded their Disney portfolio in 2010-11 by launching three new titles based upon the 1990s Disney Afternoon programming block (Darkwing Duck, Chip 'n Dale Rescue Rangers, and DuckTales), to surprising success. However, in August 2011, it was announced that Disney was to end licensing to Boom! in October of that year, and would team up with the recently-acquired Marvel Comics instead, leaving the future of comics including their classic characters as well as those from the Disney Afternoon format uncertain.
During Boom!'s run with the license, Disney also began publishing a bimonthly/monthly magazine based on Phineas and Ferb, featuring comic stories based on the show. Distribution of the magazine eventually switched to Redan Publishing in 2014. The magazine ended publication in February 2015, after which a Frozen magazine took its spot.
In October 2014, it was reported that Joe Books, a small new Canadian publisher founded by former BOOM! vice president Adam Fortier, had acquired the rights to a "remastered" omnibus reprint of BOOM!'s entire Darkwing Duck comic series that would lead into an all-new on-going Darkwing Duck series produced by Joe Books. Joe Books has also acquired the full North-American comic license to all Disney animated and live-action properties,[1][2] with the exception of the "core four" titles. Walt Disney's Comics and Stories, Mickey Mouse, Donald Duck, and Uncle Scrooge were instead licensed to IDW Publishing, who would be focusing on reprints of European Disney comics with these characters by artists such as Marco Rota and Romano Scarpa.[3] The rights to North American reprints of Floyd Gottfredson, Carl Barks, and Don Rosa comics are currently (as of 2016) held by Fantagraphics Books. Marvel, meanwhile, currently publishes a new series of comics based on the Disney theme park attractions, titled Disney Kingdoms, and also (re)gained the license to Star Wars after Disney purchased Lucasfilm and its previous contract with Dark Horse expired.
The Disney Studio launched Kingdom Comics division in May 2008 led by writer-actor Ahmet Zappa, TV executive Harris Katleman and writer-editor Christian Beranek. Kingdom was designed to create new properties for possible film development and reimagine and redevelop existing Disney library movies with Disney Publishing Worldwide getting a first look for publishing.
Disney Studio Program
From 1962 to 1990 the Walt Disney Studio had a unit producing comic book stories exclusively for foreign consumption, in response to complaints of foreign comic book licensees that Western Publishing was producing less stories they could reprint plus their voracious need for material (some European titles are weekly) was using up the available inventory of stories. George Sherman, head of Disney's Publications Department at the time, hired Tom Golberg to run the program. Sherman noted the purpose of the program was "We [will] use new characters in our foreign comics, characters that we don't have [in the USA].... to bring out facets of existing characters, [and to] give the stories more variety." Tony Strobl, Cliff Voorhees, Al Hubbard, Jack Bradbury, Carson Van Osten, Ellis Eringer, and Romano Scarpa were among the artists during its early years; Carl Fallberg, Floyd Norman, Cecil Beard, Dick Kinney, Diana Gabaldon, and Mark Evanier were among those who at some point did scripts for it. From the late 1970s on, the Jaime Diaz Studios of Argentina drew most of the stories. In a few instances studio program stories were reprinted in the United States in promotional giveaways of Gulf Oil (Wonderful World of Disney) in the late 1960s and Procter & Gamble (Disney Magazine) in the mid-1970s. Mickey and the Sleuth stories were published by Gold Key in Walt Disney Showcase #38, 39, and 42 (1977-1978). Besides the Sleuth other characters created for the program include Donald's cousin Fethry Duck and the hillbilly hermit Hard Haid Moe. Also, while Carl Barks created John D. Rockerduck, he used the character only in a single story ("Boat Buster", Walt Disney's Comics and Stories #255, Dec. 1961) while the program subsequently created numerous stories with the Scrooge McDuck rival and helped refine him (along with stories by Brazilian and Italian Disney comic book licensees).
Domestic printing of studio program stories ceased being a unique event starting in the late 1980s as the Disney comics published by Gladstone and Gemstone have featured them on a regular basis, along with reprints from Gold Key/Dell and material produced by foreign licensees.
This program was merged into Disney Comics and was the precursor of the comics that subsequently appeared in Disney Adventures.
Denmark
Danish publisher Egmont (previously Gutenberghus) has one of the largest productions of Disney comics in the world. This production is not only for Denmark proper, but nearly identical magazines are being published simultaneously every week for all the big Nordic countries, with much material also exported elsewhere. The Danes started publishing their own series in the early 1960s, however, a large part of Egmont's production have been made by foreign artists such as Vicar and Daniel Branca. The Scandinavian countries are among the countries in which Donald Duck is more popular than Mickey Mouse.
Germany
Though Mickey Mouse was a famous movie character in Germany since his first appearance in 1929, no regular comic books were produced until the 1950s. Initially, a few comic strips were published in some German newspapers, e.g. the Kölner Illustrierte Zeitung. The only regular publication in German language was the Swiss Micky Maus Zeitung published by Bollmann in 1937, but it lasted only for 18 issues. As the Nazi government did not like comic books at all, in the Third Reich there were almost no Disney comic books.
After World War II the Ehapa Verlag in Stuttgart, West Germany, a subsidiary of Danish Egmont Publishing (then Gutenberghus) started in September 1951 the monthly publication Micky Maus, a format similar to Walt Disney's Comics & Stories. From the start it featured stories by Carl Barks, translated by chief editor Dr. Erika Fuchs. The comic book was published on a bimonthly basis 1956/57 and from 1958 on it changed into a weekly. Renamed Micky Maus Magazin it is still published today from the now Berlin located Egmont Ehapa publishing company and thus is the longest running German comic book. In its heyday (early 1990s) its weekly circulation number rose up to one million copies. Since then it dropped down to ca. 180.000 today. In spite of the name, most stories of Micky Maus feature Donald Duck as he is the most popular Disney character in Germany.
Many other titles were/are published by the same company, most notably Die tollsten Geschichten von Donald Duck (1965-today), the Lustige Taschenbuch (1967-today, mainly Italian stories from Topolino and I Classici di Walt Disney; see Donald Duck pocket books, of which both Topolino and Lustiges Taschenbuch are national versions) and many others.
In socialist East Germany (1949-1990), no Disney comics were printed.
Italy
The first Italian Disney comics was published already in the early 1930s, and Federico Pedrocchi wrote and illustrated the first long Disney comic as early as in 1937. Italy is the country of origin for some of the most famous Disney comic artists, including Romano Scarpa, Giorgio Cavazzano, and Giovan Battista Carpi. Italy has introduced several new characters to the Disney universe, including Donald's superhero alter ego Paperinik. Production was handled by Arnoldo Mondadori Editore (commonly referred to as just Mondadori) from 1935 until 1988, when Disney Italy took over.
Topolino is the main Italian Disney publication.
Italy is also behind the digest-sized format used in the long running Donald Duck pocket book series.
Recently, Disney Italy has launched several new lines, including PK (a comic book version of Paperinik aimed at a slightly older audience), W.I.T.C.H., and the comics published under the imprint Buena Vista Comics (including the original Monster Allergy comic series and a few other titles, such as Kylion and a comic inspired by the Alias TV show).
The Netherlands
Also the Netherlands (current publisher: Sanoma) has a significant school of Disney comics. The first Dutch Disney comics appeared in 1953. In 1975, Daan Jippes became the art director for production of these comics, and created a heavily Barks-inspired line that remains the best-known Dutch Disney style. Donald Duck is the most popular Disney character in the Netherlands, but Sanoma also produces comics starring lesser-known characters such as Li'l Bad Wolf.
France
French-produced stories started in 1952, as a one-pager comic published in each issue of the Le Journal de Mickey, drawn by Louis Santel (Tenas) and written by Pierre Fallot. After a few issues, a new series started (Mickey à travers les siècles) and continued up to 1978, drawn almost entirely by Pierre Nicolas and written by Fallot and Jean-Michel le Corfec.
Later in the beginning of the 1980s, a new production started, led by Patrice Valli and Pierre Nicolas as editors with adventures of Mickey Mouse, Uncle Scrooge, Donald Duck. Among the best artists, one recalls Claude Marin, or Claude Chebille (known as Gen-Clo), and Italian artists like Giorgio Cavazzano. Some of the best writers were Michel Motti and Pierre-Yves Gabrion. In the late 1980s up to now, an increasing number of Spanish artist from the Comicup studio provided the art, while the writing stayed to French authors.
Brazil
In Brazil, through the publisher Abril, national stories have been published since the 50's, with artists like Jorge Kato, hugely inspired by Carl Barks. In the '60s and '70s, Renato Canini drew a number of stories in a style inspired by the popular design of the era. He also developed a universe around José Carioca, a very popular character in Brazil. In the '70s and '80s, Abril intensified the production. Except for José Carioca, recurring characters in the production included Daisy (turned feminist) and Fethry Duck. Among the most prolific authors, were the writer Arthur Faria Jr. and the artist Irineu Soares Rodriguez.
Initially "O Pato Donald" (Donald Duck title) was published in comic book format, from the # 22 began to be published in digest-sized format.
At the end of the 90's, the Brazilian production ceased, to start up anew for a short while in the 2000s. Recently, only a few stories are produced for special events.
Brazil are also known to have retained many "obscure" characters, largely forgotten elsewhere.
Egypt
One of the most famous comics in Egypt is Mickey Mouse. In 1958 Mickey Mouse was introduced to the Arab world through another comic book called "Sameer". Mickey Mouse became so popular in Egypt that he got a comic book with his name. Mickey's comics in Egypt are licensed by Disney and were published since 1959 by "Dar Al-Hilal" and they were a big hit, but unfortunately Dar Al-Hilal stopped the publication in 2003 because of problems with Disney, luckily the comics were re-released by "Nahdat Masr" in 2004 and the first issues were sold out in less than 8 hours. Beside the publish of the weekly magazine, two monthly magazines are published: SuperMickey and Mickey Geib "Pocket Mickey" (A pocket sized magazine).
Others
The Mickey Mouse Weekly Story (overview of foreign Disney comics' history)
Argentina, (Luis Destuet in the 1940s and 50s, some stories reprinted in Brazil and Italy)
Yugoslavia, (Vlastimir Belkic, 1930s)
Other countries produced a few rare stories of their own, Finland (Winnie the Pooh), Belgium (by Louis Santel), Australia (one known gag, actually drawn by us born artist), Sweden (1930s, remakes of British stories)
Many other countries produced covers and illustrations by various local artists like Spain or Norway.
Japan: many original Disney comics by American or European authors such as Carl Barks, Joaquín Cañizares Sanchez or Flemming Andersen have been entirely re-drawn by Japanese artists for local publication. The Italian, manga-inspired, original W.I.T.C.H. was submitted to the same kind of treatment, giving birth to a Japanese-exclusive adaptation with art by Haruko Iida and published by Kadokawa Shoten. Recently, Japan has produced more original Disney material, such as the manga adaptation of the videogame Kingdom Hearts by Shiro Amano, published by Bros Comics EX (and later translated in English by Tokyopop) or Jun Asaga's adaptation of Tim Burton's The Nightmare Before Christmas (originally published by Kodansha, English version by Disney Press).
Chile: the pre-war "Álbum Mickey" series contains various short strips that are possibly locally produced, according to Inducks, as well as some Zorro stories in the 1970s.
India: Reprints of Disney comics were published as Disney Today by LM Comics in the Hindi and English languages.
Vietnam: Donald và bạn hữu (Vietnamese for "Donald and friends") is a bilingual weekly Disney comics magazine in Vietnamese and English published by Tre Publishing House in co-operation with The Saigon Times under license from the Walt Disney Company since 1998.
Story code
Most Disney comic stories carry a story code. This is a code written on the first page of the story (usually in the panel margin). The first letter of the code usually indicates who produced the story. For instance stories done for the studio program carried story codes that began with the letter S, thus the code for the first Mickey and the Sleuth story ("The Case of the Pea Soup Burglaries") is S 75164.
When a licensee decides they wish to reprint stories originally produced by another licensee and need films or other reproducible materials to facilitate said reprinting, the request is made making reference to the story code. It is the policy of Disney that all licensees must cooperate in the facilitating of such reprinting by providing the reproducible materials at cost. The codes are also a useful tool for indexers, especially those wishing to keep track of the diverse output of the various Disney comics publishers worldwide (c.f. entry on the I.N.D.U.C.K.S. database).
I.N.D.U.C.K.S. Database
I.N.D.U.C.K.S. is a freely available database aiming to index all Disney comics ever printed in the world. The project started in 1992; today, the database lists Disney publication, stories, characters, authors, over sea publication of stories in countries that are not known to have ever produced any stories such as Iceland and much more. Most people use the I.N.D.U.C.K.S. through a search engine, browser and website abbreviated COA, which is daily updated based on I.N.D.U.C.K.S. data, and is available in a dozen languages.
Notable writers and artists
Pete Alvarado
Pat Block
Geoffrey Blum
Luciano Bottaro
Daniel Branca
Renato Canini
Rodolfo Cimino
Luis Destuet
Jaime Diaz Studio
Byron Erickson
Enrico Faccini
Arthur Faria Jr.
César Ferioli
Antoni Gil-Bao
Jonathan Gray
Jan Gulbransson
Paul Halas
Mau Heymans
Al Hubbard
Lars Jensen
Daan Jippes
Vic Lockman
Pat & Carol McGreal
Corrado Mastantuono
Verci de Mello
Freddy Milton
Dick Moores
Francisco Rodriguez Peinado
Stefan Petrucha
Miquel Pujol
Irineu Soares Rodrigues
Ivan Saidenberg
Guido Scala
Gérson Teixeira
Massimo De Vita (son of Pier Lorenzo, see Italian Wikipedia: Massimo De Vita)
Pier Lorenzo De Vita (father of Massimo, see Italian Wikipedia: Pier Lorenzo De Vita)
Victor Arriagada Rios, "Vicar"
Bill Walsh
References
External links
| | |
| --- | --- |
| | This page uses content from the English Wikipedia. The article or pieces of the original article was at Disney comics. The list of authors can be seen in the page history. As with Disney Wiki, the text of Wikipedia is available under the GNU Free Documentation License. |
Community content is available under
CC-BY-SA
unless otherwise noted.