Disney on Ice: Dream Big is a Disney on Ice show which debuted on 2000 as Disney's Jungle Adventures on Ice and then was rethemed to Princess Wishes on September 1, 2006 and then Princesses & Heroes.
As of November 6, 2020, it is the first show to resume after being cancelled due to the COVID-19 pandemic. But as of February 2021, it got cancelled due to the COVID-19 spike.
Synopsis
Jungle Adventures
Mickey and the gang are taking a Jungle River Cruise through three of Disney's popular animated films like: The Lion King, Tarzan and The Jungle Book. Set in an exciting, adventurous, and exotic place - The Jungle!
Princess Wishes, Princesses and Heroes, and Dream Big
Princess Wishes shares abbreviated versions of the stories of popular Princess characters, including Snow White, Belle, Jasmine, Cinderella, Tiana, Aurora, Rapunzel, and Ariel, and Anna and Elsa with Tinker Bell and her fairy friends serving as the presenter of the show. During the number "Under the Sea", a few lucky members of the audiences are given the chance to ride in a boat, that travels on the ice, giving them a chance to participate in the show.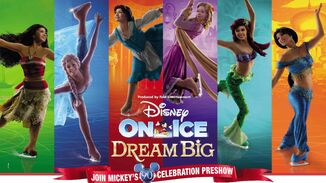 Starting on late September 2018, Moana has joined in the cast but Snow White and Tiana have been omitted. And a new song "Live Your Story" is performed in place of "If You Can Dream".
As of 2019, Coco has joined the lineup.
As of the November 2020 restart, The Princess and the Frog has returned to the lineup.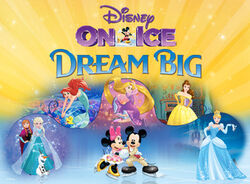 Featured movies
The following movies are represented in the show:
The previous stories represented in the show were:
Trivia
This is the only current ice show to not feature Donald Duck as he left the show in 2006.
Gallery
Jungle Adventures
Princess Wishes, Princesses and Heroes, and Dream Big
Community content is available under
CC-BY-SA
unless otherwise noted.