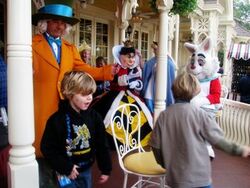 Disneyland Musical Chairs
is a version of the popular children's game
musical chairs
 that has become a recent internet discovery thanks to the increased use of videos on
YouTube
. This event has become very popular as a result of these videos, even though it is not on official schedules handed out by
Disneyland
.
The game, which is staged daily on Main Street USA at 2:30 pm at Coke Corner is a simple, straight forward game, usually hosted by Alice and The Mad Hatter face characters from Alice in Wonderland, along with other characters from said movie, Peter Pan, Mary Poppins or whomever might be in the area. Alice participates in the game, along with the other characters in the area, but sometimes if The Mad Hatter character is unavailable, she takes over as the game hostess.
When the game is down to the final two players, usually guests, The Mad Hatter (or Alice) will tell them to "keep an eye on the chair" for the final round. As the music plays, other characters will bring chairs into the area and turn it into a surreal scene straight out of the 1951 Disney classic. After a brief discussion, in most cases both players are declared the winners and get a prize: they have to put away all of the chairs. The losers, called "unwinners", are usually also called up, upon losing, to tell their funniest joke.
Community content is available under
CC-BY-SA
unless otherwise noted.