Disneyland Social Clubs are organized groups of Disneyland enthusiasts[1][2] that are easily recognized by their club back patches. The back patch and jacket designs are reminiscent of motorcycle clubs. Every club has their own membership requirements and guidelines, but all seem to adhere to following all Disneyland rules, cooperating with cast members, and being friendly and having fun. 
List of Disneyland Social Clubs
The Wonderland Warriors[1] - The Wonderland Warriors is a Disneyland Social Club that spreads disney magic through the use of in-park and online giveaways.  The group was founded by Christopher Escalante. The mission of the group is to spread some Disney magic and bring smiles to the faces of other Disney lovers.
Main Street Elite - Founded in 2013, Main Street Elite was one of the largest social clubs. Find them on Tumblr. They have since disbanded.
Neverlanders - The Neverlanders, founded in October 2012, were the first patched social club. Each member wears a patch of a Disney character of their own choosing. Find them on their blog. 
Wonderlanders Social Club  - The Wonderlanders is a social club whose back patches include a Mad Hatter top hat, and an embroidered version of the Disneyland entrance plaque: "Here you leave today and enter the world of yesterday, tomorrow, and fantasy". Find them on Twitter and Instagram .
The Hitchhikers Social Club - The Hitchhikers Social Club is from San Jose, California. They make the trip down to Disneyland every two weeks. Find them on Facebook and Instagram .
Mickey's Little Monsters - Mickey's Little Monsters is a Disneyland social club consisting of fans of the band Social Distortion. Social Distortion is from Orange County and released an album called Mommy's Little Monster from which this social club gained its name. Find them on Instagram .
Sons of Thunder- Founded in 2014, Sons of Thunder is a Disneyland Social Club made of family members based out of the South Bay area of Los Angeles, California. After being inspired by the love and togetherness of the other social clubs, Sons of Thunder was born. Having a love for all things Disney, and for all who love Disney, Sons of Thunder hope and aspire to not only share that love, but inspire others to love; both in and out of the parks. Find Sons of Thunder on Instagram.
House of Mouse - Founded in 2014, House of Mouse is a Disneyland Social Club that is comprised of a few families, family friends and regular prospected members. Their members are based out of the Los Angeles and Orange County areas. Their members Disney famdom covers a wide variety of the Disney spectrum. From classic Disney characters, Disney movies & Pixar movies; to the Marvel and Star Wars universes. They have several members that are into football and baseball. Primarily sports teams from the San Francisco Bay Area. House of Mouse can be found on Instagram.
Fantasmics SC- Fantasmics is a Disneyland Social Club that is based around the San Diego hip hop family Rock So Fresh and Super B-Beat Boys, members are primarily active members or family members of the crews. This social club's logo is an homage to the great cartoonist Vaughn Bode's Cheech Wizard with Walt Disney's Mickey Mouse wearing the classic Cheech Wizard hat. The font of the Fantasmics is a specific font that was used by early New York City B-Boy and Rocking Crews, it is a rare font that stems from the 70-80's B-boy scene. You can catch members throughout the Disneyland park or at your local hip hop event!
The Royal Cardsmen -The Royal Cardsmen are a Disneyland Social Club formed in 2015. We are a close group of family and friends who have a real passion for all things Disney. Based in Northern California, we visit Disneyland as often as we can, and enjoy sharing our love of this magical place with those who are most important to us.Within the Magic Kingdom we loyally serve Her Majesty, the Red Queen, sovereign Matriarch of Fantasy Land. As Her elite vanguard we strive to protect the peace and tranquility of the entire Magic Kingdom, as well as ensure that all Roses are Red.
Vader's Raiders - Founded in June of 2016, Vader's Raiders is a Star Wars inspired social club created for Disney lovers of all ages. 
Castle Guard SC The Castle Guard SC is a Disney Social Club based out of Arizona. That's right from Arizona. We are a group of family and friends that are spread out all over the country. Mostly in AZ and Southern CA. With members in both states we as a club strive to bring an Amazing experience to everyone Club or not at Disneyland. Weather that be taking a picture for guests, picking up trash, or just lending a hand in need. We love everything Disney and enjoy spending just about every vacation we can at the park and have also been on several Disney Cruises. We love to meet other Disney Social Clubs so feel free to reach out and introduce yourself chances are if you don't we may reach out to you.Find us on Here > Facebook and Here > Instagram
Agents of Hydra SC - The Agents, founded on August 2016 by Nathalie Moreno (Zelda), are made up of Disney fanatics and cast members. They are based of off a marvel villains who appear on Captain America. You can find them on Instagram and around the park on Sunday's. Their patch consists of an octopus, very friendly people. "Although we are villains, we consider a lot of the other social clubs family. Disneyland is our happy place. Somewhere we can escape the real world for a couple of hours. We have met so many amazing people in the ac community. I would not change anything about our experience here. They come at you with open arms we love it" -Zelda
Tomorrowland Trashers - Tomorrowland Trashers is a social club founded in 2017 consisting of friends and family with a love and obsession of Disney trash and recycle cans.
Gallery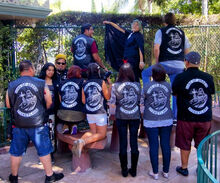 References
Community content is available under
CC-BY-SA
unless otherwise noted.