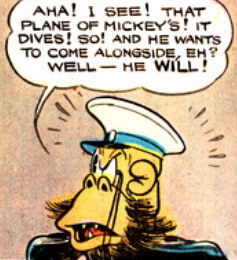 Doctor Vulter
is a villain featured in
Mickey Mouse
comics. He was created by
Ted Osborne
and
Floyd Gottfredson
in the story
Mickey Mouse and the Pirate Submarine
, published in the
Mickey Mouse
daily strip from September
1935
to January
1936
.
Dr. Vulter is an anthropomorphic ape, resembling a gorilla. He is a megalomaniacal pirate captain and mad scientist, somewhat modeled after Jules Verne's Captain Nemo character. Using a futuristic submarine and a small army of henchmen, he plagues the seas by stealing various ships which he aims to use for his plans of world conquest. His principal weapon is a machine in the form of a large claw which gives off magnetic-like energy: by placing it against a ship's hull Vulter can turn the whole metal ship into one large magnet which sticks weapons to the wall, making them useless. Vulter's Germanic-sounding name, his uniform and monocle, as well as his plans of world domination and militaristic gang, are obvious echoes of the Nazi menace of the time. After being defeated by Mickey, Vulter never appeared again in American stories. He was, however, used by Italian authors, starting with the 1959 story Topolino e il ritorno dell'artiglio magnetico ("Mickey Mouse and the Return of the Magnetic Claw") by Guido Martina (plot) and Giulio Chierchini (art). The character was further elaborated in this story by the claim that he never drew plans of his inventions but kept it all in his mind; this proved a bit of a problem when he suffered from amnesia. He returned occasionally and is still used from time to time by European authors.
| | |
| --- | --- |
| | This page uses content from the English Wikipedia. The article or pieces of the original article was at Mickey Mouse universe. The list of authors can be seen in the page history. As with Disney Wiki, the text of Wikipedia is available under the GNU Free Documentation License. |
Community content is available under
CC-BY-SA
unless otherwise noted.