Doctor Strange in The Multiverse o Madness - The Loop
Play Sound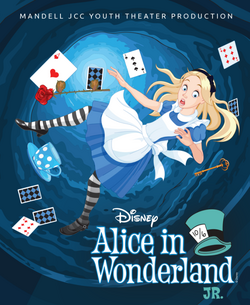 "Dodgsonland (Alice in Wonderland/In a World of My Own)" is a song exclusive to Disney's Alice in Wonderland Jr. It is sung by the full cast at the beginning of the play and named after the author of Alice in Wonderland, Charles Lutwidge Dodgson, better known under his pen name Lewis Carroll. It is a combination of "Alice in Wonderland" and "In a World of My Own."
Prelude
Lyrics
Part 1
All: Alice in Wonderland,
How do you get to Wonderland?
Over the hill or under land
Or just behind the tree?
When clouds go rolling by
they roll away and leave the sky
Where is the land beyond the eye
that people cannot see?
Where can it be?
Mathilda: And during the American Revolution, King George III, or Old Mad George as some have so called him... blah blah blah blah...
Alice: Cats and rabbits
Would reside in fancy little houses
And be dressed in shoes and hats and trousers
All: In a world of your own.
Mathilda: And he was so angry at General George Washington that he made all of his own royal soldiers dress in bright red uniforms that... blah blah blah blah...
Alice: All the flowers
Would have very extra-special powers
They could and talk to me for hours
When I'm lonely...
All: ...in a world of your own.
Part 2
Mathilda: ...and of course these bright red uniforms made them look just like giant walking lobsters that went...
Eeek!!
Alice, honestly, when are you ever going to grow up?
Alice: Look, Mathilda, I'm a lion! Roooarrrrrr!
Mathilda: Alice, you're just a silly little girl pretending to be a lion. Remember what the Immortal Bard said: "To thine own self be true." Oh, let me find that book and I'll show you...
Alice: Books are boring!
I would rather live my life exploring,
Like Columbus, on a voyage, touring...
All: ...through a world of her own.
Mathilda: Columbus discovered the New World. What are you going to discover except for more trouble, just like you always do...
Alice: No more trouble,
For the greatest problem would things a child could understand.
All: Maybe somehow,
if the world could run
on dreams and make-believe and fun,
Alice: Then I could be most anyone!
Mathilda: Well, Miss Columbus, just remember to look before you leap, so you don't get hurt searching for your little wonderland...
All: Your world would be a Wonderland.
Life could be a Wonderland!
Mathilda: Now, getting back to Mad King George, wait, let me find the page...
Alice: (yawn)... Yes, a wonderland that's that's all my own where... (yawn)... anything is... (yawn)... is possible... zzzzzzz...
All: Just remember
"Look out before you leap."
It's a world of wonders;
The memories are yours to keep.
Alice in wonderland.
Where is the path to wonderland?
Over the hill or here or there?
I wonder where.