This article is about the character Domino II from Amphibia. For other characters, see Domino (disambiguation).
Domino II is a character and former antagonist that appears in the series Amphibia. Domino II belongs to the species known as the "Kill-a-Moth", which is a dangerous predator to Amphibians but also often seen as pets.
Background
Domino II starts off as a small, adorable creature that was found by Anne and Sprig, trapped in mud while being surrounding by giant wasps. She is later revealed to be a Coastal Kill-a-pillar, which according to Hop Pop, is one of the most dangerous amphibivores, and they get white spots when it is time for them to turn into monstrous butterflies.
Role in the series
In "The Domino Effect", Domino II gets trapped in a mud puddle and attacked by giant wasps until she was saved by Anne and Sprig. Noticing the caterpillar bearing a similar appearance to her pet cat Domino, Anne decides to keep the caterpillar as a pet and names her "Domino II," despite Sprig's reluctance. After learning Hop Pop Plantar refuses to have pets in his home due to an incident with their last pet, a spider named Charlie Bigbottom, Anne and Sprig sneak Domino II into the basement where Anne sleeps. For a few days, Anne and Domino II enjoy each other's company without Hop Pop or Polly noticing, despite Domino II trying to eat Polly.
One day, Domino II takes a nap in the basement as Sprig and Anne leave to get some food. Unknowingly, Domino 2 covers herself in a cocoon and begins to grow. When Anne, Sprig, and Hop Pop hear a loud noise from the basement, they rush downstairs to find Domino II's chrysalis opened where Hop Pop finds out that Anne and Sprig had snuck in a pet. Sprig tries to explain how Domino II looked like Anne's pet cat, but when it's mentioned that she was black with white spots, Hop Pop quickly recognizes Domino II belonging to a species known as a Kill-a-Pillar, one of the most dangerous creatures in Amphibia.
Domino II then drops from the ceiling in front of them, already having transformed into a deadly cat-like butterfly creature. As the three try not to make a sound and tiptoe out of the basement, Polly bursts in that moment to see what was going on, causing Domino II to react ferociously and beat her wings as she rushes after the Plantars.
Despite Anne's efforts in keeping Domino II at bay, she begins attacking the Plantars and tries to eat them, forcing Anne to lead her outside with a mouse toy. After reaching a cliff, Anne solemnly tosses the mouse toy into the wild as Domino II rushes after it as Anne sadly watches her disappear into a forest. As Anne cleans up Domino II's cobwebs the next day, she is given a stuffed doll version of Domino II, made of out the caterpillar's hair which Anne lovingly hugs.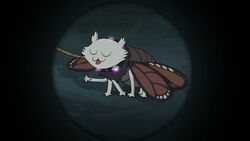 In "Fight or Flight" we see Domino II again braking into the Resistances food bins at night. After a group of Frobots come down from the sky and capture Domino II in a net. Wail taking her away to the Power Plant facility Domino II then calls Anne for help. Wail Anne looks up saddened Sprig and Soggy Joe look up and celebrate because that's one way to solve their food problem. But Anne won't let that happen because she then tells the two of them that she wants to rescue her because she still feels that they have a connection despite Sprig's warnings. Anne then sees that Domino II had 6 kittens and then Anne takes them to the resistance and asks them to watch them wail Anne goes to rescue Domino II which she then convinces them to do. Sprig then tells Anne that he will accompany her wail she rescues her. At the Power Plant facility Domino and a group of other Kill-a-moths are being Mind-controlled by Mind-controlling collars to spin around in circles to generate power for Andrias's Army wail being tied to ropes. With a loud beeping sound being played the moths then fly down and lie down to sleep. Wail this is happening Anne and Sprig find Domino II from a telescope licking her paws happily with her eyes closed wail being Mind-controlled by her collar with the other Kill-a-moths. Anne and Sprig then wait until they fall asleep and after they do they then go down to the facility to free her.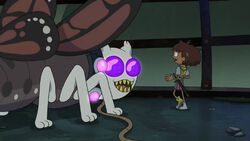 Anne And Sprig then finally find Domino II lying down sleeping and Anne then tries to brake off her collar with her sword but is unsuccessful at first because she then notices what she is doing by opening one of her eyes and then getting up and growling at Anne. She then gets up on all 6 of her legs and tries to fight Anne to protect her collar. Anne keeps trying to slice it off of her until she finally is successful. When her collar is sliced by Anne she yells with her eyes closed and then calms down and opens her eyes that go from glowing purple to her usual red eyes. After she then runs up to Anne wail looking menacing only to then lick her face and start messing with her hair wail Anne is laughing happily. She then after returns the mouse toy Anne made her chase signifying that she remembers Anne.
After that Sprig is shown being moved by that she remembers Anne but is then eaten by a Orange Kill-a-moth. Then all the other moths also woke up as well and start flying around in circles once again. Anne then chops off the rope on Domino II and starts flying her around to bump into the moths belly to force it to spit out Sprig. After Anne and Domino II got Sprig back they flew quickly to the exit. But after they made it out Domino II looked at the Kill-a-moths who were still being forced to make energy for Andrias with a frown. Anne seeing this understood her and agreed with her by saying "We can't just leave them here" but Sprig was more than happy to just leave especially after being eaten.
After Anne, Sprig, and Domino II fly back inside to free all of the other moths from their Mind-control. After they freed them all the Kill-a-moths started to immediately toss around sprig. But Domino II noticed Anne didn't like this so Domino II Screeched to get all the moths to stop and they returned sprig to them. Anne recognized this as meaning they Domino II is the Alpha moth because Marcy told her about animals like this. They then all flew out of facility and returned to Wartwood and became Air Cavalry for the Resistance. In "The Beginning of the End", Domino II is used as their ride to the Castle alongside Joe Sparrow. Wail the other Kill-a-moths are used as Air Cavalry for the rest of the Resistance.
In "All In", Domino II is seen captured along with Anne, Sprig, Sasha, Hop pop, Polly, Grime, Yunan, Olivia, Frobo, and Joe Sparrow in in cuffs that are tied to the room making them hang up with their arms up and legs spread out until Frobo brakes the flor with his lasers. After they are freed Domino II is seen accompanying Anne and Sprig most of the time helping them traverse quickly in the sky. Also she is seen accompanying all of them in the beginning of the episode.
In "The Hardest Thing" Domino II is often seen in the background in the beginning of the episode and is seen in the big imagined group shot when Anne is about to Activate the secret spell. At the end of the episode she is seen looking at Anne, Sasha, and Marcy when they take their final bow to Amphibia before going though the finale portal. In the epilogue Domino II is seen flying the valley of Amphibia with a Orange Kill-a-moth.
Trivia
Domino II bringing dead insects to Anne is similar to how cats in real life bring dead animals to their owners as gifts of friendship.
Domino and Domino II were inspired by Matt Braly's own cat also named Domino.
Gallery
External links