"Donkey for a Day" is the second segment of the second episode of The New Adventures of Winnie the Pooh. It was originally broadcast on January 24, 1988.
Synopsis
When Piglet shows sympathy for Eeyore always being so sad, Rabbit, Pooh, Tigger, Owl, Roo and himself decide to do various activities to cheer him up. Piglet is upset by the fact that there is nothing he can do to try to cheer Eeyore up, but it turns out that Eeyore is not as gloomy as they all thought.
Plot
On a dark and stormy night, Piglet is sympathetic for Eeyore as he watches him looking at the sky on the top of the lonely hill, when he should be inside with him. Piglet calls a meeting with Pooh, Tigger, Rabbit, Owl and Roo. He shows to them that Eeyore is always sad and that they have to do something. They come to the idea of they each take turns the next day trying to cheer Eeyore up. Piglet questions to himself what he can do, while the rest of them decide what they'll do.
Piglet tries to visit Pooh to ask what he can do to cheer him up. But Pooh is already taking his turn. Pooh explains that to stay the happiest you just have to "let your tongue lickle, and keep your tummy tickled". Pooh shoves some honey into Eeyore's mouth when Eeyore is about to say that he doesn't LIKE honey. He tries to say this again, but Pooh thinks he's asking for more, so he gives Eeyore the whole jar. Piglet thinks they're having a wonderful time when he looks in the window and sadly walks away.
Pooh then realizes that Eeyore doesn't like honey, so instead gets him some apples from a tree (all hitting Eeyore on the head no matter where he moves). It turns out Eeyore doesn't like apples either because he says after they eat them "I'd like to call a doctor". Eeyore runs away when Pooh says they've still got lunch and dinner.
Next, Owl tries to teach Eeyore to fly by strapping balloons to his legs. At first, he is flying well, until Owl pops all the balloons he's been strapped to and he falls to the ground. Piglet thinks Eeyore is having a great time. After that, Rabbit tries to teach him how to garden by strapping him to a sleigh-like machine with a knife at the end of it to cut open the ground to plant seeds. But, when Eeyore's tail falls off, Rabbit pins it back on with such force that Eeyore then starts running very fast, with Rabbit barely holding on. Unfortunately, when Piglet was settling on teaching Eeyore how to run, Eeyore and Rabbit pass by quickly and Piglet has to choose another thing.
Next, Tigger and Roo try to cheer Eeyore up by strapping springs to his legs so he can bounce like them. Unfortunately, Tigger, Roo and Eeyore bounce too high and fall quickly to the ground. Roo and Tigger manage to break their fall but Eeyore still continues to bounce. Tigger and Roo put a mattress near a lake to break Eeyore's fall, but Eeyore crashes into a lake. Piglet still cannot think of any ideas and it's his turn next.
In the Evening, Piglet comes to Eeyore when he's sitting on the top of the lonely hill. Eeyore takes out a football helmet and puts it on, expecting something really painful. However, Piglet apologizes as everybody else did such a good job of cheering him up and that he can't think of anything. Eeyore then realizes that they were only trying to cheer him up, and then thanks them (even if they almost killed him). Eeyore then reveals that he doesn't come to the hill because he's sad, but because he's happy.
Eeyore then tells Piglet to watch a particular cloud. Piglet is amazed as beautiful multicolored lights start to fill up the sky. Pooh, Tigger, Rabbit, Owl and Roo join them and are as amazed as Piglet. Piglet names this "cloud painting" and credits Eeyore for it's invention, as rainbows of starlight began to rain down from the sky. Piglet thanks Eeyore for this wonderful time, and Eeyore says he's just returning the favor.
Quotes
Rabbit: Happiness is seeing the benefits of good hard work. Watching the things you planted with your own hands springing up fresh, and green, and then...[diabolical look] MUAHAHAHAHA! HARVESTING THEM!
[Piglet is sitting on a log, running down a checklist of activities that might make Eeyore happy] Swimming? No. Dancing? No. Oooh! Perhaps running would make Eeyore happy. Even I could teach him that!
Rabbit [off in the distance and getting closer]: Slow down! SLOW DOWN! (Audio track in The Good, The Bad, and the Tigger)
[Eeyore runs by at full speed with Rabbit hanging on to his plow harness for dear life. The wind they make knocks Piglet off the log.]
Rabbit [going off in the distance]: Woohoo! STOP RUNNING SO FAST...!
Piglet [collecting himself]: This is very frustrating to a very small and uninspired animal...
Character Voice Cast
Sound Effects
Pooh yells "Eeyore!"
Eeyore screams sound effect
Home video
US
Volume 3: Newfound Friends (VHS and Laserdisc)
Growing Up with Winnie the Pooh: Volume 3: All for One, One for All (DVD)
UK
The Magical World of Winnie the Pooh Volume 1: All for One and One for All (DVD)
Trivia
This episode was originally aired with "Friend, In Deed". Coincidentally, both episodes are featured together in all the home video releases that include them.
The shot of the gang joining Piglet and Eeyore on the hill is used in the opening credits.
This episode is widely regarded as one of the best in the series due to its simplicity and its ending.
v - e - d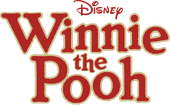 Songs
Movie Songs
Winnie the Pooh and the Honey Tree: "Winnie the Pooh" • "Up, Down, Touch the Ground" • "Rumbly in My Tumbly" • "Little Black Rain Cloud" • "Mind Over Matter"
Winnie the Pooh and the Blustery Day: "A Rather Blustery Day" • "The Wonderful Thing About Tiggers" • "Heffalumps and Woozles" • "Rain, Rain, Rain Came Down, Down, Down" • "Hip-Hip-Hooray!"
Boo to You Too! Winnie the Pooh: "I Am Not Afraid" • "I Wanna Scare Myself"
Pooh's Grand Adventure: The Search for Christopher Robin: "Forever & Ever" • "Adventure is a Wonderful Thing" • "If It Says So" • "Wherever You Are" • "Everything is Right"
The Many Songs of Winnie the Pooh: "It Really Was a Woozle, Yes it Was"
Sing a Song with Pooh Bear: "Kanga Roo Hop" • "You're the One and Only One" • "Harvest What You Grow" • "My Song"
Winnie the Pooh: A Valentine for You: "Girls are Like Boys" • "When the Love Bug Bites" • "Places in the Heart"
Winnie the Pooh: A Very Merry Pooh Year: "Jingle Bells" • "Snow Snows" • "Merry Pooh Year" • "Hunny, Not for Me" • "Auld Lang Syne"
The Tigger Movie: "Someone Like Me" • "Whoop-de-Dooper Bounce" • "Lull-a-Bee" • "Round My Family Tree" • "How to Be a Tigger" • "Your Heart Will Lead You Home"
Piglet's Big Movie: "If I Wasn't So Small" • "A Mother's Intuition" • "With a Few Good Friends" • "Sing-Ho (For the Life of a Bear)" • "The More It Snows (Tiddely-Pom)" • "The More I Look Inside" • "Comforting to Know"
Springtime With Roo: "We're Huntin' Eggs Today" • "Sniffley Sniff" • "Easter Day With You" • "The Way It Must Be Done"
Pooh's Heffalump Movie: "Little Mr. Roo" • "The Horribly Hazardous Heffalumps" • "The Name Game" • "Shoulder to Shoulder" • "In the Name of the Hundred Acre Wood/What Do You Do?"
Pooh's Heffalump Halloween Movie: "Trick 'R Treating With Our Friends" • "Brave Together"
Winnie the Pooh: "The Tummy Song" • "A Very Important Thing to Do" • "The Winner Song" • "The Backson Song" • "It's Gonna Be Great" • "Everything is Honey" • "Pooh's Finale"
Christopher Robin: "Goodbye, Farewell" • "Busy Doing Nothing" • "Christopher Robin"
Television Songs
Welcome to Pooh Corner: "Welcome to Pooh Corner Theme Song" • "Try a Little Something New" • "The Right Side" • "Yes, I Can" • "You're the Only You" • "I Hum to Myself" • "Please and Thank You" • "Responsible Persons" • "Welcome to Pooh Corner Ending Theme"
The New Adventures of Winnie the Pooh: "Pooh Bear" • "'Cause It's Make Believe" • "The Floating Song" • "Nothing's Too Good for a Friend" • "Under the Bed" • "I Don't Have A Name" • "King of the Beasties" • "The End" • "Pirates is What We'll Be" • "Tigger, the Private Ear is Here"
The Book of Pooh: "Everyone Knows He's Winnie the Pooh" • "Goodbye for Now" • "Your Best Wishes" • "On the Double" • "Who is Me" • "Think, Think, Think" • "What Piglets Are" • "I Watch for Signs" • "We're Making a Cake" • "If I Could Be Big" • "Isn't that Funny?" • "Find the X" • "Everyone Wants a Valentine" • "That's What We Do" • "Keep it Simple" • "Have You Got a Book For Me?" • "Give It a Try" • "On Your Way Back Home" • "The Birdbird Song" • "Nightmare Wranglers" • "Carry On" • "What's Your Name, River" • "Where Do Words Go?" • "Under a Spelling Bee's Spell" • "Adventure" • "Mental Altitude" • "I Want to Know Everything Now" • "Happy Tailiversary" • "Get Growin'" • "Tigger's Lullaby" • "Perfect Party" • "If We Were Talkin'" • "Someone New to Meet" • "My Hero" • "I Want To Be Scary" • "Broken Friendships" • "Do the Roo" • "Call Me Buck-a-Roo" • "At Chez Piglet" • "Nothing Ever Happens" • "Too Much Honey" • "Lost in a Book"
My Friends Tigger and Pooh: "A Few Simple Rules" • "Bouncin'" • "The Grass is Greenier" • "The Password Song" • "Underneath the Same Sky" • "One Big Happy Family" • "Think, Think, Think" • "The Question Song" • "Floating in a Cloud" • "Different Can Be Good" • "The Little Things You Do" • "There's a Party" • "No More Fun In the Snow" • "Butterflies" • "What Makes a Pony a Pony" • "When We Work Together" • "Christmas Comes Tomorrow" • "Time to Go (On a Trek Through the Snow)" • "Snowman Song"
Miscellaneous: "Luv-a-bye" • "Playtime Song" • "Learning Song" • "Friendship Song"

Community content is available under
CC-BY-SA
unless otherwise noted.