Dorothy is a character in Wander Over Yonder.
Background
She is the mother of Sylvia and Bill, Phil & Gil. She is seen as grumpy and antagonist towards Sylvia when she and Wander come for a visit by having her do all the work around the house. But it was revealed that Dorothy was only mad because Sylvia came back to escape from her problems from Lord Dominator. She shows Sylvia a room she kept all the articles and wanted posters of Sylvia and Wander's success. She says that she is wicked proud of her and that her father would've been too. Dorothy reminds her that she is fierce at harassing Lord Hater and points out that that there's a bigger jerk threatening the galaxy. So she gives her a choice of dealing with Dominator or stay home and deal with Dorothy but whatever she chooses, it wasn't going to be easy. So Sylvia chooses to take care of the Galaxy and Dorothy says she'll take care of the dishes as they both reconcile their relationship.
Appearances
v - e - d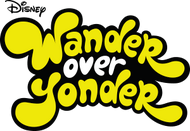 Organizations/Groups
Lord Hater's Army • Insurgent Generals • Wander and Sylvia • Bounty Hunters • Lord Dominator's Army • Galactic Villain Leaderboard • Emperor Awesome's Army
Locations
Lord Hater's Spaceship • Binglebopolopolis • Doomstone • Baaaaa-halla • Phunulon • Ballzeria • Buster • Doom Arena • Planet Ziziks • Flendar • Lord Dominatior's Spaceship • Arachnomorph Homeworld
Community content is available under
CC-BY-SA
unless otherwise noted.