"Doug's Secret Christmas" is the Christmas episode of Disney's Doug. It originally aired as a prime-time special on December 14, 1996.
Synopsis
With a new baby on the way, Doug's family is too busy to have a traditional Christmas and he really wants one. So he and Porkchop decide to have their own secret holiday celebration in his room. But when he later finds the house completely empty, Mr. Funnie phones with news, and Doug and Judy's new baby sister, Cleopatra Dirtbike Funnie, is born on Christmas Day. Meanwhile, Fentruck tells all his friends how they spend Christmas in Yakestonia.
Trivia
The opening scene is a parody of How the Grinch Stole Christmas!
The TV movie that Skeeter and his family are watching appears to be based on the original Doug series' Christmas episode, "Doug's Christmas Story".
Months prior to the special's premiere, the October 1996 issue of Disney Adventures magazine ran a contest asking fans to name the Funnies' new baby, who is born in the special. The winning name, Cleopatra Dirtbike Funnie, was sent in by Brett Chatham, who received a drawing of himself with Doug and his friends as the prize.
This was the only Disney's Doug episode to debut in prime time.
Home video releases
VHS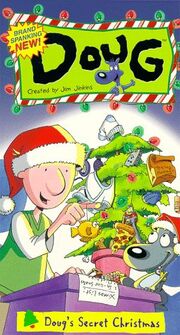 Doug: Doug's Secret Christmas
External links
Community content is available under
CC-BY-SA
unless otherwise noted.