Douglas McDuck
, usually referred to as
Cousin Douglas
, is an old prospector cousin of
Donald Duck
's uncle
Scrooge McDuck
, who looks like Scrooge not only in appearance but also in temperament. He is, however, unlike his cousin hopeless at finding and identifying gold and often frustrates Scrooge by criticizing him and "his side of the family" for not being stingy enough to be called McDuck.
Appearances

Douglas first appeared in an Uncle Scrooge comic drawn by Vicar, and first published in 1981. Here, Donald convinces Scrooge to take him and his nephews on a trip to canada, to reunite with Scrooge's cousin Douglas. Once there, Douglas reminds his cousin of the fact that, years ago, when Douglas and Scrooge (being good friends at the time) were prospecting together, Douglas loaned him a dollar. Much to Scrooge's dismay, the interest has resulted Scrooge in owing Douglas a enormous sum of money.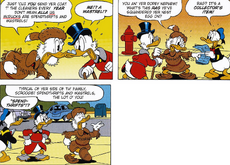 After this incident, Douglas did not appear in any comics until 2001's Gall In The Family (Uncle Scrooge #327), in which he visits in Duckburg. This story also states for the first time that Douglas is part of the McDuck clan, although he constantly criticizes "Scrooge's side of the family" which, according to him, is much less stingy than the other McDucks, and therefore being shame to the family name.
In the comic Smarter Than The Toughies, Douglas was portrayed as being the uncle of Whitewater Duck.
Gallery
Community content is available under
CC-BY-SA
unless otherwise noted.