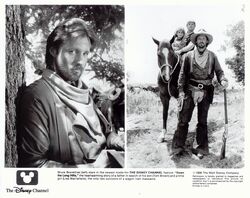 Down the Long Hills is a 1986 television film that originally aired as a Disney Channel Premiere Film on November 15, 1986. The film was directed by Burt Kennedy and written by Jon and Ruth Povare, based on the novel by Louis L'Amour.
Synopsis
In the American West in the nineteenth century, Betty Sue and Hardy, two teenagers who have just escaped a bloody Native American attack, undertake cross the Utah desert to reach the father of the boy and and placed under his protection.
Cast
Bruce Boxleitner ... Scott Collins
Bo Hopkins ... Jud
Michael Wren ... Cal
Don Shanks ... Ashawakie
Ed Bruce ... Bregman
Buck Taylor ... Grey
Thomas Wilson Brown ... Hardy Collins
Lisa MacFarlane ... Betty Sue Powell
Jack Elam ... Squires
David S. Cass Sr. ... Mr. Andy
Peggy Matheson ... Mrs. Andy
Beverly Rowland ... Mrs. Bregman
Michael Ruud ... Wagon Master
Corky Randall ... Bystander
Roy J. Cohoe ... Indian Chief
Richard J. Martin ... War Chief
Fenton Quinn ... Guard
Bart the Bear ... The Bear
David Midthunder
Darren VanCleef ... Wrangler
Lance LeGault ... Narrator (voice) (uncredited)
Gallery
Community content is available under
CC-BY-SA
unless otherwise noted.