"Dragon's Breath" is the second episode of American Dragon: Jake Long.
Synopsis
Jake sees a bunch of trolls and goblins screaming out of the sewers. Jake turns into his dragon form and sees a strange humanoid creature that steals souls. After Jake scares the creature, his breath becomes smelly.
Jake and Fu visit a magical place called Magus Bizarre. Jake meets an arachnid named Veronica, but he can't choose her because of her eight hairy spider legs (Fu thought Jake might be a leg man). Fu introduces two magical girls called Oracles to Jake: Sara (who sees bad things) and Kara (who sees good things). Jake sees a teenage girl named Jasmine, but Fu gets grabbed by an ogre and meets his old foe, Herbert the Goblin. Jake sees Fu getting tortured by Herbert and the ogre. Jake beats up the ogre, then grabs Herbert and throws him next to the ogre.
Jasmine waves goodbye to Jake, but then we see her glowing red eyes. Jake goes with Jasmine to the school dance, but Susan sends a message to her dad (Lao Shi) that Jasmine has red eyes. Lao Shi realizes that Jasmine is a Nix, which is a creature that is harmless and beautiful during the day, but turns into a monster that steals souls when the moon reaches the center of the night sky.
Jasmine turns into her monster form and steals the souls of every student at the dance. Lao Shi and Fu arrive just in time, and Lao Shi fights Jasmine. Fu tosses the potion to Jake, but Jake accidentally drinks the potion. He finds out that he wasn't supposed to drink it, but instead pour it on the Nix. The potion causes whoever touches it to become powerless.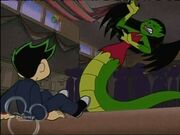 Lao Shi also gets his soul stolen by Jasmine. Jake knocks her out, and she returns all the souls back to the students. The next day, Jake returns Jasmine back to Magus Bizarre and she continuously apologizes for the night, but Jake tells her that he is to blame since he didn't heed her warnings. After both forgive each other, Jake says that he hopes the souls went to their original bodies. But back at school, Spud speaks in Trixie's voice, and vice versa!
Character Voice Cast
Allusions
The title is a play on the 1913 film The Dragon's Breath.
Nix stealing souls from the mouths of humans is similar to Marceline's dad stealing souls from the mouths of others in the Adventure Time episode "It Came from the Nightosphere".
Trivia
This is the first and only episode with a Nix in it.
Brad and Veronica make their debuts in this episode.
The production code is 103, but the episode came out as episode two, season one.
The end of the episode shows that Trixie and Spud switched souls. It is unknown how they switched back.
It is revealed that Jake had to go through first grade with an extra pair of underwear.
This episode is also the first to show a school dance.
Gallery