Dreamflight
was a dark ride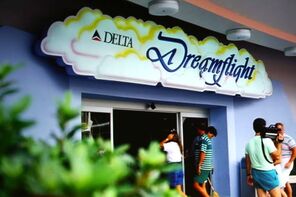 located in Tomorrowland pavilion in Magic Kingdom. It was sponsored by Delta AIrlines and it consisted in a journey through commercial aviation history. It's currently replaced by
Buzz Lightyear Astro Blasters
.
Ride
After crossing Dreamflight's main door, riders were meant to cross a boarding bridge were they were supposed to board a Delta Airlines Lockheed L-1011, but once "inside" the plane the visitors could find a totally vintage enviroment evoking first aviation days, and there was precisely where the station with their cars was waiting for the visitors to board the trains.
The ride showed several vintage aircraft cartoonish examples on its beginning and also featured other existing flying machines from its age, like the aerosthatic balloon. Other scene of the ride featured bigger propeller passenger aircraft, including passing through an aircraft interior where seats and even tables could be seen. A rotary light inside a suction tube gave the riders the impression of going inside a rotating jet engine and after going through it cars entered another room where a 180'º vertical screen and wind effects made riders feel they were freely flying through the sky.
The ride ended in a skycrapercity panorama were ocassional Delta planes could be seen flying through the sky.