Dreaming Up! is a daytime parade that premiered on April 15, 2018 at Tokyo Disneyland, as part of the park's 35th anniversary celebration[1], replacing the Happiness is Here Parade that ran from 2013 to 2018. The parade features Mickey Mouse and his Disney Friends taking Guests to a world of fantasy and imagination as the five units and 13 floats immerse Guests in the many wonders of Disney.
The resort's 35th anniversary promotion, titled "Happiest Celebration!", ran from April 15, 2018, through March 25, 2019.
On February 28, 2020, Tokyo Disney Resort was temporarily closed due to the COVID-19 outbreak's impact on Japan. As such, Tokyo Disneyland announced that the original version of this parade would be temporarily halted until further notice.
On April 19, 2021, the Oriental Land Company and Tokyo Disney Resort confirmed the parade's return. The parade resumed on April 19, 2021 with several characters either moved or removed.
Parade Units
Dream Up! – Dreams Can Take Us Anywhere (Mickey and Pluto)
Opening: Leading the "Dreaming Up!" parade are Mickey Mouse and Pluto on a float pulled by winged horses. As the host of the parade, Mickey Mouse guides guests into the world of dreams.
Playful Dreams – Dreams That Make Us Smile (Goofy)
Goofy's Magical Broom: Goofy rides a small magical broom adorned with ribbons. The magic happens to be of a teapot.
Alice in Wonderland: Based on the 1951 animated film. Alice, White Rabbit, Mad Hatter and March Hare appear on a float depicting a tea party, featuring teacups and pots, walls made out of cards and flowers adorning the green grass.
Dreams from the Heart – Romantic Dreams (Minnie)
Minnie's Magical Broom: Minnie Mouse, like Goofy, rides a small broom float adorned with ribbons. This time a crown appears on the top.
Disney Princesses: This 2-in-1 float has the Fairy Godmother on the smaller half, and Cinderella, Aurora, Snow White and Rapunzel on the larger half, which is adorned with a fancy roof and is covered in romantic flowers and decorations.
Dreams of Enchantment (Chip and Dale)
Dreams Take Flight (Donald and Daisy)
Donald and Daisy's Magical Broom: Donald Duck and Daisy Duck ride the last broom float, which has a cap on top.
Big Hero 6: Based on the 2014 animated film. Baymax makes his first appearance at the Park, flying high with Hiro Hamada on his back over a large bridge.
Mary Poppins / Peter Pan: The final float is another 2-in-1 float. Mary Poppins gracefully floats high over houses near Big Ben, and Peter Pan and Wendy Darling flying high over the moon with the help of pixie dust and happy thoughts.
The Three Little Pigs, The Big Bad Wolf, Clarice, Horace, Clarabelle, Scrooge McDuck, Max Goof, Perla and Suzy, and Aladdin and Jasmine wave rainbow-colored ribbons behind the float.
NTT DoCoMo Sponsor Float: The logo for the company is depicted on a huge drum.
Parade Units (2021)
Due to social distancing measures, the 2021 version of the parade was modified from the 2018-2020 version. The following is the parade layout as of April 19, 2021.
Modifications
Hiro was also initially absent from the parade but began to make parade appearances again since August 2021.
Show facts
Show duration: 20 minutes
Opening Announcement: "Dream, of a beautiful new world, where imagination soars to new heights. Up, where your friends beckon you, from beyond the clouds. Get carried away, with your heart's desire, above the skies. And dream up!"
Songs featured:

DREAMS CAN TAKE US ANYWHERE:
ALICE IN WONDERLAND:
PINOCCHIO:
DISNEY PRINCESSES:
BEAUTY AND THE BEAST:
WINNIE THE POOH:
BIG HERO 6:
MARY POPPINS / PETER PAN FINALE:

Grand Finale Version

From January 11 to March 25, 2019, Dreaming Up! received a show stop version. The 35th anniversary theme song "Brand New Day" was used for the show stop. This particular song would later be used for distanced meet and greets at Disneyland Paris and the 2021 cavalcade at Disneyland.
Main Chorus Lyrics
Come get carried away
Make a wish and it will lead you

Let's get carried away
Hold on tight, I'm right beside you

There's so much more to explore
So dream up, dream up, dream up

Dream up, dream up, dream up
Dream up, dream up, dream up

Dream up, dream up
And let's get carried away
Carried away
See also
References
v - e - d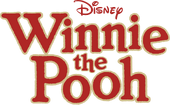 Songs
Movie Songs
Winnie the Pooh and the Honey Tree: "Winnie the Pooh" • "Up, Down, Touch the Ground" • "Rumbly in My Tumbly" • "Little Black Rain Cloud" • "Mind Over Matter"
Winnie the Pooh and the Blustery Day: "A Rather Blustery Day" • "The Wonderful Thing About Tiggers" • "Heffalumps and Woozles" • "Rain, Rain, Rain Came Down, Down, Down" • "Hip-Hip-Hooray!"
Boo to You Too! Winnie the Pooh: "I Am Not Afraid" • "I Wanna Scare Myself"
Pooh's Grand Adventure: The Search for Christopher Robin: "Forever & Ever" • "Adventure is a Wonderful Thing" • "If It Says So" • "Wherever You Are" • "Everything is Right"
A Winnie the Pooh Thanksgiving: "Hooray, Hooray!" • "Berrily We Roll Along" • "Our Thanksgiving Day" •
Winnie the Pooh: Seasons of Giving: "Seasons of Giving"
The Many Songs of Winnie the Pooh: "It Really Was a Woozle, Yes it Was"
Sing a Song with Pooh Bear: "Kanga Roo Hop" • "Harvest What You Grow" • "My Song"
Winnie the Pooh: A Valentine for You: "Girls are Like Boys" • "When the Love Bug Bites" • "Places in the Heart"
Winnie the Pooh: A Very Merry Pooh Year: "Jingle Bells" • "Snow Snows" • "Happy Pooh Year" • "Hunny, No Not For Me" • "Auld Lang Syne"
The Tigger Movie: "Someone Like Me" • "Whoop-de-Dooper Bounce" • "Lull-a-Bee" • "Round My Family Tree" • "How to Be a Tigger" • "Your Heart Will Lead You Home"
Piglet's Big Movie: "If I Wasn't So Small" • "A Mother's Intuition" • "With a Few Good Friends" • "Sing-Ho (For the Life of a Bear)" • "The More It Snows (Tiddely-Pom)" • "The More I Look Inside" • "Comforting to Know"
Springtime With Roo: "We're Huntin' Eggs Today" • "Sniffley Sniff" • "Easter Day With You" • "The Way It Must Be Done"
Pooh's Heffalump Movie: "Little Mr. Roo" • "The Horribly Hazardous Heffalumps" • "The Name Game" • "Shoulder to Shoulder" • "In the Name of the Hundred Acre Wood/What Do You Do?"
Pooh's Heffalump Halloween Movie: "Trick 'R Treating With Our Friends" • "Brave Together"
Winnie the Pooh: "The Tummy Song" • "A Very Important Thing to Do" • "The Winner Song" • "The Backson Song" • "It's Gonna Be Great" • "Everything is Honey" • "Pooh's Finale"
Christopher Robin: "Goodbye, Farewell" • "Busy Doing Nothing" • "Christopher Robin"
Television Songs
Welcome to Pooh Corner: "Welcome to Pooh Corner Theme Song" • "Try a Little Something New" • "The Right Side" • "Yes, I Can" • "You're the Only You" • "I Hum to Myself" • "Please and Thank You" • "Responsible Persons" • "You're the One and Only One" • "Welcome to Pooh Corner Ending Theme"
The New Adventures of Winnie the Pooh: "Pooh Bear" • "'Cause It's Make Believe" • "The Floating Song" • "Nothing's Too Good for a Friend" • "Under the Bed" • "I Don't Have A Name" • "King of the Beasties" • "The End" • "Pirates is What We'll Be" • "Tigger the Private Ear is Here"
The Book of Pooh: "Everyone Knows He's Winnie the Pooh" • "Goodbye for Now" • "Your Best Wishes" • "On the Double" • "Who is Me" • "Think, Think, Think" • "What Piglets Are" • "I Watch for Signs" • "We're Making a Cake" • "If I Could Be Big" • "Isn't That Funny?" • "Everyone Wants a Valentine" • "That's What We Do" • "Keep it Simple" • "Have You Got a Book For Me?" • "Give It a Try" • "On Your Way Back Home" • "The Birdbird Song" • "Nightmare Wranglers" • "Carry On" • "What's Your Name, River" • "Where Do Words Go?" • "Under a Spelling Bee's Spell" • "Adventure" • "Mental Altitude" • "I Want to Know Everything Now" • "Happy Tailiversary" • "Get Growin'" • "Tigger's Lullaby" • "Perfect Party" • "If We Were Talkin'" • "Someone New to Meet" • "My Hero" • "Broken Friendships" • "Do the Roo" • "Call Me Buck-a-Roo" • "At Chez Piglet" • "Nothing Ever Happens" • "Too Much Honey" • "Lost in a Book"
My Friends Tigger and Pooh: "A Few Simple Rules" • "Bouncin'" • "The Grass is Greenier" • "The Password Song" • "Underneath the Same Sky" • "One Big Happy Family" • "Think, Think, Think" • "The Question Song" • "Floating in a Cloud" • "Different Can Be Good" • "The Little Things You Do" • "There's a Party" • "No More Fun In the Snow" • "Butterflies" • "What Makes a Pony a Pony" • "When We Work Together" • "Christmas Comes Tomorrow" • "Time to Go (On a Trek Through the Snow)" • "Snowman Song"
Miscellaneous: "Luv-a-bye" • "Playtime Song" • "Learning Song" • "Friendship Song" • "Snug as a Bear Can Be" • "The Scrapbook Song"