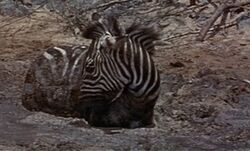 Duchess is a zebra in Disney's 1960 movie, Swiss Family Robinson.
Role in the film
In the film, Duchess was found stuck in a mud hole and was about to be food for some hyenas, cheetahs, and vultures until Fritz came and scared them away. She was soon set free by Fritz, Ernst, and Roberta, who rode her all the way back to the Robinson's treehouse.
On the day of the Robinsons' new holiday, Duchess is one of the animals who participate in the race, with Roberta riding her again, along with Turk (ridden by Francis' monkey), Lightning the mule (ridden by Fritz), Clementine the ostrich (ridden by Ernst), and Rocky the elephant (ridden by Francis). During the race, Duchess leads Roberta to the beach where Roberta spots the pirates coming ashore to look for her since she was their former prisoner mistaken for a boy at first. When the pirates led by Kuala come ashore, Duchess can be seen running back and forth while being chased by the dogs who are probably trying to bring her back to the family.
In the end, after the pirates' deaths, and as Ernst travels to England with Roberta's grandfather, Captain Moreland to continue his education there, Duchess can be seen running away along with Clementine, Duke, Turk, and Rocky as Francis tries to bring them back.
Notes
According to Ken Annakin, they gave the zebra an electric shock to get her to move in the mud, a practice that is now illegal in Hollywood movies.