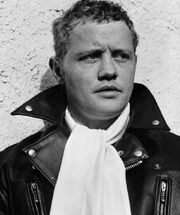 Dudley Sutton
(
April 6
,
1933
–
September 15
,
2018
) was an English actor.
He became known after unusual roles in two films directed by Sidney J. Furie. He played a frustrated teenager accused with his friends of murder in The Boys and a gay biker in The Leather Boys, both parts showing his potential for offbeat screen personae. At a reunion of the three surviving stars of the earlier film in London on September 17, 2017, Sutton related that he felt himself privileged that these movies had dealt with two matters close to his heart: the iniquity of the death penalty, and gay rights. He married American actress Marjorie Steele in 1961; she had previously been married to the millionaire producer Huntington Hartford. 
For Disney, he starred in episodes of Walt Disney's Wonderful World of Color, and played Goetz in The London Connection, and Marriot in My Talks with Dean Spanley.
Community content is available under
CC-BY-SA
unless otherwise noted.