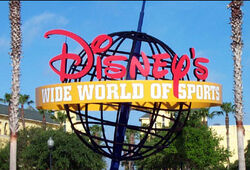 The
ESPN Wide World of Sports
Complex is an athletic complex located in
Walt Disney World
in Florida as a part of the
Disney Parks
. The complex host many amateur and professional sporting events and holds nine venues. Prior to
2009
, the complex was called "Disney's Wide World of Sports"; however, Disney executives made a transition to the
ESPN
name in that year due to their 80% ownership of the sports network.
History
Disney built the complex over former wetlands similar to the history of Walt Disney World. The entire project cost US $100 million. The original complex includes multi-purpose fields, the Milk House (an sports arena), baseball diamonds and a baseball stadium where the Atlanta Braves hold spring training every year. A new multipurpose center, called the Josten's Center, opened in 2008.
Expansion of Complex
Disney announced plans to construct a 160,000 square foot 100-lane bowling stadium, which would be the largest in the country. It will offer stadium-style seating, a restaurant and would be completed in early 2011. The stadium would be used for events or open to guests, and would also be used as a venue to host the United States Bowling Congress tournaments, which would boost the economy by bringing guests and visitors to local hotels and restaurants.
Gallery