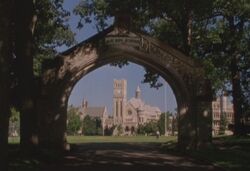 Eden Hall Academy
is a fictional, prestigious prep school in Minneapolis, Minnesota. The four-year academy is featured in the film
D3: The Mighty Ducks
as a private school with tuition with scholarships awarded to deserving students.
Gordon Bombay
went to school here. The academy has on-campus dormitories that students reside in. The headmaster of the academy is Dean Buckley, former Biology teacher when Gordon Bombay attended. Mostly the Ducks who live in Minnesota commute to Eden Hall Academy and live at home. Julie, Russ, Dwayne and Ken all lived in the dorms of Eden Hall. Mostly Portman was supposed go to the Academy, he staying in Chicago when Bombay wasn't going to coach. But Bombay convinced him to attend Eden Hall Academy and pull some strings with the headmaster Dean Buckley to let him attend.
Eden Hall competes in many sports, as they have both a Varsity and Jr. Varsity hockey team.
Amenities
Cafeteria
Dormitories
Hockey Rink and Locker Rooms
Radio Station (KWAR) to broadcast its sporting events.
Stables
Gallery
Community content is available under
CC-BY-SA
unless otherwise noted.