| | |
| --- | --- |
| | Eeyore is a featured article, which means that it has been identified as one of the best articles produced by the Disney Wiki community. If you see a way this page can be updated or improved without compromising previous work, please feel free to contribute. |
"All good things come to an end..."
―Eeyore
Eeyore is a pessimistic and gloomy old stuffed donkey belonging to Christopher Robin. He first appeared in Disney's 1966 theatrical short Winnie the Pooh and the Honey Tree.
Background
Eeyore is stuffed with sawdust and lives alone, underneath a small, teepee-style house made of sticks. A running gag is that Eeyore's home is almost always knocked over, forcing the gloomy donkey to rebuild it from scratch, usually at a different location. He has his own area in the Hundred Acre Woods known for its dismal atmosphere: "Eeyore's Gloomy Place", where he is typically seen sulking under a rain cloud or eating thistles.
Apart from his cynical personality, Eeyore's tail is perhaps his most defining trait. Despite being pinned down with a nail, Eeyore's tail frequently detaches from his bottom and winds up getting lost for a period of time. Christopher Robin is typically called upon to reattach it.
Personality
Eeyore is hardly ever happy, and even when he is, he's still sardonic and a bit cynical. Ironically, he actually seems to enjoy being gloomy to an extent and sees it as the essence of his very being. Nevertheless, he seems genuinely appreciative of the effort his friends put forth to cheer him up and is still a good friend. Eeyore's grumpiness and negative ways might be attributed to the fact that his tail is affixed to his backside using a pushpin and has a tendency to fall off. He doesn't like his tail, but he agrees that nothing better can replace it. He also loves sad stories because they make him feel more appreciative of his life and what he has. He also really likes eating thistles and sugar cubes.
Even though he complains a lot, Eeyore is generally quite a reliable character; a person you can lean on in times of trouble. He can sometimes be quite insightful ― in Winnie the Pooh's Most Grand Adventure, he was the first to understand that the group didn't have to go on a long and dangerous journey to become strong, smart or brave ― they had it inside them all along. In addition to this, a few episodes of the animated series The New Adventures of Winnie the Pooh have shown hints that Eeyore is arguably the smartest, wisest, and most down-to-earth resident of the Hundred Acre Woods and has the most common sense (along with Kanga), most notably seen in the episode "Stripes" and "Home is Where the Home is".
Film appearances
Eeyore is featured as a minor character in two of the three segments. In Winnie the Pooh and the Honey Tree, he is introduced by the narrator as being "stuffed with sawdust". He had lost his tail, and it was being fixed by Christopher Robin. Eeyore later assists in pulling Pooh out of Rabbit's doorway (by taking hold of Kanga's jumping tail).
In Winnie the Pooh and the Blustery Day, Eeyore tasks himself with finding a new home for Owl, who had lost his due to the wind. He sticks to his task, even while the woods are flooded. Eeyore eventually finds a house for Owl, mistakenly choosing Piglet's house for Owl. Even though Pooh encourages Piglet to point out the mistake, Piglet generously offers his home to Owl.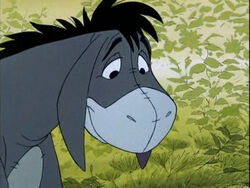 Eeyore is first seen floating in the river, while Pooh is playing a game of Poohsticks. A flashback, courtesy of the Narrator, reveals that he had been deliberately bounced by Tigger. Pooh notices that Eeyore is more depressed than usual, and asks Eeyore what's wrong. Eeyore reveals that it's his birthday and no one has noticed.
Later, Pooh reappears with an empty honey pot (he had eaten the honey along the way), alongside Piglet who had intended to bring a balloon, even though it had popped. Despite this, Eeyore is touched by the gifts, because he can place the balloon in the pot and take it back out. Eeyore later attends a birthday party in his honor, put together by Christopher Robin. Tigger later appears uninvited, despite Rabbit's protests regarding Tigger's previous treatment of Eeyore. Christopher Robin decides to take everyone to the river, where they play Poohsticks. Eeyore, who is playing for the first time, is revealed to be a natural and wins most of the games, while Tigger wins none. Eeyore later shares his secret with Tigger.
Eeyore joins in the hunt for Christopher Robin, who is believed to have gone missing. Owl misread Christopher Robin's note, causing everyone to go on an adventure to save him from "Skull." In the film, Eeyore is the only character that goes on the journey and doesn't accomplish anything, such as Rabbit realizing he's smarter than he thinks and Tigger realizing he's stronger than he seems and Piglet realizing he's braver than he believes. While inside Skull Cave, looking for Christopher Robin, Eeyore ends up falling off a rocky bridge, gets thrown all the way up, and gets a log shaped like a Styracosaurus stuck on his face. He runs with Piglet sitting on his butt on backwards, and are reunited with Tigger and Rabbit, but are scared away by Pooh, whom they mistake him as the Skullasaurus. Despite this, Eeyore was the first to realize all the friends had their special ability in themselves all the time. They find Christopher Robin (who was actually at school, as Owl was incorrect in his deciphering), and return home.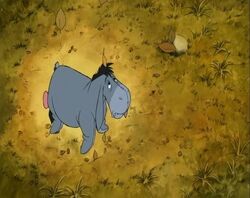 Once again poor Eeyore's house is destroyed and this time by a huge boulder. Eeyore's faithful friends create a pulley system with the guidance of Rabbit to remove the boulder but the plan goes into hot water after Tigger uses a special bounce to move it. All the ropes tangled the gang and Eeyore along with the device which goes twirling down a hill and into a pond. Eeyore shows he's even more upset about the whole incident.
Pooh Bear believes Tigger deserves a real family and Eeyore helps Pooh search for them. Little Roo gets the idea to make a letter to Tigger and all the friends place their own saying while Eeyore's is "Keep smiling."
Eeyore is shocked to see Tigger thinking the letter was from his actual family. Eeyore and his friends create Tigger costumes. At first, Eeyore was unexcited but eventually started to smile and find it amusing. Tigger notices the Tiggers are actually his friends in costumes and shocked to see Eeyore was a part of it. The gang search through a blizzard to find their friend including Eeyore and the all reunite. As a thank you gift, Tigger creates a beautiful home for Eeyore.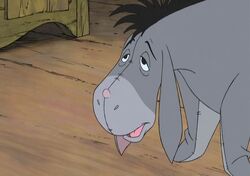 Eeyore is first seen in the film's opening as a part of Pooh's master plan of getting honey from the bees. Eeyore's job is to lure the bees to the decoy hive held by Pooh and Tigger. The plan is a disaster until Piglet saves the day. No one (including Eeyore) noticed and celebrated without Piglet. When the bees free themselves from the fake hive, they chase Eeyore and the gang. Eeyore is left outside while Pooh, Rabbit, and Tigger reach Piglet's home safely. Eeyore returns and was stung.
Rabbit notices Piglet's absence and they search for him. They use Piglet's scrapbook as a map and when taken away by a river, the group creates their own scrapbook to Piglet's dedication and return to find him. The original book was found at the edge of a log over a waterfall and Pooh risks his life to recover it. Eeyore helps the group make a rescue rope, but they're not long enough. Piglet arrives and saves Pooh in the nick of time. Eeyore joins the celebration honoring Piglet.
In this movie, Eeyore is actually in a good mood about the Easter celebration, especially looking forward to wearing his special bunny ears. At the end of the film, Rabbit makes him a bunny tail to match his ears.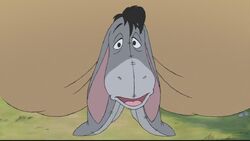 Eeyore reappears in the film and joins the group led by Rabbit in the first-ever Heffalump expedition. During the movie, Eeyore is accidentally separated from the group, but reunites with them during the end credits and meets the new group member, a Heffalump named Lumpy.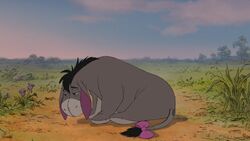 Eeyore is first seen being more gloomy than usual at his home. Pooh pays a visit in a search for honey but instead finds out that Eeyore has lost his tail again. Pooh and Eeyore are then greeted by Owl who flies over to Christopher Robin for a solution to the problem. Christopher sets up a contest for the recovery of the tail or a substitute, with honey as the reward. Pooh uses a cuckoo clock, but as Eeyore took a seat, it was destroyed. Piglet used a balloon but it floated Eeyore into the air. Next, Kanga knitted a replacement tail, but it unraveled.
After a while, Eeyore went over to Owl's house where Owl provided a chalkboard as a tail and incorrectly labeled it "Tael". Just then, Pooh arrived and asked Owl to decipher a note he found on Christopher Robin's door. Owl reads the note as if it were a distress note, informing the friends that Christopher has been captured by a creature called the Backson. A search for Christopher begins but Eeyore is left behind because he couldn't keep up. He runs into to Tigger who proclaims Eeyore "Tigger Two", feeling remorse for his lonely friend. After some comical Tigger training, Eeyore decides to leave the scene and hides in a pond until Tigger leaves.
At the bottom of the pond, Eeyore finds an anchor for a tail and heads over to Rabbit, Kanga, Roo, Owl, and Piglet as they try to get Pooh out of a pit trap meant for the Backson. Rabbit decides to use the chain of Eeyore's anchor to get Pooh out, but the anchor pulls Eeyore into the pit with Pooh and drags everyone else along too. Eventually, Tigger and Piglet are trapped as well and Eeyore no feels that he and his friends will soon perish stating "We're all gonna die." However, Pooh creates a ladder using textbook letters. The gang is freed and Christopher Robin appears explaining that he was only at school. That evening, Pooh finds Eeyore's real tail at Owl's house, being used as a bell ringer. Pooh returns it and Christopher places it back on. As a reward for choosing to return Eeyore's tail before getting a honeypot, Pooh is rewarded a massive jar of honey.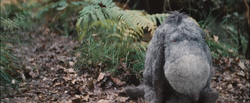 In the live-action film, Eeyore, Pooh and the other animals of the Hundred Acre Wood join Christopher Robin in saying goodbye to him when he prepares to leave for boarding school.
Years later, when Pooh's friends all go missing, he asks Christopher Robin to help him find them. After getting separated from Pooh, Eeyore is the first of the group he manages to locate, with Eeyore having fallen into the stream. Though Eeyore is rescued, he doesn't recognize the adult Christopher Robin and believes him to be a heffalump. However, he accompanies Christopher Robin in finding Owl, Kanga, Roo, Rabbit, Tigger, and Piglet who is likewise convinced that Christopher Robin is a heffalump. To regain their trust, Christopher Robin takes Eeyore and runs behind a stand of trees and pretends to vanquish a heffalump. Eeyore then quickly and happily realizes that he is with Christopher Robin and helps further the illusion by making heffalump sounds. As a result of their trick, Christopher Robin regains the trust of the animals of the Hundred Acre Wood. He also helps in finding Winnie the Pooh afterward.
When Christopher Robin leaves and Tigger inadvertently removes Christopher's important paperwork, Eeyore accompanies Pooh, Piglet, and Tigger to return them. In doing so, they end up meeting Christopher Robin's daughter, Madeline Robin and rush with her to London to help return her father's paperwork to him at his job at Winslow Luggages and to dissuade him from sending her to boarding school. During this time, they also teach Madeline what it means to have fun. During the journey, they manage to stow away in the back of one of the company's supplies trucks. However, he, Tigger and Piglet are separated from Madeline and inadvertently are reunited with Christopher Robin, where they meet his astonished wife, Evelyn as well. Upon reuniting with Madeline, Eeyore, Pooh, Piglet, and Tigger are present with Christopher's family to hear him speak about his plan involving reducing the prices of luggage, giving employees paid leave, and selling their luggage to everyday people to increase demand so that Winslow's employees can keep their jobs. When Giles Winslow Jr. scoffs at this plan and is humiliated because of everyone else including his father (Winslow Sr.) warming to this plan, Eeyore eyes him with a look of satisfaction at Giles' comeuppance, causing Winslow Jr. to wonder in bewilderment if he's actually seeing Eeyore staring at him. When Christopher Robin brings his family to the Hundred Acre Wood to meet the rest of the other animals, Eeyore celebrates and picnics with them.
In a mid-credits scene, Eeyore, Pooh, Piglet, and Tigger are seen relaxing at the beach with the employees of Winslow Luggage and Christopher Robin's neighbor.
Brad Garrett returns to voice Eeyore, whose design resembles both E.H. Shepard's illustrations (removing the pink bow on his tail) and the Disney iteration (with his bulbous snout).
Other films
In Winnie the Pooh Discovers the Seasons, Eeyore learns about the various seasons alongside Pooh and Piglet.
In Ralph Breaks the Internet, Eeyore appears in the Oh My Disney website, where he briefly interacts with Vanellope von Schweetz.
Television appearances
In this series, Eeyore is portrayed by two live actors in a puppet suit. He is sometimes seen carrying Roo on his back. Eeyore is also shown to have a love for dancing.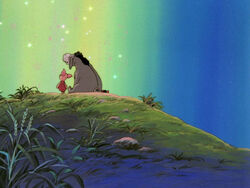 Eeyore appears as a main character in the series and has several episodes regarding him. In "Donkey for a Day", everyone mistakenly thinks Eeyore is depressed when they see him sitting alone on a cliff. They try to cheer him up through various activities. Later, Piglet goes to talk to him, and Eeyore says that he wasn't sad at all. Instead, he comes to the cliff when he is happy, and he shows Piglet a game he plays with the clouds.
In "The "New" Eeyore", Eeyore decides that he would like to become more popular. Seeking advice, he speaks with Tigger, who advises him to smile and say hello. Later on, Eeyore misinterprets Tigger's final piece of advice (Tigger mentioned that people liked him because he acted like himself) and decides to begin acting and looking like Tigger. Eeyore is later corrected by his friends and decides to be himself, though he retains the lessons of smiling more and saying hello to others.
"Eeyore's Tail Tale" shows Eeyore becoming sick of his tail and leaving it behind. He later regrets this and decides to regain it, but not before the trail makes its way to each of his friends, who each use it for a different purpose. Meanwhile, when each friend loses the tail, Tigger decides to solve the crimes. When the tail is finally found, Eeyore is able to reclaim his tail from his friends, who had been unaware of its true purpose.
A running gag through the show is that Eeyore's house (which is made of sticks) is knocked over for various times and reasons.
Eeyore was portrayed by a puppet in the series and was the focus of various episodes, such as "My Gloomy Valentine", where Valentin's Day has arrived and everyone's received a valentine except for Eeyore, much to his disappointment. Another notable episode is "The Case of the Disappeared Donkey", where Eeyore goes missing, prompting Tigger to embark on a search for him. Perhaps Eeyore's most significant role was in "The Book of Boo" where Eeyore, not understanding the fuss of Halloween, claims that he doesn't find the gang's Halloween tricks to be scary. By the end of the episode, Piglet accidentally scares Eeyore, which in turn, puts him into the spirit of the season.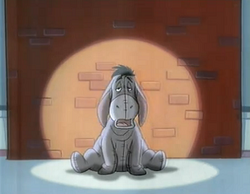 Eeyore has made numerous cameos in the show, usually seated with other characters from the Winnie the Pooh series.
His most notable appearance was in "Unplugged Club", in which he made a special appearance at the club as a stand-up comedian.
In "Dining Goofy", he showed to be not amused by the fact that he was seated with Jiminy Cricket.
In "House of Turkey", he commented on the show's behind-the-scenes plot revolving several guests trying to devour the Guest of Honor, who happened to be a turkey.
Eeyore also makes a notable appearance in Mickey's Magical Christmas: Snowed in at the House of Mouse, where he goes on stage and tells the guest what he's thankful for. Eeyore states that he's thankful for laughter, joy, and the high-spirited glee that "fills my heart to overflowing," and then sighs. This segment was recycled in "House of Turkey".
In "Clarabelle's Christmas List", he comments on Clarabelle's disappointment about her Christmas list saying "Uh oh. This doesn't sound good."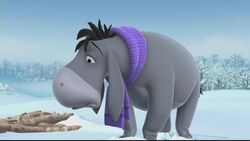 In the computer-animated series, Eeyore appeared as a supporting character, mostly in bits and pieces throughout the episodes. Like the other Hundred Acre Woods inhabitants (sans Pooh and Tigger), Eeyore would sometimes call upon the Super Sleuths to solve a problem, though he tends to be reluctant in doing so. In "Eeyore Sleeps on It", the sleuths learn that Eeyore has a problem with sleepwalking. In "Eeyore's Dark Cloud", Eeyore's depression manifests into a literal dark cloud hovering above him, which eventually disappears, resulting in Eeyore calling the sleuths go get it back. When not the focus of a problem, Eeyore would sometimes join the Super Sleuths on an adventure.
Eeyore makes a guest appearance in the special episode "Into the Hundred Acre Wood". When Pooh goes missing, Eeyore joins Tigger and Piglet in trying to find him. During their search, they run into Doc McStuffins and her group of anthropomorphic stuffed animals. She intrudes herself as a doctor for toys, which Eeyore is astonished by. He also becomes acquainted with Doc's snowman plush, Chilly.
Video games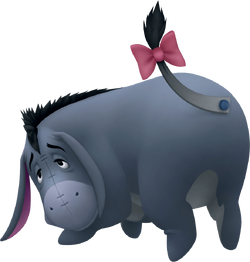 Eeyore is a character of the Hundred Acre Wood world of Kingdom Hearts, Kingdom Hearts: Chain of Memories, and Kingdom Hearts II.
In Kingdom Hearts, Eeyore appears after Sora had already met Pooh, Tigger, Roo, Piglet, Owl, and Rabbit. The group recovered Eeyore's lost, strap-on tail.
A version of him is created out of Sora's memories, in Kingdom Hearts: Chain of Memories.
In Kingdom Hearts II, Heartless tore out pages from the Hundred Acre Wood's book, giving Pooh amnesia. Eeyore appeared later in the world and Pooh remembered his name, after being fed honey to trigger his memory.
Eeyore appears as a meet-and-greet character in Critter Country. He gives the player a few tasks, including asking them to find his tail. He also plays a role in the Many Adventures of Winnie the Pooh mini-game.
Eeyore appears as a walk around, non-playable character in the form of one of the townspeople.
Eeyore appears as a playable character who was added to the game along with Pooh and Tigger, he can use his tail as a weapon by throwing a ball at enemies, he can build his house to create a shield and when it collapses, a cloud rains down on him to give energy.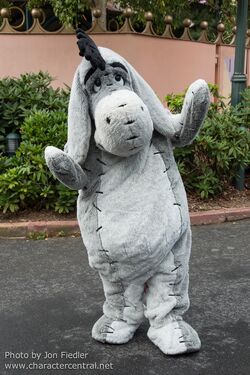 In the Disney theme parks around the world, Eeyore is a fairly common character; the third most common character from the Pooh franchise (after Pooh and Tigger). Like Pluto, Eeyore walks on his hind legs at the parks although he did walk on all fours in Welcome to Pooh Corner and Disney Live! like in the cartoons.
In Disneyland and the Magic Kingdom, Eeyore appears as an animatronic in the popular ride, The Many Adventures of Winnie the Pooh, playing the same role as he did in the movie. As the ride goes through, various comments from Eeyore are heard (mostly complaints).
Disneyland
A sign of Eeyore decorates the interior queue of Indiana Jones Adventure: Temple of the Forbidden Eye, being amongst the equipment used by Indiana Jones' excavation team. This is a tribute to the Eeyore section of Disneyland's parking lot which the attraction was built on.
Eeyore, along with Pooh, Tigger, and Piglet, are meet-and-greet characters at the Crystal Palace restaurant in the Magic Kingdom.
Eeyore has his own spell card known as "Eeyore's Gloom Cloud" in the attraction Sorcerers of the Magic Kingdom.
During the Halloween season, Eeyore appears in costume during Mickey's Not-So-Scary Halloween Party, for meet-and-greets.
In Tokyo Disneyland's Pooh's Hunny Hunt, Eeyore makes a brief appearance in the beginning, where his house is accidentally knocked down by Pooh.
Gallery
Trivia
Eeyore spells his name "eoR".
While Eeyore is gray in animation and puppetry, he is blue in merchandise.
In Winnie the Pooh and a Day for Eeyore, it is revealed that Eeyore's favorite color is red.
Eeyore's birthday was December 25, 1921, when Christopher Robin got him as a Christmas present.
Despite his depressive nature, Eeyore is capable of great compassion and empathy, which is shown when he grows a plant that Rabbit (a master gardener) was unable to grow, just by showing the plant a little love.
Eeyore is the only one of the toy animals to have more detailed eyes as opposed to just having black doted-eyes, while Rabbit and Owl also have detailed eyes they were both real animals as opposed to toy ones.
In merchandise by the Walt Disney Company and cover art, Eeyore always has an uncharacteristic smile. Also, he is somewhat less caustic and sarcastic in the Disney version than in A.A. Milne's original stories. It must also be noted that Eeyore's tail wasn't always fixed to him by a pushpin, although Disney has chosen this as part of his permanent image.
Age-wise, Eeyore may be the oldest member of the group.
Eeyore's name is based on the British Cockney dialect version of the phrase "hee-haw".
Eeyore is the current reigning champion at Poohsticks.
In Christopher Robin, Eeyore has a silly habit of calling Evelyn Robin "Evelyn My-Wife" as he believes it is her full name.
Eeyore constantly losing his tail and needing it pinned to him could be a reference to the party game "Pin The Tail On The Donkey".
References
v - e - d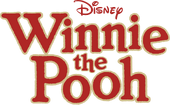 Songs
Movie Songs
Winnie the Pooh and the Honey Tree: "Winnie the Pooh" • "Up, Down, Touch the Ground" • "Rumbly in My Tumbly" • "Little Black Rain Cloud" • "Mind Over Matter"
Winnie the Pooh and the Blustery Day: "A Rather Blustery Day" • "The Wonderful Thing About Tiggers" • "Heffalumps and Woozles" • "Rain, Rain, Rain Came Down, Down, Down" • "Hip-Hip-Hooray!"
Boo to You Too! Winnie the Pooh: "I Am Not Afraid" • "I Wanna Scare Myself"
Pooh's Grand Adventure: The Search for Christopher Robin: "Forever & Ever" • "Adventure is a Wonderful Thing" • "If It Says So" • "Wherever You Are" • "Everything is Right"
A Winnie the Pooh Thanksgiving: "Hooray, Hooray!" • "Berrily We Roll Along" • "Our Thanksgiving Day" •
Winnie the Pooh: Seasons of Giving: "Seasons of Giving"
The Many Songs of Winnie the Pooh: "It Really Was a Woozle, Yes it Was"
Sing a Song with Pooh Bear: "Kanga Roo Hop" • "Harvest What You Grow" • "My Song"
Winnie the Pooh: A Valentine for You: "Girls are Like Boys" • "When the Love Bug Bites" • "Places in the Heart"
Winnie the Pooh: A Very Merry Pooh Year: "Jingle Bells" • "Snow Snows" • "Happy Pooh Year" • "Hunny, No Not For Me" • "Auld Lang Syne"
The Tigger Movie: "Someone Like Me" • "Whoop-de-Dooper Bounce" • "Lull-a-Bee" • "Round My Family Tree" • "How to Be a Tigger" • "Your Heart Will Lead You Home"
Piglet's Big Movie: "If I Wasn't So Small" • "A Mother's Intuition" • "With a Few Good Friends" • "Sing-Ho (For the Life of a Bear)" • "The More It Snows (Tiddely-Pom)" • "The More I Look Inside" • "Comforting to Know"
Springtime With Roo: "We're Huntin' Eggs Today" • "Sniffley Sniff" • "Easter Day With You" • "The Way It Must Be Done"
Pooh's Heffalump Movie: "Little Mr. Roo" • "The Horribly Hazardous Heffalumps" • "The Name Game" • "Shoulder to Shoulder" • "In the Name of the Hundred Acre Wood/What Do You Do?"
Pooh's Heffalump Halloween Movie: "Trick 'R Treating With Our Friends" • "Brave Together"
Winnie the Pooh: "The Tummy Song" • "A Very Important Thing to Do" • "The Winner Song" • "The Backson Song" • "It's Gonna Be Great" • "Everything is Honey" • "Pooh's Finale"
Christopher Robin: "Goodbye, Farewell" • "Busy Doing Nothing" • "Christopher Robin"
Television Songs
Welcome to Pooh Corner: "Welcome to Pooh Corner Theme Song" • "Try a Little Something New" • "The Right Side" • "Yes, I Can" • "You're the Only You" • "I Hum to Myself" • "Please and Thank You" • "Responsible Persons" • "You're the One and Only One" • "Welcome to Pooh Corner Ending Theme"
The New Adventures of Winnie the Pooh: "Pooh Bear" • "'Cause It's Make Believe" • "The Floating Song" • "Nothing's Too Good for a Friend" • "Under the Bed" • "I Don't Have A Name" • "King of the Beasties" • "The End" • "Pirates is What We'll Be" • "Tigger the Private Ear is Here"
The Book of Pooh: "Everyone Knows He's Winnie the Pooh" • "Goodbye for Now" • "Your Best Wishes" • "On the Double" • "Who is Me" • "Think, Think, Think" • "What Piglets Are" • "I Watch for Signs" • "We're Making a Cake" • "If I Could Be Big" • "Isn't That Funny?" • "Everyone Wants a Valentine" • "That's What We Do" • "Keep it Simple" • "Have You Got a Book For Me?" • "Give It a Try" • "On Your Way Back Home" • "The Birdbird Song" • "Nightmare Wranglers" • "Carry On" • "What's Your Name, River" • "Where Do Words Go?" • "Under a Spelling Bee's Spell" • "Adventure" • "Mental Altitude" • "I Want to Know Everything Now" • "Happy Tailiversary" • "Get Growin'" • "Tigger's Lullaby" • "Perfect Party" • "If We Were Talkin'" • "Someone New to Meet" • "My Hero" • "Broken Friendships" • "Do the Roo" • "Call Me Buck-a-Roo" • "At Chez Piglet" • "Nothing Ever Happens" • "Too Much Honey" • "Lost in a Book"
My Friends Tigger and Pooh: "A Few Simple Rules" • "Bouncin'" • "The Grass is Greenier" • "The Password Song" • "Underneath the Same Sky" • "One Big Happy Family" • "Think, Think, Think" • "The Question Song" • "Floating in a Cloud" • "Different Can Be Good" • "The Little Things You Do" • "There's a Party" • "No More Fun In the Snow" • "Butterflies" • "What Makes a Pony a Pony" • "When We Work Together" • "Christmas Comes Tomorrow" • "Time to Go (On a Trek Through the Snow)" • "Snowman Song"
Miscellaneous: "Luv-a-bye" • "Playtime Song" • "Learning Song" • "Friendship Song" • "Snug as a Bear Can Be" • "The Scrapbook Song"

v - e - d
Characters
Main Characters: Sora • Riku • Kairi • King Mickey • Donald Duck • Goofy • Roxas • Axel/Lea • Naminé • Xion • Aqua • Terra • Ventus


Villains: Xehanort • Ansem • Xemnas • Maleficent • Pete • Vanitas • Xigbar/Braig • Xaldin • Vexen • Lexaeus • Zexion • Saïx/Isa • Demyx • Luxord • Marluxia • Larxene • Terra-Xehanort • Young Xehanort • Xehanort's Guardian
Other Characters: Jiminy Cricket • Ansem the Wise/DiZ • Yen Sid • Master Eraqus • Dilan • Even • Aeleus • Ienzo • Lingering Will • Hayner • Pence • Olette • Kairi's Grandma • Riku Replica • Jiminy's Journal • Foretellers • Master of Masters • Luxu • Ephemer • Skuld • Chirithy • Lauriam • Elrena
Original Monsters: Heartless • Nobodies • Unversed • Dream Eater
Disney Characters introduced in Kingdom Hearts: Queen Minnie • Daisy Duck • Pluto • Chip and Dale • Huey, Dewey, and Louie • Magic Brooms • Alice • White Rabbit • Doorknob • Cheshire Cat • Queen of Hearts • Card Soldiers • Tarzan • Jane Porter • Clayton • Terk • Kerchak • Kala • Sabor • Hercules • Philoctetes • Hades • Cerberus • Rock Titan • Ice Titan • Aladdin • Abu • Jasmine • Genie • Carpet • Jafar • Iago • Peddler • Cave of Wonders • Pinocchio • Geppetto • Monstro • Cleo • Ariel • Flounder • Sebastian • Ursula • King Triton• Flotsam and Jetsam • Glut • Jack Skellington • Zero • Sally • Oogie Boogie • Lock, Shock, and Barrel • Dr. Finkelstein • Mayor of Halloween Town • Peter Pan • Tinker Bell • Captain Hook • Mr. Smee • Wendy • Crocodile • Merlin • Winnie the Pooh • Tigger • Piglet • Eeyore • Rabbit • Owl • Roo • Bees • Beast • Belle • Snow White • Cinderella • Fairy Godmother • Aurora • Pongo • Perdita • Dalmatian Puppies • Simba • Mushu • Dumbo • Bambi • Chernabog
Disney Characters introduced in Kingdom Hearts II: Flora, Fauna, and Merryweather • Maleficent's Raven • Scrooge McDuck • Mulan • Li Shang • Shan Yu • Hayabusa • Yao, Ling, and Chien Po • The Emperor • Lumiere • Cogsworth • Mrs Potts • Chip • Wardrobe • Pegasus • Megara • Pain and Panic • Hydra • Horace Horsecollar • Clarabelle Cow • Clara Cluck • Jack Sparrow • Elizabeth Swann • Will Turner • Captain Barbossa • Bo'sun • Jacoby • Twigg • Cursed Crew • Prince Eric • Attina • Andrina • Santa Claus • Skeletal Reindeer • Timon • Pumbaa • Nala • Rafiki • Scar • Shenzi, Banzai, and Ed • Mufasa • Kiara • Pridelanders • Hyenas • Tron • Master Control Program • Commander Sark • Kanga • Gopher • Stitch • Chicken Little
Disney Characters introduced in Birth by Sleep: Prince Phillip • Maleficent's Goons • Doc • Grumpy • Happy • Sleepy • Bashful • Sneezy • Dopey • The Prince • Evil Queen • Magic Mirror • Prince Charming • Jaq • Lady Tremaine • Anastasia • Drizella • Lucifer • Grand Duke • Grand Councilwoman • Captain Gantu • Jumba • Experiment 221 • Lost Boys
Disney Characters introduced in Dream Drop Distance: Quasimodo • Esmeralda • Phoebus • Judge Claude Frollo • Victor, Hugo, and Laverne • Kevin Flynn • Sam Flynn • Quorra • CLU • Rinzler • Black Guards • Blue Fairy • Beagle Boys • Chernabog's Minions • Julius
Disney Characters introduced in Kingdom Hearts χ: Mad Hatter • March Hare • Razoul • Royal Guards • Maurice • Gaston
Disney Characters introduced in Kingdom Hearts Union χ: Sultan • Samson • Vanellope von Schweetz • Fix-It Felix Jr. • Sergeant Calhoun • King Candy • Sour Bill • Cy-Bugs • Hero's Duty Troops
Disney Characters introduced in Kingdom Hearts III: Zeus • Apollo • Athena • Hermes • Lava Titan • Tornado Titan • Little Chef • Woody • Buzz Lightyear • Rex • Hamm • Sarge • Green Army Men • Little Green Men • Rapunzel • Flynn Rider • Pascal • Maximus • Mother Gothel • Sulley • Mike Wazowski • Boo • Randall Boggs • Child Detection Agency • Trailer Son and Mom • Elsa • Anna • Kristoff • Olaf • Sven • Marshmallow • Hans • Mr. Gibbs • Tia Dalma • Davy Jones • Kraken • Cutler Beckett • Baymax • Hiro Hamada • Go Go Tomago • Honey Lemon • Fred • Wasabi • Lumpy • Wreck-It Ralph
Disney Characters introduced in Kingdom Hearts Dark Road: Tweedledee and Tweedledum
Disney Characters introduced in the manga: Caterpillar • Chi-Fu
Square Enix Characters: Leon • Cloud • Moogle • Others
v - e - d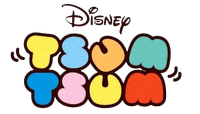 Disney
Mickey & Friends:

Mickey • Minnie • Donald • Daisy • Goofy • Pluto • Chip and Dale • Oswald • Ortensia • Duffy • ShellieMay • Gelatoni • StellaLou • CookieAnn • 'Olu Mel • Huey, Dewey, and Louie • José Carioca • Panchito Pistoles • Clarabelle Cow • Horace Horsecollar • Max Goof • Clarice • Pete • Scrooge McDuck • Ludwig Von Drake • Dr. Frankenollie • Julius

Pooh and Pals: Pooh • Tigger • Piglet • Eeyore • Rabbit • Owl • Roo • Kanga • Gopher • Christopher Robin • Lumpy
Lilo & Stitch: Stitch • Lilo • Scrump • Pleakley • Jumba • Angel • Leroy • Dr. Hämsterviel • Ugly Duckling • Sparky • 627 • Gigi • Babyfier • Yang • Slushy • Shortstuff • 625 • Amnesio • Dupe • Sample • Clip • Tank • Yin • Hunkahunka • Plasmoid
Silly Symphonies: Donald Duck • Big Bad Wolf • Practical Pig • Fiddler Pig • Fifer Pig • Ugly Duckling
Snow White and the Seven Dwarfs: Snow White • Evil Queen • Doc • Grumpy • Happy • Bashful • Sneezy • Sleepy • Dopey
Pinocchio: Pinocchio • Jiminy Cricket • Figaro • Cleo • Geppetto • Blue Fairy • Honest John and Gideon • Lampwick • Monstro
Fantasia: Mickey • Yen Sid • Chernabog • Hyacinth Hippo • Ben Ali Gator
Dumbo: Dumbo
Bambi: Bambi • Thumper • Miss Bunny • Friend Owl • The Great Prince of the Forest
The Three Caballeros: Gauchito • Burrito
The Adventures of Ichabod and Mr. Toad: Mr. Toad
Cinderella: Cinderella • Jaq and Gus • Prince Charming • Fairy Godmother • Lady Tremaine • Lucifer • Suzy • Perla • Bruno
Alice in Wonderland: Alice • Mad Hatter • March Hare • Dormouse • White Rabbit • Cheshire Cat • Tweedle Dum and Tweedle Dee • Queen of Hearts • King of Hearts • Caterpillar • Dinah • Oysters
Peter Pan: Peter Pan • Tinker Bell • Wendy Darling • John Darling • Michael Darling • Captain Hook • Mr Smee • Nana • Tick Tock • Tiger Lily
Lady and the Tramp: Lady • Tramp • Si and Am • Jock • Trusty • Peg
Sleeping Beauty: Aurora • Phillip • Maleficent • Flora • Fauna • Merryweather • Diablo • Samson • King Stefan • Goon • Owl • Rabbit
Mary Poppins: Mary Poppins • Bert • Penguin Waiter • Carousel Horse
One Hundred and One Dalmatians: Cruella De Vil • Lucky • Patch • Rolly
The Jungle Book: Mowgli • Baloo • Bagheera • Shere Khan • Kaa • King Louie • Hathi, Jr. • Raksha
Pete's Dragon: Elliott
The Fox and the Hound: Tod • Copper
The Aristocats: Marie • Berlioz • Toulouse • Duchess • Thomas O'Malley
The Rescuers: Bernard • Bianca
Oliver & Company: Oliver • Dodger • Tito • Rita • Francis • Einstein
The Little Mermaid: Ariel • Flounder • Sebastian • Eric • Ursula • Triton • Max • Scuttle
Beauty and the Beast: Belle • Beast • Lumiere • Cogsworth • Mrs. Potts • Chip • Maurice • Philippe • Gaston • LeFou
Aladdin: Aladdin • Abu • Genie • Jasmine • Jafar • Sultan • Iago • Rajah
The Nightmare Before Christmas: Jack Skellington • Sally • Zero • Lock, Shock, and Barrel • Oogie Boogie • Dr. Finkelstein • Mayor of Halloween Town • Santa Claus
The Lion King: Simba • Nala • Timon • Pumbaa • Zazu • Rafiki • Scar • Ed
Pocahontas: Pocahontas • John Smith • Meeko • Flit • Percy
Hercules: Hercules • Megara • Hades
Mulan: Mulan • Li Shang • Mushu • Fa Zhou • Khan
The Emperor's New Groove: Kuzco • Yzma • Kronk
Mickey, Donald, Goofy: The Three Musketeers: Mickey Mouse • Minnie Mouse • Donald Duck • Goofy
Chicken Little: Chicken Little
The Princess and the Frog: Tiana • Dr. Facilier
Tangled: Rapunzel • Flynn Rider • Pascal • Maximus • Mother Gothel • Queen Arianna • King Frederic • Cassandra • Fidella • Pub Thug
Wreck-It Ralph: Wreck-It Ralph • Fix-It Felix Jr.
Frozen: Anna • Elsa • Olaf • Kristoff • Sven • Hans • Snowgies • Bruni
Big Hero 6: Hiro • Baymax • Fred • Wasabi • Honey Lemon • Go Go Tomago • Tadashi Hamada • Yokai • Mochi
Zootopia: Judy Hopps • Nick Wilde • Mayor Lionheart • Flash • Yax • Gazelle • Chief Bogo • Clawhauser • Finnick • Mr. Big • Bellwether • Jerry Jumbeaux Jr.
Moana: Moana • Maui • Pua • Heihei • Tamatoa • Kakamora
Chip 'n Dale Rescue Rangers: Chip • Dale • Gadget • Monterey Jack
Phineas and Ferb: Perry
The Lion Guard: Kion • Ono • Bunga • Beshte • Fuli
DuckTales (2017): Scrooge McDuck • Huey, Dewey, and Louie • Webby Vanderquack
Kingdom Hearts: Sora • Riku • Kairi • Aqua • Xemnas • Ansem, Seeker of Darkness • Ventus • Terra • Chirithy • Lea • Young Xehanort
UniBEARsity: Mocha • Pudding • Whip • Puffy • Mont • Blanc • Souffle • Blue Rose • Charmant • Portiron • Rogue Rose • Fauve • Lucien • Horloge • La Mer • Ma Puce
Sofia the First: Sofia • Minimus • Skye
Elena of Avalor: Elena
Enchanted: Giselle
Disney Fairies: Periwinkle • Rosetta • Silvermist
The Sword in the Stone: Wart • Merlin
Oliver & Company: Oliver
Raya and the Last Dragon: Raya • Sisu
Twisted Wonderland: Grim • Riddle Rosehearts • Azul Ashengrotto • Leona Kingscholar • Kalim Al-Asim • Vil Schoenheit • Idia Shroud • Malleus Draconia • Dire Crowley • Mirror of Darkness
v - e - d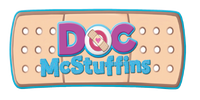 Episodes
Season One: "Knight Time/A Bad Case of the Pricklethorns" • "Out of the Box/Run Down Race Car" • "Tea Party Tantrum/Blast Off!" • "Engine Nine, Feelin' Fine!/The Right Stuff" • "Gulpy, Gulpy Gators!/One Note Wonder" • "Arcade Escapade/Starry Starry Night" • "Ben/Anna Split!/That's Just Claw-ful" • "A Good Case of the Hiccups/Stuck Up" • "Rescue Ronda, Ready for Take-off/All Washed Up" • "The New Girl/Wrap It Up" • "Rest Your Rotors, Ronda/Keep on Truckin'" • "Blame it on the Rain/Busted Boomer" • "Dark Knight/Hallie Gets an Earful" • "Break Dancer/Bubble Monkey" • "Out in the Wild/A Whale of a Time" • "The Rip Heard Round the World/Walkie Talkie Time" • "Un-Bur-Able/Righty-On-Lefty" • "Hallie's Happy Birthday/Shark Style Toothache" • "Awesome Possums/The Bunny Blues" • "Get Set to Get Wet/Loud Louie" • "Caught Blue-Handed/To Squeak, or Not to Squeak" • "Doctoring the Doc/Hot Pursuit" • "Boo-Hoo to You/It's Glow Time" • "Chilly Gets Chilly/Through the Reading Glasses" • "My Huggy Valentine/Dusty Bear" • "Bronto Boo-Boos/Brontosaurus Breath"
Season Two: "Doc McStuffins Goes McMobile/Chip Off the Ol' Box" • "Awesome Guy's Awesome Arm/Lamb in a Jam" • "Diagnosis Not Even Close-Is/Bronty's Twisted Tail" • "Frida Fairy Flies Again/A Tale of Two Dragons" • "Think Pink/You Foose, You Lose" • "Leilani's Luau/Karate Kangaroos" • "Doc to the Rescue/Don't Knock the Noggin" • "Disco Dress Up Daisy/The Glider Brothers" • "Kirby and the King/Bubble Monkey, Blow Your Nose!" • "Professor Pancake/You Crack Me Up" • "A Very McStuffins Christmas" • "The Doctor Will See You Now/Lil' Egghead Feels the Heat" • "The Big Sleepover/No Sweetah Cheetah" • "Big Head Hallie/Peaches Pie, Take a Bath!" • "Celestial Celeste/Run Doc Run!" • "A Fairy Big Knot/Rosie the Rescuer" • "Crikey! It's Wildlife Will!/Rootin' Tootin' Southwest Sal" • "Take Your Doc to Work Day/Blazer's Bike" • "The Big Storm/Spritzy Mitzi" • "Dad's Favorite Toy/Chilly and the Dude" • "Sir Kirby and the Plucky Princess/Serpent Sam Makes a Splash" • "The Wicked King and the Mean Queen/Take a Stroll" • "Oooey Gablooey Springs a Leak/There's a King in Your Tummy!" • "Doc's Busy Day/Wrong Side of the Law" • "Mirror, Mirror on My Penguin/Hide and Eek!" • "McStuffins School of Medicine/The Super Amazing Ultra Hoppers" • "Let the Nightingale Sing" • "Hazel Has a Sleepover/My Breakfast with Bronty" • "Training Army Al/Sproingo Boingo Takes a Leap" • "Shell Shy/Commander No" • "The Flimsy Grumpy Bat/Rockstar Ruby and the Toys" • "A Day Without Cuddles!/Collide-o-scope" • "Crash Course/Luna on the Moon-a" • "Fully in Focus/Picky Nikki" • "Getting to the Heart of Things/Toy in the Sun"
Season Three: "A Big Pain in Teddy's Tummy/Slip N' Slide" • "Itty Bitty Bess Takes Flight/Boxed In" • "Top Lamb/Molly Molly Mouthful" • "Doc's Dream Team/Filling Chilly" • "Fetchin' Findo/Twin Tweaks" • "A Dragon's Best Friend" • "Take Your Pet to the Vet/Master and Commander" • "Stuffy and Squibbles/Queen of Thrones" • "Three Goats A'Cuddlin'/Swimmer's Belly" • "Huggable Hallie/Pop-Up Paulo" • "Nurse's Office/A Case of the Glitters" • "Doc McStuffins Goes to Washington/Winded Winnie" • "Hallie Halloween/Don't Fence Me In" • "Demitri the Dazzling!/Smitten With a Kitten" • "The Search for Squibbles/Factory Fabulous" • "Lambie Gets the Linties/Moo-Moo's Tutu Boo-Boo" • "The New Nurse/Chilly's Loose Button" • "Say It Again, Sadie/Mind Over Matter" • "Snowy Gablooey/Goooooal!" • "Space Buddies Forever!/Liv Long and Pawsper" • "Kirby's Derby/Ticklish Truck" • "Blast Off to the Unknown!/Bust a Move" • "Baby McStuffins/Selfless Snowman" • "St. Patrick's Day Dilemma/A Giant Save" • "Runaway Love/Tour De McStuffins" • "Hooty's Duty/A Cure for a King" • "Bringing Home Baby" • "Baby Names" / "Night Night, Lala" • "The Lady in the Lake/Black Belt Kangaroos" • "Joni the Pony/Sleepless in Stuffyland" • "The Scrapiest Dragon/Going for Broke"
Season Four: "Toy Hospital: Welcome to McStuffinsville" • "Toy Hospital: First Day of Med School/Stuffy Gets His Scrubs" • "Toy Hospital: Night Shift/Cheek-Up Chilly" • "Toy Hospital: Project Nursery Makeover/Stuffy's Ambulance Ride" • "Toy Hospital: Made to Be a Nurse/Rescue at the Ranch" • "CeCe's First Bath/The Most Impatient Patient" • "Chilly's Snow Globe Shakeup/Hoarse Hallie" • "A Lesson in Diagnosis/Karaoke Katie's Opening Night" • "Nikki's Night in the E.R./Royal Buddies" • "Bouncy House Boo Boos/The Best Therapy Pet Yet" • "Toy Hospital: The Mayor's Speech/The Lake Monster" • "Toy Hospital: Chuck Learns to Look!/Birthday Party Emergency" • "Toy Hospital: Camille Gets Over the Hump/Willow's Wonky Whiskers" • "Into the Hundred Acre Wood! • "Toy Hospital: Mole Money, Mole Problems/Yip, Yip, Boom! • "Toy Hospital: Get-Well Gus Gets Well/Triceratops Trouble" • "Hannah the Brave/Waddly's Huggy Overload"
Season Five: The Pet Rescue Team! •

A Pet for Everyone

• The Doc McStuffins Christmas Special • Toys in Space • Adventures in Baby Land • Stuffy's Safari • Jungle Jumble • Arctic Exposure • Jumbo Mumbo • The Hallie Trap • Lost & Found •

Bedazzled!

• The Great McStuffins Meltdown • It's a Hard Doc Life • The Doc Is In