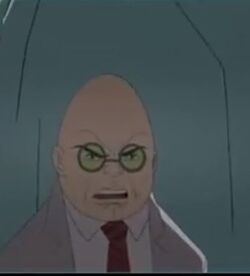 Egghead (real name Elihas Starr) is a Marvel Comics character and supervillain who appeared in Avengers Assemble. A non-villainous version of Elihas Starr also appears in the Marvel Cinematic Universe film Ant-Man and the Wasp, played by Michael Cerveris.
Egghead was created by Stan Lee, Jack Kirby, and Larry Lieber.
Appearances
Avengers Assemble
Egghead is a briliant scientist who was fired from his job as a prop maker for a movie studio, and thus decided to become a supervillain, using his scientific mind and high-tech gadgets and weaponry to sabotage a movie based on the exploits of the Avengers. Thankfully, the actual Avengers, with the help of Ant-Man, managed to stop him. Most of his gadgets and weapons have an egg theme, hence his supervillain codename.
In flashbacks, Elihas Starr was an old colleague of Dr. Hank Pym and Bill Foster. The three worked together on a project to harness Quantum Realm energies, but Elihas' desire to be the first to get to the Quantum Realm motivated him to resort to stealing Hank's tech to get there quicker. After Hank discovered this, he discredited Elihas and forced his family (consisting of him, his wife Catherine, and their daughter Ava) to go into hiding.
Elihas continued the project in secret, however, and eventually recreated the machine for the Quantum Realm; but his success was short-lived, for the machine became unstable and threatened to explode. Elihas realized the error of his ambitions too late, and urged Catherine and Ava to get out of the facility while he tried to stop the machine. However, Ava decided to stay to be with her father and Catherine running after to get her, but it was too late. The device exploded, killing Elihas and Catherine; Ava survived and received powers from the quantum energy.
Community content is available under
CC-BY-SA
unless otherwise noted.