"Settle down? Are you kidding? I'm at the top of my game! I'm right up there with the big dogs! Girls, come on. Leave the saving of the world to the men? I don't think so! I don't think so."
―Elastigirl
Helen Parr (née Truax), also known as Elastigirl, is the deuteragonist of Disney•Pixar's 2004 animated film, The Incredibles and the protagonist of its 2018 sequel. She is an elastic and dexterous superheroine who can stretch any part of her body to great lengths, and mold it into several shapes and sizes. Helen is married to Mr. Incredible (Bob Parr) and they have three children, consisting of Violet, Dash, and Jack-Jack.
Background
Personality
Before marrying Mr. Incredible, Elastigirl seemed to have a strong opinion, stating that she both planned to break the "glass ceiling" (as Supers were a predominantly male profession) and would not settle down, at that time, in her firebrand ways as a married housewife. However, life had other plans for her as Mr. Incredible had managed to be so dazzling that she broke down and agreed to marry him. Shortly after their wedding, a chain reaction of events involving lawsuits results in Supers being outlawed by the U.S. government.
Since it became illegal to work as a Super, her goal of becoming a prominent superheroine was made a moot point. Elastigirl then changed to a more traditional role: becoming a housewife and devoting her effort to being a good wife and mother. This is particularly important for raising three children while living in witness protection and raising super-children in a normal world.
Helen adjusted skillfully to the anti-Super law by completely renouncing her career as Elastigirl, which spared her from being discovered and targeted by Syndrome, unlike her husband and Frozone. In the privacy of the Parr residence, however, she still sometimes used her superpowers to aid her in housework and keep her three children under control. Her biggest concern is that since both she and Mr. Incredible were superheroes, their marriage has begotten "superkids", and she does not want her children to break the anti-Super law (whereas her husband takes the stance that the kids need to revel in their very special abilities).
Physical appearance
According to official sources, Helen is in her late thirties (38-years-old). She is 5'8" (172 cm) in height and 125 pounds (56 kg) in weight. She has a stretchable body, fair skin, rosy cheeks, and pink lips. She has brown eyes and auburn hair.
In her glory days as Elastigirl, she had long red hair in a flip and a slim, athletic figure with a narrow waist and wide hips. She wore a light gray leotard with a black and white "EG" symbol on the chest, with a scarlet eye-mask and belt, long scarlet gloves, and thigh-high scarlet boots.
After fifteen years of forced retirement, Elastigirl is still slender but with significantly wider hips and thicker thighs. She remarks this in the movie when acknowledging her more apparent pear shape. Her hair is cut in a medium length, has lost its luster, becomes more or less brown in color, and is worn in a short side-bob shaped like a curved heart.
Following Mr. Incredible's secret return to hero work, the family's old friend and designer extraordinaire Edna Mode designs a new super-suit for him, along with matching suits for Helen and their three children. Helen's "Mrs. Incredible" super-suit is a red unitard with a black eye mask, and black bottoms, gloves, and thigh-high boots, and an orange, black, and yellow "I" symbol on the chest that houses a homing device.
When Helen is tapped to lead a campaign to bring the supers back in Incredibles 2, she gets a new suit designed by Alexander Galbaki. The suit has a silver leotard with a magenta belt and a magenta "EG" symbol on the chest, with a black eye mask, black gloves, and thigh-high boots. However, the suit gets ripped on the shoulder near the end of the film on the EverJust, and she reverts back to her red "Mrs. Incredible" suit. When she's in her hotel room, she wears a white bathrobe and is barefoot.
Powers and abilities
Weaknesses
Appearances
At the beginning of the film, Elastigirl helps Mr. Incredible take down a robber, during which she teases him when he offers her assistance, although Elastigirl insists she can handle things herself. She ends their chat advising Mr. Incredible not to be late for their wedding and heads to the cathedral. To her dismay, Bob arrives late to the altar, but they are married nonetheless; during the ceremony, Helen worries that Bob got into trouble as Mr. Incredible, which Bob assures her that, as superheroes, they are prepared for what comes their way. Unfortunately, the supers are subsequently outlawed and required to live solely as their secret identities.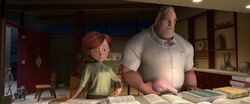 Over the next fifteen years, Helen becomes a housewife and tries to help the family adjust to a normal life. She does use her super-powers in private to control her rowdy family. Bob, however, doesn't adjust happily to civilian life. Helen eventually discovers his clandestine crime-fighting with Frozone (Lucius Best), using the cover story that they're going bowling. This results in a marital conflict between Helen and Bob.
Bob (as Mr. Incredible) is subsequently lured by Syndrome to his private island, Nomanisan Island, under the ruse of an assignment. Helen finds a strand of platinum-blonde hair on Bob's clothes that evening, and she becomes suspicious when she hears Bob talking on the phone to his contact, Mirage. After calling Insuricare Helen learns that Bob was fired from his job months ago and realizes he is in danger (as Syndrome intends to kill him) after Bob is once again lured to Nomansian Island, where he discovered to his horror that Syndrome murdered a long list of supers, but was unaware of Elastigirl's location, much to Bob's relief. After learning Bob's own location thanks to a tracking device Edna put earlier in his supersuit. Helen later borrows a jet from her old friend Snug to journey to the island, but during her flight, she finds that Violet and Dash stowed away and left Jack-Jack in the care of babysitter Kari McKeen. She later discovers that their plane is in danger to be destroyed by missiles attempting to destroy them. She manages to defeat two of the six missiles but the plane is destroyed. Fortunately, Helen and the kids survive the explosion, so she parachutes to safety with them. The three make it to shore and take refuge in a safe-looking cave. Before leaving in order to save Bob, Helen urges both Violet and Dash to sharpen the use of their powers from then on; to bolster Violet's confidence by telling her that she has more power than she realizes; she also warns them that their enemies are merciless killers, and gives them masks and instructs them to protect their identities at all costs. Just as Helen exits the cave, Violets runs up to her, apologizing for her failure to protect the plane with her force field. Helen, in turn, apologizes to Violet for demanding something Violet had no way of being prepared for. She also bolsters her daughter's confidence with the advice that she need only to trust her instincts in order to make good use of her abilities.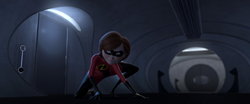 Helen then leaves the kids to find Bob and manages to infiltrate Syndrome's base unnoticed, where she gets a glimpse of a strange rocket. As she begins to look at the mirror reflection of herself, she disappointingly observes her retired and "fatter" physique. She ran into trouble when parts of her body got stuck in the doors while hiding from some of Syndrome's security guards. She manages to defeat the guards by knocking out one of the guards with her foot, then using her posterior to knock out two more. She then manages to grab the card key to unlock both doors to free herself and takes the unconscious guards to a locker.
Meanwhile, Syndrome's assistant, Mirage (who lured Mr. Incredible to the island as his contact), becomes disillusioned by Syndrome's narcissism and callousness. Her change of heart leads her to free Mr. Incredible. Mirage informs Mr. Incredible that his wife and kids are alive (it was previously assumed they were dead). Helen walks in as Bob gives Mirage a grateful embrace. Helen punches Mirage (knocking her out) as she believes Bob was cheating on her with Mirage. However, she does accept Bob's truthful statement that Mirage hired him and nothing more. After some initial awkwardness and tension, Mr. Incredible and Elastigirl escape. Meanwhile, Violet and Dash manage to acquit themselves well after being attacked by Syndrome's security force.
Syndrome recaptures the entire family and reveals that he intends to use his latest Omnidroid model to attack the city of Metroville, and then orchestrate a rescue, in which he appears to defeat the immense weapon, which is in reality under his control. The Parrs escape again and manage to journey back to Metroville, where they, along with Frozone, destroy the Omnidroid v.10.
Back at their house, Helen listens to Kari's voice calls on the phone about "strange things" happening to Jack-Jack and also thanking her for sending a replacement babysitter, to which Helen denies having sent any. They rush to their house, where they are confronted by Syndrome, who tries to kidnap Jack-Jack. Bob and Helen manage to retrieve Jack-Jack by letting Bob throw Helen to Jack-Jack, catching him. After Bob throws his car at Syndrome's plane, Syndrome is killed when his cape is sucked into the turbine of his private jet, resulting in the explosion of his plane and the destruction of their house.
Three months later, Helen is seen with the rest of the family cheering on Dash at his school's sports day where he finished second place. With the threat of The Underminer looming in the city afterward, Helen is seen wearing her mask as she joins the family in the fight against the villain.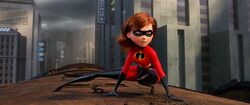 In the sequel, the fight with The Underminer picks up where it left off. The Incredibles defeat The Underminer, who escapes. However, they also get arrested for the damages the Underminer caused. Rick Dicker bails them out and escorts them to a motel that they will live in until they find a new home after the destruction of their house in the first film. Rick also tells Helen and Bob that the Super Relocation Program has been shut down and they can only stay at the motel for two weeks. That night, after having an argument with Bob about supers being illegal and when later Helen and Bob were talking about what to do. Frozone shows up and escorts them to DevTech. There, they meet Winston Deavor and his sister Evelyn. The Deavors tell them that they are going to come up with a campaign to make Supers legal again and they want Elastigirl to be the public face of it since she causes the least collateral damage. Helen is reluctant to accept but Bob urges her to say yes as their choice is to accept the offer and try to make themselves legal again or remain illegal and become homeless.
After moving into their new home and leaving the kids in Bob's care, Elastigirl takes off for the city in her new Elasticycle where she saves a runaway train and makes a new enemy in the Screenslaver. Helen later discovers that Screenslaver is so named because he uses screens to hypnotize people. With Evelyn's help, she manages to track the Screenslaver and bring him to the police. However, she later discovers that the man she caught is just a puppet right before Evelyn puts Hypno-goggles over her eyes.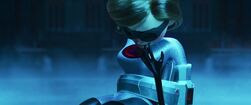 Few hours before the historic moment, Elastigirl wakes up, being tied up to a chair in the freezer room of the EverJust, unable to move due to the weakness of her powers as Evelyn, who revealed herself to be the Screenslaver, pointed out. Evelyn also revealed that she hated superheroes due to her father's death and did not see eye to eye with her brother Winston ever since. She also plans to use supers to cause mayhem in a way to permanently outlaw them while harming thousands of innocent lives. She then led the hypnotized Elastigirl to the conference room as bait to lure Mr. Incredible to his doom. Evelyn rings Bob to tell him that his wife is in trouble, so he decides to suit up and go to Devtech, but not before asking Lucius to look after the kids. Once at Devtech, Evelyn leads him to Elastigirl, but she attacks him. After he reminds her of who he is, Elastigirl kisses him, but this was so that it was easy to place a pair of hypno-goggles on him.
Her kids rescue her when Jack-Jack telekinetically removes the goggles from her eyes, enabling Helen to free her husband and Frozone from Evelyn's control as well. They manage to free the wannabe supers and stop the Devtech ship from crashing into the city. Helen stops Evelyn from escaping and saves her life when she falls from her plane (with Helen discovering Jack-Jack's powers for the first time), and the Incredibles stop Evelyn and make Supers legal again.
Printed material
Helen takes the story focus in a few of the arcs of the series. In the original Family Matters miniseries, the matriarch of the new neighbors is revealed to be one of her old foes, a chemist called Organa. She sought to de-power Helen with a power-nullifying allergen placed in the various baked treats she offered her, though only Bob was affected as he continuously hogged all the treats for himself. She is eventually devolved into an ape by a De-evolution bomb created by Futur1on Dash uses against her. Organa's son Xander would later take after his mother's talents in chemistry, but with the intent to prove himself to Violet as both a Super and a love interest.
In the storyline Secrets and Lies, she and Mirage are paired together on a mission to take out a resurgent Bomb Voyage in Paris. However, Bomb Voyage is under the employ of the criminal mastermind Xerek, whom Helen had once dated before she broke up with him on unspecified terms. Xerek deliberately planned for Helen to come to him, thinking it would prove a point of her breaking Bob's trust and seeking to relive the glory days, though she and Mirage simply laugh it off that Helen believes her life with Bob is not a waste and Xerek's the one more obsessed with the past. In the end, this is merely a ruse for Xerek to be taken into custody so he can subsequently take control of the prison and bring all the villains together for his ultimate scheme.
Video games
Helen is a playable character in the video game of the same name, but only in three levels (she appears in two more, as either a guest or a helper). In the second level "Skyline Stretch" she appears in her original Elastigirl outfit, and in levels "Finding Mr. Incredible" and "Secret Lava Labs" she appears in her Mrs. Incredible outfit. In the game, Helen has an equal health level to that of her husband and displays abilities that are not seen in the film. When heavily surrounded by bad guys, she can spin and punch her enemies like a twister, and turn into a wheel.
Helen Parr is a playable character in Disney Infinity. In the game, Helen has a combo melee attack, as well as a Block Breaker and Power Attack. She has the ability to stretch out her arm as her ranged attack, where she grabs enemies and pulls towards them. This also lets her grab onto buildings and other toys to climb higher, like the Climbing Hook.
Elastigirl appears in the game as one of the main heroes, she appears for the first time when Ralph and Vanellope arrive in the infected world, when she sees Mr. Incredible infected she is surprised to see him infected and confronts him, and she teams up with Ralph to save infected Vanellope and the other heroes along with Frozone.
Other games
Helen appears in Disney Magic Kingdoms, as part of the Incredibles set along with her husband Bob, Dash, Violet, Jack-Jack and Frozone.
In Kingdom Hearts Union χ, Helen Parr appears as a speed combat medal for the game's avatars as part of the Incredibles 2 event
Gallery
Trivia
References
External links
v - e -

d

Disney
Mickey Mouse & Friends:

Mickey • Minnie • Donald • Daisy • Goofy • Pluto • Fifi • Pete • Clarabelle Cow • Horace Horsecollar • Willie the Giant • Chip and Dale • Mortimer Mouse • Chief O'Hara • Detective Casey • Butch the Bulldog • Golden Harp • Father Time • Peter Pig


The Lion King: Simba • Nala • Shenzi, Banzai, and Ed • Ostrich • Gazelle • Rhino • Hippo • Zebra • Blue Beetle • Grub • Zazu • Rafiki • Timon • Pumbaa • Mufasa • Scar
Tangled: Rapunzel • Flynn Rider • Stabbington Brothers • Pub Thugs • Attila • Vlad • Big Nose • Hook Hand • Ulf • Shorty • Pascal • Maximus • Mother Gothel • The King • The Queen • Captain of the Guards • Warthog • The Lantern
Wreck-It Ralph: Ralph • Vanellope • Felix • Sgt. Calhoun • King Candy • Taffyta Muttonfudge • Candlehead • Surge Protector • Gene • Nicelanders • Rancis Fluggerbutter • Other Sugar Rush Racers • Sour Bill • Blue Racer • General Hologram
Big Hero 6: Hiro Hamada • Baymax • Robert Callaghan • Go Go Tomago • Honey Lemon • Wasabi • Fred • Fred's Dad • Tadashi Hamada • Cass • Yama • Alistair Krei • Heathcliff • Abbigail Callaghan • Attila • Sergeant Gerson • Cass
Zootopia: Judy Hopps • Nick Wilde • Flash • Clawhauser • Gazelle • Yax • Bogo • Mayor Lionheart • Bellwether • Doug • Finnick • Mr. Big • Mr. Otterton • Manchas • Gideon • Jerry Jumbeaux Jr. • Nanga • Priscilla • Mr. Hopps • Mrs. Hopps • Business Lemming • Duke Weaselton • Fru Fru • Kozlov • Officer McHorn • Wrangled • Wreck-It Rhino • Pig Hero 6
The Jungle Book: Mowgli • Kaa • Baloo • Akela • Raksha • Gray • Shere Khan • Colonel Hathi • King Louie • Bandar-Log Monkey • Flying Squirrel • Crocodile • Peacock • Vulture • Elephant • Bee Hive
Alice Through the Looking Glass: Alice Kingsleigh • Dormouse • Tweedledee and Tweedledum • Cheshire Cat • Bandersnatch • Bayard • White Queen • March Hare • White Rabbit • Mad Hatter • Absolem • Time • Wilkins • Humpty Dumpty • Red Queen • Borogrove • Frog Delivery Man • Gentleman Fish • Vegetable Soldier • Vegetable Servant • Vegetable Executioner • Armored Chess Piece
Pirates of the Caribbean: Jack Sparrow • Will Turner • Elizabeth Swann • Joshamee Gibbs • Tia Dalma • James Norrington • Marty • Cotton • Bootstrap Bill Turner • Pintel • Ragetti • Angelica • Blackbeard • Prison Dog • Maccus • Davy Jones • Helmsman • Philip Swift • Syrena • Captain Salazar • Ghost Lesaro • Shansa • Henry Turner • Carina Smyth • The Redhead • Murtogg • Mullroy • Treasure Chest • Stray Cat • Tiny • Pirate With Pigs • Ghost Shark • Ghost Seagull • Auctioneer
Aladdin: Aladdin • Jasmine • The Sultan • Prince Achmed • Gazeem • Razoul • Rajah • Iago • Abu • Genie • Jafar • Magic Carpet • Pink Flamingo • Beggar Jafar • Golden Scarab Beetle • Magic Lamp • Snake Charmer • Golden Camel
The Nightmare Before Christmas: Jack Skellington • Sally • Lock, Shock, and Barrel • Oogie Boogie • Easter Bunny • Santa Claus • Behemoth • Wolfman • Corpse Family • Mummy Boy • Mayor of Halloween Town • Dr. Finkelstein • Jewel • Zero
Mulan: Mulan • Yao, Ling, and Chien Po • Fa Li • Fa Zhou • Hayabusa • Khan • Cri-Kee • Little Brother • Mushu • Shan Yu • Captain Li Shang • The Emperor of China • The Matchmaker • General Li • Grandmother Fa • First Ancestor Fa • Chi-Fu • Great Stone Dragon
Moana: Moana • Sina • Frigatebird • Chief Tui • Gramma Tala • Pua • Frigatebird • Kakamora Chief • Maui • HeiHei • Ghost Matai • Eel • Tamatoa • Frog Monster • Sloth Monster • Eight Eyed Bat • Chicken Feed • Maui's Hook • The Ocean
Beauty and the Beast: Belle • Maurice • Chip Potts • Mrs. Potts • Gaston • LeFou • FrouFrou • Chapeau • Plumette • Beast • Cogsworth • Lumiere • The Enchantress
Lilo & Stitch: Lilo Pelekai • Nani Pelekai • David Kawena • Mrs. Hasagawa • Mertle Edmonds • Stitch
DuckTales: Scrooge McDuck • Donald Duck (Classic) • Huey, Dewey, and Louie • Webbigail Vanderquack • Mrs. Beakley • Beagle Boys (Big Time, Burger, and Bouncer) • Gyro • Darkwing Duck • Falcon Graves • Pixiu Chinese Dragon • Peghook's Ghost • Launchpad McQuack • Hack and Slash Smashnikov • Gizmoduck • Shadow Magica • Ma Beagle • Flintheart Glomgold • Pharaoh Toth-Ra • Headless Man-Horse
v - e - d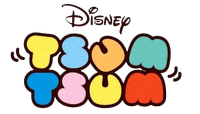 Disney
Mickey & Friends:

Mickey • Minnie • Donald • Daisy • Goofy • Pluto • Chip and Dale • Oswald • Ortensia • Duffy • ShellieMay • Gelatoni • StellaLou • CookieAnn • 'Olu Mel • Huey, Dewey, and Louie • José Carioca • Panchito Pistoles • Clarabelle Cow • Horace Horsecollar • Max Goof • Clarice • Pete • Scrooge McDuck • Ludwig Von Drake • Dr. Frankenollie • Julius

Pooh and Pals: Pooh • Tigger • Piglet • Eeyore • Rabbit • Owl • Roo • Kanga • Gopher • Christopher Robin • Lumpy
Lilo & Stitch: Stitch • Lilo • Scrump • Pleakley • Jumba • Angel • Leroy • Dr. Hämsterviel • Ugly Duckling • Sparky • 627 • Gigi • Babyfier • Yang • Slushy • Shortstuff • 625 • Amnesio • Dupe • Sample • Clip • Tank • Yin • Hunkahunka • Plasmoid
Silly Symphonies: Donald Duck • Big Bad Wolf • Practical Pig • Fiddler Pig • Fifer Pig • Ugly Duckling
Snow White and the Seven Dwarfs: Snow White • Evil Queen • Doc • Grumpy • Happy • Bashful • Sneezy • Sleepy • Dopey
Pinocchio: Pinocchio • Jiminy Cricket • Figaro • Cleo • Geppetto • Blue Fairy • Honest John and Gideon • Lampwick • Monstro
Fantasia: Mickey • Yen Sid • Chernabog • Hyacinth Hippo • Ben Ali Gator
Dumbo: Dumbo
Bambi: Bambi • Thumper • Miss Bunny • Friend Owl • The Great Prince of the Forest
The Three Caballeros: Gauchito • Burrito
The Adventures of Ichabod and Mr. Toad: Mr. Toad
Cinderella: Cinderella • Jaq and Gus • Prince Charming • Fairy Godmother • Lady Tremaine • Lucifer • Suzy • Perla • Bruno
Alice in Wonderland: Alice • Mad Hatter • March Hare • Dormouse • White Rabbit • Cheshire Cat • Tweedle Dum and Tweedle Dee • Queen of Hearts • King of Hearts • Caterpillar • Dinah • Oysters
Peter Pan: Peter Pan • Tinker Bell • Wendy Darling • John Darling • Michael Darling • Captain Hook • Mr Smee • Nana • Tick Tock • Tiger Lily
Lady and the Tramp: Lady • Tramp • Si and Am • Jock • Trusty • Peg
Sleeping Beauty: Aurora • Phillip • Maleficent • Flora • Fauna • Merryweather • Diablo • Samson • King Stefan • Goon • Owl • Rabbit
Mary Poppins: Mary Poppins • Bert • Penguin Waiter • Carousel Horse
One Hundred and One Dalmatians: Cruella De Vil • Lucky • Patch • Rolly
The Jungle Book: Mowgli • Baloo • Bagheera • Shere Khan • Kaa • King Louie • Hathi, Jr. • Raksha
Pete's Dragon: Elliott
The Fox and the Hound: Tod • Copper
The Aristocats: Marie • Berlioz • Toulouse • Duchess • Thomas O'Malley
The Rescuers: Bernard • Bianca
Oliver & Company: Oliver • Dodger • Tito • Rita • Francis • Einstein
The Little Mermaid: Ariel • Flounder • Sebastian • Eric • Ursula • Triton • Max • Scuttle
Beauty and the Beast: Belle • Beast • Lumiere • Cogsworth • Mrs. Potts • Chip • Maurice • Philippe • Gaston • LeFou
Aladdin: Aladdin • Abu • Genie • Jasmine • Jafar • Sultan • Iago • Rajah
The Nightmare Before Christmas: Jack Skellington • Sally • Zero • Lock, Shock, and Barrel • Oogie Boogie • Dr. Finkelstein • Mayor of Halloween Town • Santa Claus
The Lion King: Simba • Nala • Timon • Pumbaa • Zazu • Rafiki • Scar • Ed
Pocahontas: Pocahontas • John Smith • Meeko • Flit • Percy
Hercules: Hercules • Megara • Hades
Mulan: Mulan • Li Shang • Mushu • Fa Zhou • Khan
The Emperor's New Groove: Kuzco • Yzma • Kronk
Mickey, Donald, Goofy: The Three Musketeers: Mickey Mouse • Minnie Mouse • Donald Duck • Goofy
Chicken Little: Chicken Little
The Princess and the Frog: Tiana • Dr. Facilier
Tangled: Rapunzel • Flynn Rider • Pascal • Maximus • Mother Gothel • Queen Arianna • King Frederic • Cassandra • Fidella • Pub Thug
Wreck-It Ralph: Wreck-It Ralph • Fix-It Felix Jr.
Frozen: Anna • Elsa • Olaf • Kristoff • Sven • Hans • Snowgies • Bruni
Big Hero 6: Hiro • Baymax • Fred • Wasabi • Honey Lemon • Go Go Tomago • Tadashi Hamada • Yokai • Mochi
Zootopia: Judy Hopps • Nick Wilde • Mayor Lionheart • Flash • Yax • Gazelle • Chief Bogo • Clawhauser • Finnick • Mr. Big • Bellwether • Jerry Jumbeaux Jr.
Moana: Moana • Maui • Pua • Heihei • Tamatoa • Kakamora
Chip 'n Dale Rescue Rangers: Chip • Dale • Gadget • Monterey Jack
Phineas and Ferb: Perry
The Lion Guard: Kion • Ono • Bunga • Beshte • Fuli
DuckTales (2017): Scrooge McDuck • Huey, Dewey, and Louie • Webby Vanderquack
Kingdom Hearts: Sora • Riku • Kairi • Aqua • Xemnas • Ansem, Seeker of Darkness • Ventus • Terra • Chirithy • Lea • Young Xehanort
UniBEARsity: Mocha • Pudding • Whip • Puffy • Mont • Blanc • Souffle • Blue Rose • Charmant • Portiron • Rogue Rose • Fauve • Lucien • Horloge • La Mer • Ma Puce
Sofia the First: Sofia • Minimus • Skye
Elena of Avalor: Elena
Enchanted: Giselle
Disney Fairies: Periwinkle • Rosetta • Silvermist
The Sword in the Stone: Wart • Merlin
Oliver & Company: Oliver
Raya and the Last Dragon: Raya • Sisu
Twisted Wonderland: Grim • Riddle Rosehearts • Azul Ashengrotto • Leona Kingscholar • Kalim Al-Asim • Vil Schoenheit • Idia Shroud • Malleus Draconia • Dire Crowley • Mirror of Darkness