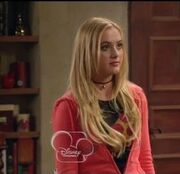 Emily Adams
is a minor character of
Disney Channel Original Series
,
Dog With a Blog
. She is portrayed by
Kathryn Newton
.
History
She is the Hawk's niece and Tyler's ex-girlfriend.
Personality
She is adventurous and has personality similar to Tyler. She is very laid-back and isn't afraid to break the rules.
Physical Appearance
Emily usually has long, straight blonde hair. Her hair has noticeably changed since the events of "Tyler Gets a Grillfriend", where she had wavy, medium length hair. She has brown eyes and fair skin.
Episode Appearances
Tyler Gets a Grillfriend
Lost In Stanslation
Love Ty-Angle
I Want My Nikki Back, Nikki Back, Nikki Back
Trivia
The Hawk is her uncle.
She is skilled at BMX riding and was nicknamed "The Beast" because of it.
She and Tyler broke up in Love Ty-Angle.
Nikki Ortiz was jealous of her when she and Tyler were dating.
In Love Ty-Angle, she and Tyler favor strawberry-banana smoothies.