Emperor Awesome is a minor antagonist/recurring character in Wander Over Yonder. He appears to be one of Lord Hater's greatest enemies. He appears in "The Picnic", "The Fancy Party", "The Cool Guy," "The Party Animal", "Bad Neighbors," "The Battle Royale," and "The Gift". He leads his own army of minions known as the Fist Fighters.
Background
Physical Appearance
Emperor Awesome appears as an anthropomorphic shark with tanned muscles. He also wears a crown on his head due to being an emperor. He has an imperial cape with his own logo "A" standing for 'Awesome.' He has armbands, fingerless gloves, a spiked belt, pink pants, and white disco boots. He also has a tattoo of himself on the front of his chest beneath his clothes. No matter where he goes, he is often accompanied by his telltale theme song, "Let's Get Awesome."
Personality
Although he appeared to be serious in the first episode "The Picnic", Emperor Awesome later proves to be quite vain and egotistical who praises himself at every moment unlike his nemesis Lord Hater who takes things quite rigorously. Later, he demonstrates pride in his energy and excessive partying, which is how he destroys planets. He is also very competitive, especially with Lord Hater, and the two are constantly trying to outdo the other.
Ladies are one of Awesome's favorite parts of partying, and he is often seen with various women as company. He also shows an attraction towards Sylvia, and commonly refers to her as 'Becks' (short for 'Rebecca', a nickname he gave her in The Party Animal). He tried to win over the powerful Lord Dominator with his charisma and muscular build, but she was unimpressed, calling him a "delusional scrub."
Emperor Awesome is a bully, and very fond of making fun of those whom he deems as nerds and beating up his victims, such as Peepers ("The Cool Guy"). He also has a tendency to follow strange trends, even going so far as to wear a live boa constrictor in The Boy Wander.
Gallery
v - e - d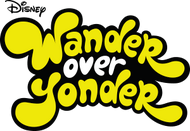 Organizations/Groups
Lord Hater's Army • Insurgent Generals • Wander and Sylvia • Bounty Hunters • Lord Dominator's Army • Galactic Villain Leaderboard • Emperor Awesome's Army
Locations
Lord Hater's Spaceship • Binglebopolopolis • Doomstone • Baaaaa-halla • Phunulon • Ballzeria • Buster • Doom Arena • Planet Ziziks • Flendar • Lord Dominatior's Spaceship • Arachnomorph Homeworld
Community content is available under
CC-BY-SA
unless otherwise noted.