"
Enormo Henry
" is the second segment of the eleventh episode of
Henry Hugglemonster
. It premiered on
April 29
,
2013
alongside "
Monsters on the Town
".
Synopsis
In an attempt to fit in at his friend Estelle Enormomonster's house, where everything is huge, Henry convinces Cobby to build him an Enormo-Suit.
v - e - d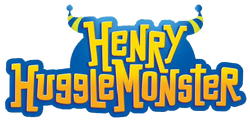 Songs
Have a Henry Hugglemonster Day • Open Up, Flower • Happy Hugglemonster Day • Super Summer Sleepy Song • Close Your Eyes, Ivor • The Summer Song • The Roar Off • Gotta Get a Grip • My Dough • We Are Brave Monster Scouts • In the Ocean • Wizard Mountain • Bounce Cha Cha! • The Fix-It Cha Cha • The Ballad of Beckett • The S'more Roars Song • Summer's Birthday Song • Number One Fan! • Roar it Up! • Welcome to Our Home • The Sneezo Story • Huggleball Anthem • The Stuck Inside Blues • Flutterby/Powerdrive Mash-up Mega Mix • Huggletastic Hugglejuice • Robot Groove • Momma Monster Mia • About a Shoe • The Summer Swirl • Life is Always Snappier • Fireworks • The Monster Princess Show • Roartastically Beautiful • I'm Working • Hugglemonster Manners • Wanna Touch the Sky • Being Big's Roarsome and How • Monster Heart • Grrrrls Just Wanna Roar • The Roaring Lion • Who Needs a Fang? • Welcome Mr. Growl • The Quick Fix • Monster in Charge • Oh, We're Racin'! • Cheer Your Granny • Oh, Spinner • Most Roarsome Day Ever • The Hugglemonster Way • Teach Your Monster • Stomp It • Time Zooms By • The Pirouette Song • My Brother • Heromonsters • The Friendliest Place Ever • To Monsterschool • Summergrams for You • Hugglemonster Halloween • The Scramble • Little Fluffy Puppy Monster • The Ballad of the Scramble River Monster • Summer's Huggsgiving Song • The Huggaround • I've Got Pizzazz • Happy Hugglemas • The Hugglemas Lights • It's Probably Nothing (But it Might Be Something) • The Ballad of Smiley • Kids on Lids • Hugglemonster Valentine Day • The Cobby Comfort Cruiser Theme • My Happiest Day • House Sledding/Sled Dancing • Momma Makeover/Pick it Up • I Can Do This! • Save the Glimmergrove • Dare to Scare • Big Big Baby • You Go Well Together • Catch That Cake • More Than One Way to Save the Day • We Will Find • Everybody Wants That Something • Knit it Up • Play By the Rules • Let's Pogo • Flower Monster Star • Momma Monster Mia • Best Friends • Wrong Direction • Make Your Own Fun! • So, So Roarsome • Perfect Just the Way They Are • Here at Hugglemonster Towers • Time-A to Eats-A Some Pizza • Choco-Matrix-Sprinkle-U-Lalator • Whatever You Say • Play's the Thing • It's a Monster Roller Boogie • A Wonderful Day • Sing a Happy Tune • Monster Momma's Day Love • Summertime, Hey! • Follow Your Monsterdream • Never Enough Henrys/Mad Rhymes • Our Monster Hero • A Song in My Heart • Old Farmer Monster • Momma's Birthday • Say the Silly Word! • Don't Say a Bad Word • Flying Ace • Bigger Isn't Always Best • That'll Be a Happy Huggleween • One Small Stomp • The Monster Moon • When I'm Frightened • Roarsville Rovers Anthem • That's the Way • Scariest Place Ever • Beanie Weenies • Be a Better Monster • The Dugglemonster Way • Have a Denzel Dugglemonster Day • Have a Happy Huggle/Duggle Day • Blue Zucchini Pizza • You! You! You! • The Best Best-Friend Day of All • We've Got the Bug for a Birthday Bash • Bubble Huggin' • K-Growl Jingle • Every Word That I Say • Everything That You Are • Baby Bro Blues • Close Your Eyes • Our Way is Better • No One Way is Better • Monster Holiday • Jingle Howls • We Wish You a Happy Hugglemas • Hugglemas Carol Medley • Dress Up Disaster • Dress That Disaster Away • The Dudes' Day Duet • Everybody's Good at Something