Epcot Forever was a fireworks show that premiered October 1, 2019 at Epcot as an interim replacement for IllumiNations: Reflections of Earth (until its long-term replacement Harmonious premiered on September 30, 2021) and took the form of a celebration of Epcot's musical history. The show celebrated the park's 37-year history, featuring fireworks, music, lighting, lasers, and special effects kites set to new arrangements of music originating from some of the park's classic attractions, such as Journey Into Imagination, Spaceship Earth, Soarin', and Universe of Energy.[1]
The show was originally supposed to end in September of 2020, but ended earlier than planned on March 12, 2020, due to the COVID-19 pandemic.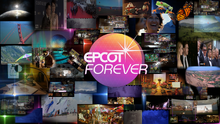 However, following Walt Disney World Resort's reopening, Walt Disney World announced that the show would return on July 1, 2021, with additional pyrotechnics replacing the kites and lasers, as the installation of Harmonious infrastructure made the jet skis pulling the kites unsafe to use in the lagoon.
On September 28, 2021, the show had its final performance and it was replaced by Harmonious, as part of Walt Disney World's 50th Anniversary celebration.
Summary
Epcot Forever is structured around medleys of Epcot music and the voices of children quoting different attractions, with some audio clips of Walt Disney in the EPCOT film also being incorporated into the opening and closing.
Special edition
New Year's Eve Countdown Edition
On December 31, 2019, a special New Year's Eve countdown show occurred normally beginning very late after they fixed some technical issues before they start Epcot Forever. It began with the original show production and was then immediately followed by a special countdown show 2020. Highlights of New Years celebrated the same countries like in IllumiNations: Reflections of Earth in individual countries began the show; the Asian pavilions (Japan and China) go first, followed by those in Europe (Italy, Norway, France, and Germany), after that, the countries of those in the GMT time zone (Morocco and the United Kingdom). During the show, fireworks shot from the back of each pavilion accompanied by custom celebration music from each country. The countdown began at 10 seconds prior to midnight with the North American nations: United States, Canada, Mexico. It started with a dong (which originates from the American Adventure Pavilion) and lead to the massive celebratory firework display at midnight including a 360-degree launch of fireworks around the World Showcase lagoon. "Auld Lang Syne" played as spectators cheered and watched the massive firework display. This tag used different the number of fireworks that were launched in Epcot Forever. However, they used some new special additional pyrotechnics and also added some special fireworks that were used including Holiday finale, Fourth of July, DVC Magic Moonlight and Epcot's 35th Anniversary Special Edition replacing the old New Year's Eve Illuminations: Reflections of Earth fireworks. [2] A female announcer concluded the show wishing the guests a Happy New Year and reminded them of extended park hours for the New Year's Eve celebration.
Gallery
Concept Art
Logos and Poster
Video
References