Boba Fett Returns - The Loop
Play Sound
Evelyn Robin is a major character in Disney's 2018 feature film, Christopher Robin. She is the wife of Christopher Robin and the mother of Madeline Robin. She is often worried about her husband's workaholic tendencies, because it means that he spends less time with his family and often wishes her husband would be more silly and fun loving and spend more time with her and Madeline. She discovers that Winnie the Pooh and the other stuffed animals of the Hundred Acre Woods are alive.
Appearances
In Chapter Five, an older Christopher Robin encounters Evelyn who meets Christopher on a London bus just as Christopher offers her to take a seat, only for a passenger to take her seat. Over their lifetime, Christopher Robin and Evelyn start a relationship and later when Christopher leaves, she is shown being pregnant. After Christopher leaves, Evelyn prepares a birthday cake for her daughter Madeline. After Christopher returns from war, Evelyn is so happy she could see him again, alongside Madeline. Christopher Robin then starts his new life working for the Winslow Enterprises bank while his wife Evelyn continues to take care of her daughter.
After Christopher comes back from work, Evelyn explains that Katherine Dane, who works at Winslow's bank, explains that Christopher will work this weekend just as Christopher explains to his daughter Madeline that he has to work under Winslow's strict rules, giving him a low chance to see his family. During a conversation with Evelyn, she explains to her husband that there are perfect schools for Madeline that do not require them to send her away and also while talking, she explains about Christopher has to adapt to having a new life in the real world rather than having fun with Winnie the Pooh and his friends at the Hundred Acre Wood. The next day, Christopher bids a farewell to his wife and daughter so that she can take her to boarding school.
After reuniting back with Pooh, Tigger, Eeyore, Owl, Rabbit, and Kanga and Roo back at the Hundred Acre Wood, Christopher returns to the real world back home to meet his family, telling his wife Evelyn and his daughter Madeline that he must return to work at Winslow Enterprises, just as Christopher tells his wife that he must catch up with the next train just as Christopher leaves. Evelyn then tells her daughter Madeline, sharing her sorrow with her daughter that her husband cannot stay, because Christopher has to work at Winslow Enterprises while Madeline has boarding school. To cheer herself up, Madeline decides to have fun.
Later during a plan to find Christopher Robin, Madeline, Pooh, and his friends from the Hundred Acre Wood pass by her family's house just as her mother asks her if she would like some lemonade, only to find out that Madeline has left a note linked to Christopher Robin. Furthermore, Evelyn comes to the rescue and tries to catch up with Madeline while arriving at London who is trying to find her father.
Katherine Dane later arrives at the bank, warning Christopher that his wife Evelyn couldn't find her daughter and thanks to Katherine's advice, Christopher reunites with his wife just as the couple rides on a car to find Madeline so she can reunite with her family again much to Winslow's worry. Later, Tigger, Piglet, and Eeyore join Christopher's party while Madeline and Pooh plan to reunite back to Christopher. As Madeline is finally reunited with her family, Christopher and his family to Winslow Enterprises just as Christopher tells Giles Winslow and his father that his answer is nothing, telling the Winslows about the importance of going on holidays when not working as well as everyone being able to afford with cheaper prices to which Old Man Winslow allows Christopher's family to go on holidays just as Christopher's family, Pooh, and his friends from the Hundred Acre Wood leave. Finally, Christopher and his family spend the holidays in the Hundred Acre Wood with Pooh and his friends.
Gallery
Trivia
She is loosely based on Christopher Robin's real life spouse, Lesley de Sélincourt, who was also his first cousin from his mother's family.
v - e - d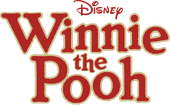 Songs
Movie Songs
Winnie the Pooh and the Honey Tree: "Winnie the Pooh" • "Up, Down, Touch the Ground" • "Rumbly in My Tumbly" • "Little Black Rain Cloud" • "Mind Over Matter"
Winnie the Pooh and the Blustery Day: "A Rather Blustery Day" • "The Wonderful Thing About Tiggers" • "Heffalumps and Woozles" • "Rain, Rain, Rain Came Down, Down, Down" • "Hip-Hip-Hooray!"
Boo to You Too! Winnie the Pooh: "I Am Not Afraid" • "I Wanna Scare Myself"
Pooh's Grand Adventure: The Search for Christopher Robin: "Forever & Ever" • "Adventure is a Wonderful Thing" • "If It Says So" • "Wherever You Are" • "Everything is Right"
A Winnie the Pooh Thanksgiving: "Hooray, Hooray!" • "Berrily We Roll Along" • "Our Thanksgiving Day" •
Winnie the Pooh: Seasons of Giving: "Seasons of Giving"
The Many Songs of Winnie the Pooh: "It Really Was a Woozle, Yes it Was"
Sing a Song with Pooh Bear: "Kanga Roo Hop" • "Harvest What You Grow" • "My Song"
Winnie the Pooh: A Valentine for You: "Girls are Like Boys" • "When the Love Bug Bites" • "Places in the Heart"
Winnie the Pooh: A Very Merry Pooh Year: "Jingle Bells" • "Snow Snows" • "Happy Pooh Year" • "Hunny, No Not For Me" • "Auld Lang Syne"
The Tigger Movie: "Someone Like Me" • "Whoop-de-Dooper Bounce" • "Lull-a-Bee" • "Round My Family Tree" • "How to Be a Tigger" • "Your Heart Will Lead You Home"
Piglet's Big Movie: "If I Wasn't So Small" • "A Mother's Intuition" • "With a Few Good Friends" • "Sing-Ho (For the Life of a Bear)" • "The More It Snows (Tiddely-Pom)" • "The More I Look Inside" • "Comforting to Know"
Springtime With Roo: "We're Huntin' Eggs Today" • "Sniffley Sniff" • "Easter Day With You" • "The Way It Must Be Done"
Pooh's Heffalump Movie: "Little Mr. Roo" • "The Horribly Hazardous Heffalumps" • "The Name Game" • "Shoulder to Shoulder" • "In the Name of the Hundred Acre Wood/What Do You Do?"
Pooh's Heffalump Halloween Movie: "Trick 'R Treating With Our Friends" • "Brave Together"
Winnie the Pooh: "The Tummy Song" • "A Very Important Thing to Do" • "The Winner Song" • "The Backson Song" • "It's Gonna Be Great" • "Everything is Honey" • "Pooh's Finale"
Christopher Robin: "Goodbye, Farewell" • "Busy Doing Nothing" • "Christopher Robin"
Television Songs
Welcome to Pooh Corner: "Welcome to Pooh Corner Theme Song" • "Try a Little Something New" • "The Right Side" • "Yes, I Can" • "You're the Only You" • "I Hum to Myself" • "Please and Thank You" • "Responsible Persons" • "You're the One and Only One" • "Welcome to Pooh Corner Ending Theme"
The New Adventures of Winnie the Pooh: "Pooh Bear" • "'Cause It's Make Believe" • "The Floating Song" • "Nothing's Too Good for a Friend" • "Under the Bed" • "I Don't Have A Name" • "King of the Beasties" • "The End" • "Pirates is What We'll Be" • "Tigger, the Private Ear is Here"
The Book of Pooh: "Everyone Knows He's Winnie the Pooh" • "Goodbye for Now" • "Your Best Wishes" • "On the Double" • "Who is Me" • "Think, Think, Think" • "What Piglets Are" • "I Watch for Signs" • "We're Making a Cake" • "If I Could Be Big" • "Isn't That Funny?" • "Everyone Wants a Valentine" • "That's What We Do" • "Keep it Simple" • "Have You Got a Book For Me?" • "Give It a Try" • "On Your Way Back Home" • "The Birdbird Song" • "Nightmare Wranglers" • "Carry On" • "What's Your Name, River" • "Where Do Words Go?" • "Under a Spelling Bee's Spell" • "Adventure" • "Mental Altitude" • "I Want to Know Everything Now" • "Happy Tailiversary" • "Get Growin'" • "Tigger's Lullaby" • "Perfect Party" • "If We Were Talkin'" • "Someone New to Meet" • "My Hero" • "Broken Friendships" • "Do the Roo" • "Call Me Buck-a-Roo" • "At Chez Piglet" • "Nothing Ever Happens" • "Too Much Honey" • "Lost in a Book"
My Friends Tigger and Pooh: "A Few Simple Rules" • "Bouncin'" • "The Grass is Greenier" • "The Password Song" • "Underneath the Same Sky" • "One Big Happy Family" • "Think, Think, Think" • "The Question Song" • "Floating in a Cloud" • "Different Can Be Good" • "The Little Things You Do" • "There's a Party" • "No More Fun In the Snow" • "Butterflies" • "What Makes a Pony a Pony" • "When We Work Together" • "Christmas Comes Tomorrow" • "Time to Go (On a Trek Through the Snow)" • "Snowman Song"
Miscellaneous: "Luv-a-bye" • "Playtime Song" • "Learning Song" • "Friendship Song"