Expo Shop is a store in Tomorrowland (to be renamed Stark Expo) at Hong Kong Disneyland, themed to the Marvel Comics character Iron Man, and the adjacent Iron Man Experience attraction.[1]
The shop has a tantalizing range of 70-plus Hong Kong Disneyland exclusive Iron Man merchandise items and more than 250 items of Marvel-themed memorabilia, among them collectibles and toys, glowing key chains, souvenirs as well as apparel and accessories. Some of the exclusive apparel features Hong Kong's postcard-perfect scenery or Stark Expo themes.
Become Iron Man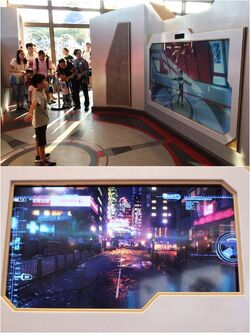 Guests get to try on Iron Man's armor in the interactive game. Through interactive motion-sensing technology, guests can experience the various functions of the armor and feel what it is like to be a super hero as they fight the forces of evil while zipping through streets that closely resemble Hong Kong.
Guests can also take home a memento package featuring a digital photo collage of their Become Iron Man adventure, as well as a digital download of an approximately 35-second video of their transformation.

See also
References