Faffy is a character from the Disney Channel animated series, Dave the Barbarian. Faffy is Dave's family's pig-shaped pet dragon.
Background
Unlike most dragons who spew fire, Faffy breathes lightning and is domesticated and has no tail. He does possess a wild streak that can be revealed when around other dragons, particularly evil ones with rebel attitudes. It is mentioned in the show that Faffy has a one digit IQ.
Role in the series
In the episode, "Pet Threat", Faffy is sad because the family forgot to get him anything during Dragon Appreciation Week, so Dave buys Faffy a diseased weasel for a pet. The diseased weasel gets all of Dave's attention, so Faffy runs away. The weasel turns out to be Chuckles The Silly Piggy, who wants to steal a magical fruit hidden in Faffy's room.
In the episode, "Ned Frischman: Man of Tomorrow", Ned Frischman travels back in time and tries to take over the ancient world using video games. When everyone is hooked on the video games, Faffy, Lula, and Twinkle the Marvel Horse (being the only ones without thumbs) must face off against Ned.
Faffy is once again the main focus in the episode, "Slay What?", Fang's barbarian idol arrives in town to slay an unsuspecting Faffy, so the barbarians must do whatever it takes to keep Faffy safe.
In the episode, "Here There Be Dragons", Faffy's allegiance to his dragon brethren makes it tougher for Dave to reverse an unnatural heat wave that has struck Udrogoth. But he eventually decides his family is more important and rescues them.
In the episode, "Shake, Rattle, & Roll Over", while retrieving the magical Combat Rattle from an ancient temple, Faffy causing a statue to come to life and attack Dave and the others. Dave decides to get Faffy trained, so Chuckles disguises himself as a dragon trainer in order to steal the Combat Rattle.
Gallery
v - e - d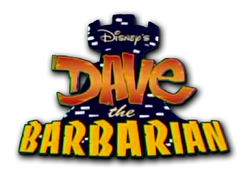 Locations
Udrogoth • Great Indoor Marketplace • Sorcery School • Hyrogoth
Community content is available under
CC-BY-SA
unless otherwise noted.