"Fee-Fi-Fo-Fum" is a song sung happily by Willie the Giant in the segment, Mickey and the Beanstalk, a segment from the 1947 Disney film, Fun and Fancy Free. It is sung when when Willie the Giant is introduced in the segment during the part where Mickey, Donald, and Goofy plan to rescue the Golden Harp inside a chest.
Lyrics
Fe, fi, fo, fum
He, hi, ho, hum
I'm a most amazing guy
A most amazing guy am I!

Fe, fi, fo, fum
He, hi, ho, hum
I'm the stuff, I'm telling you!
For here's what I can do

I can change myself into an elf
Fly up high like the birdies
I can disappear into atmosphere - Peekaboo!

'Cuz I know the magic wordies
Fi, fo, fe, foy
Fe, fe, fe, fe... Fifi? I don't know no Fifi!

("Those are his magic words, you know.")
v - e - d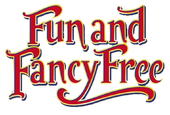 Disney Parks
Sir Mickey's
Community content is available under
CC-BY-SA
unless otherwise noted.