m

Line 3:
Line 3:
 

|singer = [[Willie the Giant]]

 

|singer = [[Willie the Giant]]

 

|films = ''[[Fun and Fancy Free]]''

 

|films = ''[[Fun and Fancy Free]]''

 
+

|preceded_by = "[[Eat Until I Die]]"

 
+

|followed_by = "[[My Favorite Dream]]"

 

|video = Fun and Fancy Free - 08 Fee fi fo fum}}"'''Fee-Fi-Fo-Fum'''" is a song sung happily by [[Willie the Giant]] in the film, ''[[Fun and Fancy Free]]''.

 

|video = Fun and Fancy Free - 08 Fee fi fo fum}}"'''Fee-Fi-Fo-Fum'''" is a song sung happily by [[Willie the Giant]] in the film, ''[[Fun and Fancy Free]]''.

 
 
Line 30:
Line 32:
 

[[Category:Villain songs]]

 

[[Category:Villain songs]]

 

[[Category:Fun and Fancy Free]]

 

[[Category:Fun and Fancy Free]]

−
 
 

[[Category:Fun and Fancy Free songs]]

 

[[Category:Fun and Fancy Free songs]]

 

[[Category:Featured songs]]

 

[[Category:Featured songs]]
---
Revision as of 13:15, 20 March 2020
"Fee-Fi-Fo-Fum" is a song sung happily by Willie the Giant in the film, Fun and Fancy Free.
Lyrics
Fe, fi, fo, fum
He, hi, ho, hum
I'm a most amazing guy
A most amazing guy am I!

Fe, fi, fo, fum
He, hi, ho, hum
I'm the stuff, I'm telling you!
For here's what I can do

I can change myself into an elf
Fly up high like the birdies
I can disappear into atmosphere - Peekaboo!

'Cuz I know the magic wordies
Fi, fo, fe, foy
Fe, fe, fe, fe... Fifi? I don't know no Fifi!
v - e - d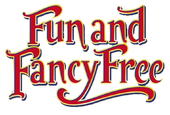 Disney Parks
Sir Mickey's
Community content is available under
CC-BY-SA
unless otherwise noted.