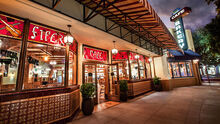 The Fiddler, Fifer & Practical Cafe is a Starbucks location in Disney California Adventure. The fictitious history is the cafe was open by The Silver Lake Sisters. The insides of the cafe are decorated with mementoes for the Sisters performing history, including posters from their performance of the ballroom at The Hollywood Tower Hotel.
This 1930s-era eatery was established by Dolly, Dottie and Ethel Bounds, known professionally as Fiddler, Fifer & Practical (aka the Silver Lake Sisters). They spent a good part of their lives performing the vaudeville circuit, entertaining the troops in World War I and becoming minor celebrities in nightclubs along the then‐emerging Sunset Strip in Hollywood.
After 20 years of singing, dancing and playing their instruments (Dolly on violin, Dottie on flute, Ethel on piano), the sisters decided to put down roots on Buena Vista Street. The idea came from Ethel, the practical one. She had always handled the trio's business affairs and was constantly urging her sisters to settle down and open a legitimate business. They finally agreed, joining together to open Fiddler, Fifer & Practical Café, with its name an homage to their act.
Exterior Links
Community content is available under
CC-BY-SA
unless otherwise noted.