Flapper "Fifi" is a character who appeared in some shorts. She is the love interest of Pluto, and Minnie's pet along with Figaro.
Background
Personality
She is very jealous in relation to Pluto, but also is very gentle, sweet and talented, which made her win the first prize in a contest for dogs in the episode The Dog Show. She has been Minnie's dog ever since Minnie was young.
In Mickey Mouse (TV series) and The Wonderful World of Mickey Mouse, Fifi is more aggressive and mischievous but is still friendly and playful towards those who gain her affection.
History
1933-1950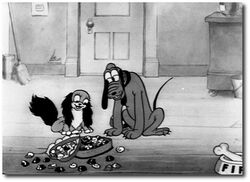 Fifi first appeared, in the 1933 Mickey Mouse cartoon Puppy Love as Minnie Mouse's pet dog and Pluto's love interest. A year later, Fifi would return in The Dognapper (1934), where she is taken by dognapper Pegleg Pete, being the first time Fifi had appeared without Pluto. Two years later, Fifi would appear for time in color, in cameo appearance in Mickey's Polo Team (1936), being the first time she had appeared without Minnie.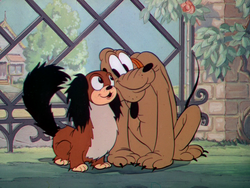 In 1937, Pluto was given his own series of solo-starring cartoons, starting with Pluto's Quin-puplets, where Fifi and Pluto have quin-puplets. Two years later, she would return, in Society Dog Show and Mickey's Surprise Party (1939), as Minnie's pet dog again. Eight years later, she would return in Pluto's Blue Note (1947), being the only time Fifi was alongside Dinah the Dachshund, Pluto's other love interest.
1950-present
Fifi disappeared from animation, after being replaced with Figaro as Minnie's pet and Dinah the Dachshund as Pluto's love interest, but appeared in the line of merchandise called Minnie 'n Me as Minnie's dog. Later, she would be redesigned, now with an orange coat with cream muzzle, belly and paws. She has brown ears and tail, a black nose, white eyes and a green lace around her neck. The design was continued to be used in video games such, as Disney Crossy Road, story books and more.
She made her triumphant return in the Mickey Mouse short You, Me and Fifi in her classic design. In Chip 'n' Dale: Park Life, she would reappear in the design she had used in merchandise.
Television
In You, Me and Fifi, Mickey ready for another date with Minnie, comes to her apartment, the two happily start kissing each other, when Fifi pops up between them. She tells him that Fifi doesn't love anyone but her loving faithful owner, but he tells her it's going to change, because he is a world favorite. She then wishes him good luck, and goes off to change. He tells Fifi it's time to be friends. Fifi growls at him, but he thinks it's just a smile.
But as he tries to kiss Fifi, which chomps his head. He luckily gets his head out of her mouth, then asks Fifi why she doesn't love him. He shows her a picture of Minnie, but this makes her even angrier. Fifi smashes him, grabs his shoe, violently throws him across the room, knocks over her pictures, and violently smashes him against the floor. Minnie comes downstairs to let him know she's almost ready and finds it adorable to see a "happy" Fifi laying on top of a beaten and petrified Mickey. She says she'll be ready in a jiffy and runs back upstairs. Fifi, which is now angry, starts chasing Mickey, which causes him to close the door to the kitchen. Mickey later comes back from the store with a few bones, chew toys, a hybrid SUV, and a pillow made from his grandma's wedding dress, but finds that Fifi has vanished.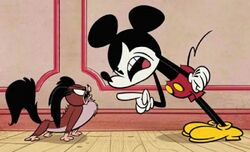 He feels a drip, which turns out to be Fifi hanging from the ceiling fan. Fifi attacks him, hits him with her chew toys, and throws them out of the window. He tries to stand up for himself, telling Fifi to get out of her naughty behavior. They both see the pillow, and they both begin fighting over the pillow. The pillow then gets ripped in half, and Fifi falls out of the window, and is now hanging on a flagpole. Mickey panics and jumps over the window to save her. Fifi can't hold on any longer, as her teeth lose their grip and Fifi starts to fall. But Mickey grabs Fifi's left front paw, telling her he will never let her go.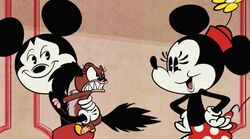 Minnie, now ready for the date and goes downstairs to tell him she is ready. But she finds it adorable to see Fifi licking her loving boyfriend. She embraces him and the two happily start kissing each other again, until Fifi pops between them again. He tells her she'd loved Mickey and Fifi would be friends. She agrees. But Fifi growls at her, and Minnie thinks it's a smile. But as she tries to kiss Fifi, the violence starts all over again as Fifi starts knocking over some of Minnie's things.
In Hard to Swallow, Mickey takes Pluto to see Minnie and Fifi who, try to help Pluto take his flea pill. Unlike Pluto, Minnie tricks Fifi into eating her flea pill by putting the flea pill with her treats. Pluto tells Fifi that Minnie trick her into eating her flea pill. Fifi, now furious attacks Minnie and they start fighting destroying some of Minnie's things. Later, Minnie calls Mickey to see if he can help her make Fifi take her flea pill while, the fleas start attacking Minnie's apartment.
In An Ordinary Date, Fifi makes a cameo in a portrait in Minnie's apartment.
In It Takes Two to Tangle, Fifi argues with Pluto over the last meatball while, Chip and Dale past by happily, which Fifi and Pluto stop to admire. The next day, Fifi and Pluto are still arguing while, Chip and Dale, now knitted together, past by. Chip happily goes about the day while dragging a very reluctant Dale around, which Fifi and Pluto stop and watch. They next day, Fifi and Pluto still arguing, watch as Chip cries while running away (or at least tries to) dragging Dale. Fifi and the other animals notice this and all try to get the two of them to make up. Inspired, Fifi, Pluto, and the other animals have themselves knitted together. Later, Fifi eats the last meatball as Pluto watches begin to regret their decision.
In Chipmunks Away, Fifi makes a cameo alongside, Pluto and one of her quin-puplets, drinking from a bird bath.
In Dog in the House, Fifi is scared away from the fire hydrant by Pluto and Dale.
Videos Games
Fifi is one of the many dog that are in this game, being the dog of Minnie Mouse.
Fifi is a playable character in this game being, one of several dogs in this game. Fifi is a Classic figure part of the Mickey Mouse and Friends theme and doesn't add any changes to the Mickey Mouse & Friends world. To unlock Fifi, you must collect 50 dog bones with Pluto. She also, Cannot be bought from the Gacha Machine.
Disney Parks
In It's a Small World, for a time, Fifi was added to the South America room but, later was removed.
Filmography
Gallery
Trivia
v - e -

d

Disney
Mickey Mouse & Friends:

Mickey • Minnie • Donald • Daisy • Goofy • Pluto • Fifi • Pete • Clarabelle Cow • Horace Horsecollar • Willie the Giant • Chip and Dale • Mortimer Mouse • Chief O'Hara • Detective Casey • Butch the Bulldog • Golden Harp • Father Time • Peter Pig


The Lion King: Simba • Nala • Shenzi, Banzai, and Ed • Ostrich • Gazelle • Rhino • Hippo • Zebra • Blue Beetle • Grub • Zazu • Rafiki • Timon • Pumbaa • Mufasa • Scar
Tangled: Rapunzel • Flynn Rider • Stabbington Brothers • Pub Thugs • Attila • Vlad • Big Nose • Hook Hand • Ulf • Shorty • Pascal • Maximus • Mother Gothel • The King • The Queen • Captain of the Guards • Warthog • The Lantern
Wreck-It Ralph: Ralph • Vanellope • Felix • Sgt. Calhoun • King Candy • Taffyta Muttonfudge • Candlehead • Surge Protector • Gene • Nicelanders • Rancis Fluggerbutter • Other Sugar Rush Racers • Sour Bill • Blue Racer • General Hologram
Big Hero 6: Hiro Hamada • Baymax • Robert Callaghan • Go Go Tomago • Honey Lemon • Wasabi • Fred • Fred's Dad • Tadashi Hamada • Cass • Yama • Alistair Krei • Heathcliff • Abbigail Callaghan • Attila • Sergeant Gerson • Cass
Zootopia: Judy Hopps • Nick Wilde • Flash • Clawhauser • Gazelle • Yax • Bogo • Mayor Lionheart • Bellwether • Doug • Finnick • Mr. Big • Mr. Otterton • Manchas • Gideon • Jerry Jumbeaux Jr. • Nanga • Priscilla • Mr. Hopps • Mrs. Hopps • Business Lemming • Duke Weaselton • Fru Fru • Kozlov • Officer McHorn • Wrangled • Wreck-It Rhino • Pig Hero 6
The Jungle Book: Mowgli • Kaa • Baloo • Akela • Raksha • Gray • Shere Khan • Colonel Hathi • King Louie • Bandar-Log Monkey • Flying Squirrel • Crocodile • Peacock • Vulture • Elephant • Bee Hive
Alice Through the Looking Glass: Alice Kingsleigh • Dormouse • Tweedledee and Tweedledum • Cheshire Cat • Bandersnatch • Bayard • White Queen • March Hare • White Rabbit • Mad Hatter • Absolem • Time • Wilkins • Humpty Dumpty • Red Queen • Borogrove • Frog Delivery Man • Gentleman Fish • Vegetable Soldier • Vegetable Servant • Vegetable Executioner • Armored Chess Piece
Pirates of the Caribbean: Jack Sparrow • Will Turner • Elizabeth Swann • Joshamee Gibbs • Tia Dalma • James Norrington • Marty • Cotton • Bootstrap Bill Turner • Pintel • Ragetti • Angelica • Blackbeard • Prison Dog • Maccus • Davy Jones • Helmsman • Philip Swift • Syrena • Captain Salazar • Ghost Lesaro • Shansa • Henry Turner • Carina Smyth • The Redhead • Murtogg • Mullroy • Treasure Chest • Stray Cat • Tiny • Pirate With Pigs • Ghost Shark • Ghost Seagull • Auctioneer
Aladdin: Aladdin • Jasmine • The Sultan • Prince Achmed • Gazeem • Razoul • Rajah • Iago • Abu • Genie • Jafar • Magic Carpet • Pink Flamingo • Beggar Jafar • Golden Scarab Beetle • Magic Lamp • Snake Charmer • Golden Camel
The Nightmare Before Christmas: Jack Skellington • Sally • Lock, Shock, and Barrel • Oogie Boogie • Easter Bunny • Santa Claus • Behemoth • Wolfman • Corpse Family • Mummy Boy • Mayor of Halloween Town • Dr. Finkelstein • Jewel • Zero
Mulan: Mulan • Yao, Ling, and Chien Po • Fa Li • Fa Zhou • Hayabusa • Khan • Cri-Kee • Little Brother • Mushu • Shan Yu • Captain Li Shang • The Emperor of China • The Matchmaker • General Li • Grandmother Fa • First Ancestor Fa • Chi-Fu • Great Stone Dragon
Moana: Moana • Sina • Frigatebird • Chief Tui • Gramma Tala • Pua • Frigatebird • Kakamora Chief • Maui • HeiHei • Ghost Matai • Eel • Tamatoa • Frog Monster • Sloth Monster • Eight Eyed Bat • Chicken Feed • Maui's Hook • The Ocean
Beauty and the Beast: Belle • Maurice • Chip Potts • Mrs. Potts • Gaston • LeFou • FrouFrou • Chapeau • Plumette • Beast • Cogsworth • Lumiere • The Enchantress
Lilo & Stitch: Lilo Pelekai • Nani Pelekai • David Kawena • Mrs. Hasagawa • Mertle Edmonds • Stitch
DuckTales: Scrooge McDuck • Donald Duck (Classic) • Huey, Dewey, and Louie • Webbigail Vanderquack • Mrs. Beakley • Beagle Boys (Big Time, Burger, and Bouncer) • Gyro • Darkwing Duck • Falcon Graves • Pixiu Chinese Dragon • Peghook's Ghost • Launchpad McQuack • Hack and Slash Smashnikov • Gizmoduck • Shadow Magica • Ma Beagle • Flintheart Glomgold • Pharaoh Toth-Ra • Headless Man-Horse