Cobra Kai Season 4 - The Loop
Play Sound
"Pumbaa, I don't have to wonder. I know."
―Timon explaining to Pumbaa about why there's lightning and thunder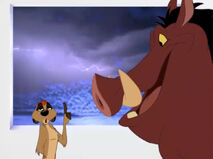 Find Out Why is a short educational series that features short films about science, starring Timon and Pumbaa from Disney's One Saturday Morning in 2000, and only appears in the extras at Disc 2 of The Lion King II: Simba's Pride 2-Disc Special Edition DVD in 2004.
Summary
These are a series of six short films featuring the comical duo, Timon and Pumbaa answering science questions like why there is lightning, why we sneeze, why pandas don't live in deserts, why there is wind, why an airplane flies, and why a CD works. These are fun to check out for educational purposes at schools, non-residential and residential uses for people, including students and kids everywhere in the world.
YouTube Release
The videos were release on YouTube on Aug 19, 2019 by 647 Timon10.
Short Films
This series contains six short films that Timon and Pumbaa answers the questions.
Why is There Thunder and Lightning?
Why Do We Sneeze?
Why Don't Pandas Live in the Desert?
Why is There Wind?
Why Does an Airplane Fly?
Why Does a CD Work?
Why is it So Cold in the Poles?
Why Does it Rain?
Trivia
The Magic Carpet from the Aladdin franchise makes a cameo appearance in the first short film, Why is There Thunder and Lightning?.