Finnick is a supporting character in Disney's 2016 animated feature film Zootopia. He is a hot-tempered fennec fox and Nick Wilde's former partner-in-crime. Finnick has a deep sonorous voice, but is often mistaken for a child due to his cute appearance and diminutive stature.
Background
Finnick met Nick at juvenile detention when they were teenagers. They were originally rivals vying for the money of Zootopia's populace until they discovered that they work best as a team.[1] Together, the two regularly roam about the city of Zootopia during the day, hustling citizens as a means to make a quick buck. Though they are polar opposites, the two get along well when working a scheme, and have shown to be met with considerable success in their operations.
Being the smallest species of the fox family, Finnick is much smaller than Nick, to the point where he is often identified as a toddler, rather than his actual age. This is a point of contention for Finnick, who shows deep displeasure in this common misconception. Nevertheless, he can be talked into embracing his appearance for the sake of money, which appears to be one of the few things that can suppress his temperament for a certain amount of time. Finnick and Nick's most well-known act is that of a father and son duo, with Finnick disguising himself as the latter. He has also used his toddler-like appearance for other means throughout his life, such as cutting school by convincing the teacher that he was his own baby brother.[2] In sharp contrast to his size, Finnick has an extremely deep, gravely voice, which forces him to remain silent when in public, as his appearance plays a key role in his scams.
Though not explored in the film, Finnick has a history of criminal activity; he managed to continuously evade arrest over the years by using his childlike appearance to disguise himself with a look of innocence. His massive ears have also been used to listen out for the sirens of nearby police cars, providing him with time to flee a scene before their arrival.[2] He was also affiliated with Mr. Big at one point.[3]
Finnick owns and lives in a shabby van, which he stole from an elderly bat.[1] Though a seemingly experienced driver, there have been instances where he's been pulled over for underage driving.[2]
Development
Finnick was present in some of the earliest versions of the story, which featured Nick as the protagonist in the place of Judy Hopps. He was among the predators forced to wear a tame collar to keep them under control. Being one of the more vociferous citizens about this treatment, Finnick was resentful to the point he frequently received shocks during his outbursts. He also knew Nick ever since they were children, having been in the same elementary class as Nick.[4] Both Finnick and Nick were also friends with Clawhauser and a conspiracy-obsessed badger, the latter being an accomplice in the duo's scams.[5][4] Though Clawhauser and the badger remained in the movie, Finnick is the only member of the original group to have an association with Nick in the final version.
Finnick was also heavily associated with Nick's ambition to open the illegal Wild Times amusement park. The park was hidden beneath a false medical clinic and was a place where predators were given the chance to remove their collars to enjoy a life of freedom. Inside, Finnick (dressed as a nurse) worked with Clawhauser at the "collar check" desk, where the former would use a tag reader to remove the tame collars.
Personality
While Nick is calm and collected, Finnick is short-tempered and loud, often resulting in acts of violence whenever annoyed. Self-assured and no-nonsense, Finnick often tries to strike fear into those around him with verbal, and even physical threats. Although it is not a real psychological disorder, Finnick is a classic example of someone with a Napoleon Complex, being aggressive despite his small stature.
Though he detests the misconception that he is a toddler, Finnick has enough self-control to maintain his boiling temper for the greater good: money, in his case. As such, he can be just as cunning and manipulative as Nick, especially when waddling around like a toddler, to render others putty in his hands.
Finnick also appears to care little for authority. He paid no real mind to Judy as an officer and was unfazed in her presence, despite the fact that he, too, was involved in the con that put Nick on her radar. He apparently finds the very idea of being an officer to be humiliating.
For all of his gruffness, Finnick does have a heart.[6] He appears to have a particular soft spot for Judy as near the climax of the film, when visited at his van, Finnick was initially hostile upon answering, only to immediately soften at the sight of Judy. He subsequently showed her sympathy by answering her pleas and helping her find Nick, who she had evidently developed a friendship with since their last encounter. This is Finnick's only known act of kindness and indicates that he does have some amount of care for both Nick and Judy.
Physical appearance
Finnick is a slender fennec fox with an oval-shaped face and large ears. A portion of his fur is a brownish-gold color, while his face, palms, paws, and the soles of his feet are a sandy color. He also has a black nose, light brown eyes with a notable case of periorbital dark circles beneath them, and equally dark eyelids.
Finnick's casual outfit is a black button-up, bowling shirt with a red stripe, and a sliced diamond design on the left side of his chest. He wears a white shirt underneath, olive shorts, and can sometimes be found with a pair of black sunglasses.
When scamming with Nick, Finnick's toddler disguise is usually that of a blue-gray elephant hooded sweatshirt/costume with pink inner ears, pink toes, white tusks, and a large, pink heart at the center of the suit. Only his eyes and surrounding fur are visible in the hooded suit. He can usually be seen sucking a red pacifier in addition. When he first meets Judy, he is given a junior ZPD sticker on his suit, which he later places onto Nick's shirt.
Appearances
Finnick is first seen carrying out a money-making hustle with Nick at Jumbeaux's Café. In during which, Nick was unknowingly spotted by Judy Hopps who, believing him to be plotting, followed Nick into café. She finds Jerry Jumbeaux Jr. refusing to serve Nick and believes this to be due to the latter violating a law. She prepares to confront him with her fox repellent, only to pause when she spots Finnick, who Nick claims to be his son. Finnick looks to Judy and the two exchange gazes, but the fennec fox ignores her beyond that. Nick explains that his "son" would like a Jumbo-pop, claiming that Finnick loves all things elephants and hopes to be one when he grows up. Judy is notably touched by this story, though Jerry is unfazed, causing Finnick to throw a mild tantrum. Out of sympathy, Judy confronts Jerry, threatening to close his establishment due to health code violations should he refuse to serve Nick and Finnick. Jerry begrudgingly complies, but Nick seems to have left his wallet home, apologizing to Finnick for "ruining his birthday." As the two take their leave, Finnick sadly reaches for the ice pop, prompting Judy to pay for it herself.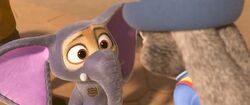 Outside of the café, Judy encourages Finnick to follow his "dream" to become an elephant, giving him a ZPD sticker on his elephant suit as a gift. Nick and Finnick then depart the scene, leaving Judy to her duties as a meter maid. During her shift, she spots Finnick exiting from a van and excitedly rushes to greet him, only to pause upon seeing him hold a jar steadily as Nick fills it with the juices of the melted Jumbo-pop. The two then return to the van, but instead of Nick ("the parent") driving, it's Finnick who's at the wheel. Suspicious, Judy follows the duo to Tundratown, where Finnick is inserting his elephant suit's footprints into the snow, while Nick fills said prints with the Jumbo juices. Back in Savanna Central, it is revealed that Nick and Finnick were creating "pawpsicles" to sell to lemmings, while Finnick collects their discarded sticks, which are later sold as lumber to construction mice, finally proving their entire situation was a scam.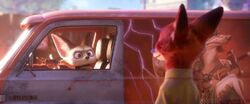 With the workday complete, Finnick is paid his share, and he discards his elephant costume and pacifier before entering his van in swift silence. He then reveals his true appearance and voice as he and Nick bid farewell until the next day. After Finick drives off (while blasting rap music) Nick is left to deal with an infuriated Judy.
The next day, Finnick and Nick reunite for another "father and son" scam; Finnick falls asleep in his false stroller while traveling, which Nick covers to prevent anyone from noticing the former's adult-sized snoring. During his nap, Judy Hopps returns and requests information from Nick for a case. As the two exchange banter, Finnick awakens and eavesdrops on their conversation. Judy, needing Nick to help her solve the case, hustles the latter into confessing his crime of felony tax evasion, forcing him to either help or face five years of jail time. Finnick breaks into uproarious laughter at Nick's humiliation, before commending Judy on her cunning. Finnick then declares Nick to be a cop, gives him the ZPD sticker, and leaves the scene in laughter while telling Nick to have fun working with Judy.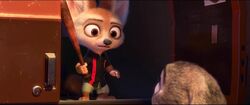 With no other choice, Nick sets out to assist Judy with her case. Over the course of their adventure, they unexpectedly form a meaningful relationship. However, a series of unfortunate events at Judy's hands accidentally leads to civil unrest in Zootopia. Nick abandons Judy as a result of this, and the latter returns to her hometown. During this time, Finnick and Nick cross paths once again. When an epiphany hits Judy that could lead to the restoration of Zootopia, however, she rushes back to the city and searches for Finnick. When she finds his van, Finnick answers abruptly, prepared to attack his unwanted visitor with a bat. He restrains himself upon seeing that it was Judy, who asks for help in finding Nick, to which Finnick complies to.
Though Finnick is not seen again for the remainder of the film, Nick and Judy allude to him during the climax by referencing the "toot-toot" noise of his elephant costume's trunk. During the epilogue, Nick—now an official cop—can be seen eating a pawpsicle during his shift, implying that he and Finnick continue to work together to make them.
Other appearances
An emoticon version of Finnick appeared in the Zootopia entry of the As Told by Emoji short series.
Video games
A townsperson of Finnick (in his elephant costume) appears in the game, which can be unlocked in the Toy Store. When playing as Nick Wilde, Finnick can be summoned to assist the player in battle for a period of time, using a Jumbo-pop as a weapon.
The Finnick townsperson also plays a role in the Toy Box story Nick Wilde: Undercover Cop, where he acts as an informative and provisioner for Nick and Judy's case.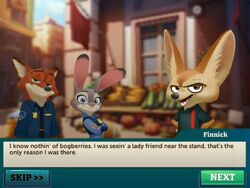 Finnick makes a guest appearance in the eighth case of the game, where he is labeled a suspect in a string of robberies at a fruit stand. The owner of the stand reported a small, hairy mammal with large ears and an elephant costume snooping around the stand. Nick immediately thinks of Finnick and lights up at the chance to see his friend, but openly doubts the idea of Finnick being the culprit. Judy, however, thinks Finnick and Nick's relationship makes the former more of a suspect. Finnick explains that he was near the stand to see his girlfriend, but later provides a lead by telling Nick and Judy that the fruit stand owners are in competition, implying a possible sabotage conspiracy.
Sometime later, Finnick misplaces a gift for his girlfriend (a broken necklace) and reports this to Chief Bogo, who sends Nick and Judy out to recover it; he also notes that ordering Nick and Judy around amuses him.
Despite being a recurring character in the movie, Finnick appeared in the game as a playable and unlockable character, his weapon is his huge Jumbo paddle, the weirdest thing is that in the original movie he never said the phrase "Little mammal, big heart baby"
Other games
In Kingdom Hearts Unchained χ, a chibi version of Finnick is featured as a "snuggly" companion for avatars, serving as an arm accessory.
In Disney Tsum Tsum, when activating the special skill of the Finnick tsum tsum, a silhouette of Ele-Finnick briefly appears on the screen smashing a number of tsum tsums with a Jumbo-pop.
Two versions of Finnick appear as playable characters in Disney Crossy Road. His regular self is listed under the 'Classic' class, while El-Finnick is in the 'Secret' class. To unlock the latter, the player must complete the Masters of Disguise set.
Relationships
When paired with Nick, the two share an interesting, symbiotic relationship, of sorts; they generally seem to associate with one another for a common goal, being to earn money. Throughout their business hours, they work and collaborate well with their individual assets. When they aren't working, their interactions mirror that of two lifelong friends, or brothers, as they playfully tease one another, and use their misfortunes or minor shortcomings as a means to crack jokes, though they never show any real resentment. When they do show any form of companionship towards one another, it's done through banter unique to their personalities — Nick would use wisecracks to bid farewell to the fennec fox, and Finnick would respond with a dose of violent sass, again acting along the lines of modern, lifelong friends.
Gallery
Trivia
Finnick's name is a play on his species' name.
The casting of Tommy Lister was intended to juxtapose Finnick's character design.
In some books and merchandising, Finnick's eyes are incorrectly colored blue or gray instead of brown.
In earlier drafts of the story, Finnick and Nick worked at a fast food restaurant in Little Rodentia called Chez Cheese.[7] Another version had them working at a restaurant called Bug-Burga.[4]
According to co-director Byron Howard, Finnick is older than Nick, but refuses to disclose his actual age.[8]
An elephant was not the only disguise choice for Finnick throughout production. Other roles included a popsicle and a nurse.[9]
On occasion, he can ironically succumb to his own stereotype, as he was seen falling asleep in his stroller at one point of the film.

He is also a heavy snorer, yet ironically whimpers very much like a puppy in his sleep.

The song Finnick plays in his van during his reveal is "Parlez-Vous Rap" by Bloodpop and Daveed Diggs.

On the same scene, the van's brand is shown, "Lobos", meaning 'wolves' in Spanish; the logo being the silhouette of a fox's head. The model is Z1, which probably comes from 'zorro', 'fox' in Spanish.

Finnick seems to have a form of dwarfism. Although fennec foxes are the smallest foxes in the world, in real life, adult fennec foxes are almost as large as red foxes, like Nick Wilde.
According to co-director Jared Bush, "Finnick" is actually just a nickname, and the character refuses to reveal his real name to others out of coyness.[10]
Finnick's outfit in early concept art heavily resembles the final design of Nick's outfit.[11]
Baymax from Big Hero 6 can be seen as an antenna topper on Finnick's van.[12]
During renovations of the Walt Disney Animation Studios building, beginning in 2014, Finnick was one of the character silhouettes featured on the wall mural.
Finnick's popularity following the film's release led to an increase in demand for fennec foxes as pets in Chinese markets, although the animals are usually considered unsuitable for domestication.[13]
At one point in a version of the story that utilized the tame collars, Finnick was to exclaim the line, "I'm a grown mammal—fennec fox!".[4] Though deleted from the film, Tommy Lister actually recorded the line, which was utilized as one of the phrases for the "Talking Finnick" plush figure.
In an earlier version of the jumbo-pop hustle, Finnick's disguised role was different; he was Nick's adopted son (taken from the orphanage thirty minutes prior to the scene) who actually believed he was an elephant, was unable to speak, blind, and diagnosed with a potentially fatal illness, but was cut due to being a bit too much for some audiences.[14]
References
v - e - d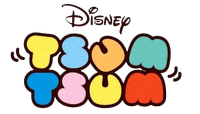 Disney
Mickey & Friends:

Mickey • Minnie • Donald • Daisy • Goofy • Pluto • Chip and Dale • Oswald • Ortensia • Duffy • ShellieMay • Gelatoni • StellaLou • CookieAnn • 'Olu Mel • Huey, Dewey, and Louie • José Carioca • Panchito Pistoles • Clarabelle Cow • Horace Horsecollar • Max Goof • Clarice • Pete • Scrooge McDuck • Ludwig Von Drake • Dr. Frankenollie • Julius

Pooh and Pals: Pooh • Tigger • Piglet • Eeyore • Rabbit • Owl • Roo • Kanga • Gopher • Christopher Robin • Lumpy
Lilo & Stitch: Stitch • Lilo • Scrump • Pleakley • Jumba • Angel • Leroy • Dr. Hämsterviel • Ugly Duckling • Sparky • 627 • Gigi • Babyfier • Yang • Slushy • Shortstuff • 625 • Amnesio • Dupe • Sample • Clip • Tank • Yin • Hunkahunka • Plasmoid
Silly Symphonies: Donald Duck • Big Bad Wolf • Practical Pig • Fiddler Pig • Fifer Pig • Ugly Duckling
Snow White and the Seven Dwarfs: Snow White • Evil Queen • Doc • Grumpy • Happy • Bashful • Sneezy • Sleepy • Dopey
Pinocchio: Pinocchio • Jiminy Cricket • Figaro • Cleo • Geppetto • Blue Fairy • Honest John and Gideon • Lampwick • Monstro
Fantasia: Mickey • Yen Sid • Chernabog • Hyacinth Hippo • Ben Ali Gator
Dumbo: Dumbo
Bambi: Bambi • Thumper • Miss Bunny • Friend Owl • The Great Prince of the Forest
The Three Caballeros: Gauchito • Burrito
The Adventures of Ichabod and Mr. Toad: Mr. Toad
Cinderella: Cinderella • Jaq and Gus • Prince Charming • Fairy Godmother • Lady Tremaine • Lucifer • Suzy • Perla • Bruno
Alice in Wonderland: Alice • Mad Hatter • March Hare • Dormouse • White Rabbit • Cheshire Cat • Tweedle Dum and Tweedle Dee • Queen of Hearts • King of Hearts • Caterpillar • Dinah • Oysters
Peter Pan: Peter Pan • Tinker Bell • Wendy Darling • John Darling • Michael Darling • Captain Hook • Mr Smee • Nana • Tick Tock • Tiger Lily
Lady and the Tramp: Lady • Tramp • Si and Am • Jock • Trusty • Peg
Sleeping Beauty: Aurora • Phillip • Maleficent • Flora • Fauna • Merryweather • Diablo • Samson • King Stefan • Goon • Owl • Rabbit
Mary Poppins: Mary Poppins • Bert • Penguin Waiter • Carousel Horse
One Hundred and One Dalmatians: Cruella De Vil • Lucky • Patch • Rolly
The Jungle Book: Mowgli • Baloo • Bagheera • Shere Khan • Kaa • King Louie • Hathi, Jr. • Raksha
Pete's Dragon: Elliott
The Fox and the Hound: Tod • Copper
The Aristocats: Marie • Berlioz • Toulouse • Duchess • Thomas O'Malley
The Rescuers: Bernard • Bianca
Oliver & Company: Oliver • Dodger • Tito • Rita • Francis • Einstein
The Little Mermaid: Ariel • Flounder • Sebastian • Eric • Ursula • Triton • Max • Scuttle
Beauty and the Beast: Belle • Beast • Lumiere • Cogsworth • Mrs. Potts • Chip • Maurice • Philippe • Gaston • LeFou
Aladdin: Aladdin • Abu • Genie • Jasmine • Jafar • Sultan • Iago • Rajah
The Nightmare Before Christmas: Jack Skellington • Sally • Zero • Lock, Shock, and Barrel • Oogie Boogie • Dr. Finkelstein • Mayor of Halloween Town • Santa Claus
The Lion King: Simba • Nala • Timon • Pumbaa • Zazu • Rafiki • Scar • Ed
Pocahontas: Pocahontas • John Smith • Meeko • Flit • Percy
Hercules: Hercules • Megara • Hades
Mulan: Mulan • Li Shang • Mushu • Fa Zhou • Khan
The Emperor's New Groove: Kuzco • Yzma • Kronk
Mickey, Donald, Goofy: The Three Musketeers: Mickey Mouse • Minnie Mouse • Donald Duck • Goofy
Chicken Little: Chicken Little
The Princess and the Frog: Tiana • Dr. Facilier
Tangled: Rapunzel • Flynn Rider • Pascal • Maximus • Mother Gothel • Queen Arianna • King Frederic • Cassandra • Fidella • Pub Thug
Wreck-It Ralph: Wreck-It Ralph • Fix-It Felix Jr.
Frozen: Anna • Elsa • Olaf • Kristoff • Sven • Hans • Snowgies • Bruni
Big Hero 6: Hiro • Baymax • Fred • Wasabi • Honey Lemon • Go Go Tomago • Tadashi Hamada • Yokai • Mochi
Zootopia: Judy Hopps • Nick Wilde • Mayor Lionheart • Flash • Yax • Gazelle • Chief Bogo • Clawhauser • Finnick • Mr. Big • Bellwether • Jerry Jumbeaux Jr.
Moana: Moana • Maui • Pua • Heihei • Tamatoa • Kakamora
Chip 'n Dale Rescue Rangers: Chip • Dale • Gadget • Monterey Jack
Phineas and Ferb: Perry
The Lion Guard: Kion • Ono • Bunga • Beshte • Fuli
DuckTales (2017): Scrooge McDuck • Huey, Dewey, and Louie • Webby Vanderquack
Kingdom Hearts: Sora • Riku • Kairi • Aqua • Xemnas • Ansem, Seeker of Darkness • Ventus • Terra • Chirithy • Lea • Young Xehanort
UniBEARsity: Mocha • Pudding • Whip • Puffy • Mont • Blanc • Souffle • Blue Rose • Charmant • Portiron • Rogue Rose • Fauve • Lucien • Horloge • La Mer • Ma Puce
Sofia the First: Sofia • Minimus • Skye
Elena of Avalor: Elena
Enchanted: Giselle
Disney Fairies: Periwinkle • Rosetta • Silvermist
The Sword in the Stone: Wart • Merlin
Oliver & Company: Oliver
Raya and the Last Dragon: Raya • Sisu
Twisted Wonderland: Grim • Riddle Rosehearts • Azul Ashengrotto • Leona Kingscholar • Kalim Al-Asim • Vil Schoenheit • Idia Shroud • Malleus Draconia • Dire Crowley • Mirror of Darkness
v - e -

d

Disney
Mickey Mouse & Friends:

Mickey • Minnie • Donald • Daisy • Goofy • Pluto • Fifi • Pete • Clarabelle Cow • Horace Horsecollar • Willie the Giant • Chip and Dale • Mortimer Mouse • Chief O'Hara • Detective Casey • Butch the Bulldog • Golden Harp • Father Time • Peter Pig


The Lion King: Simba • Nala • Shenzi, Banzai, and Ed • Ostrich • Gazelle • Rhino • Hippo • Zebra • Blue Beetle • Grub • Zazu • Rafiki • Timon • Pumbaa • Mufasa • Scar
Tangled: Rapunzel • Flynn Rider • Stabbington Brothers • Pub Thugs • Attila • Vlad • Big Nose • Hook Hand • Ulf • Shorty • Pascal • Maximus • Mother Gothel • The King • The Queen • Captain of the Guards • Warthog • The Lantern
Wreck-It Ralph: Ralph • Vanellope • Felix • Sgt. Calhoun • King Candy • Taffyta Muttonfudge • Candlehead • Surge Protector • Gene • Nicelanders • Rancis Fluggerbutter • Other Sugar Rush Racers • Sour Bill • Blue Racer • General Hologram
Big Hero 6: Hiro Hamada • Baymax • Robert Callaghan • Go Go Tomago • Honey Lemon • Wasabi • Fred • Fred's Dad • Tadashi Hamada • Cass • Yama • Alistair Krei • Heathcliff • Abbigail Callaghan • Attila • Sergeant Gerson • Cass
Zootopia: Judy Hopps • Nick Wilde • Flash • Clawhauser • Gazelle • Yax • Bogo • Mayor Lionheart • Bellwether • Doug • Finnick • Mr. Big • Mr. Otterton • Manchas • Gideon • Jerry Jumbeaux Jr. • Nanga • Priscilla • Mr. Hopps • Mrs. Hopps • Business Lemming • Duke Weaselton • Fru Fru • Kozlov • Officer McHorn • Wrangled • Wreck-It Rhino • Pig Hero 6
The Jungle Book: Mowgli • Kaa • Baloo • Akela • Raksha • Gray • Shere Khan • Colonel Hathi • King Louie • Bandar-Log Monkey • Flying Squirrel • Crocodile • Peacock • Vulture • Elephant • Bee Hive
Alice Through the Looking Glass: Alice Kingsleigh • Dormouse • Tweedledee and Tweedledum • Cheshire Cat • Bandersnatch • Bayard • White Queen • March Hare • White Rabbit • Mad Hatter • Absolem • Time • Wilkins • Humpty Dumpty • Red Queen • Borogrove • Frog Delivery Man • Gentleman Fish • Vegetable Soldier • Vegetable Servant • Vegetable Executioner • Armored Chess Piece
Pirates of the Caribbean: Jack Sparrow • Will Turner • Elizabeth Swann • Joshamee Gibbs • Tia Dalma • James Norrington • Marty • Cotton • Bootstrap Bill Turner • Pintel • Ragetti • Angelica • Blackbeard • Prison Dog • Maccus • Davy Jones • Helmsman • Philip Swift • Syrena • Captain Salazar • Ghost Lesaro • Shansa • Henry Turner • Carina Smyth • The Redhead • Murtogg • Mullroy • Treasure Chest • Stray Cat • Tiny • Pirate With Pigs • Ghost Shark • Ghost Seagull • Auctioneer
Aladdin: Aladdin • Jasmine • The Sultan • Prince Achmed • Gazeem • Razoul • Rajah • Iago • Abu • Genie • Jafar • Magic Carpet • Pink Flamingo • Beggar Jafar • Golden Scarab Beetle • Magic Lamp • Snake Charmer • Golden Camel
The Nightmare Before Christmas: Jack Skellington • Sally • Lock, Shock, and Barrel • Oogie Boogie • Easter Bunny • Santa Claus • Behemoth • Wolfman • Corpse Family • Mummy Boy • Mayor of Halloween Town • Dr. Finkelstein • Jewel • Zero
Mulan: Mulan • Yao, Ling, and Chien Po • Fa Li • Fa Zhou • Hayabusa • Khan • Cri-Kee • Little Brother • Mushu • Shan Yu • Captain Li Shang • The Emperor of China • The Matchmaker • General Li • Grandmother Fa • First Ancestor Fa • Chi-Fu • Great Stone Dragon
Moana: Moana • Sina • Frigatebird • Chief Tui • Gramma Tala • Pua • Frigatebird • Kakamora Chief • Maui • HeiHei • Ghost Matai • Eel • Tamatoa • Frog Monster • Sloth Monster • Eight Eyed Bat • Chicken Feed • Maui's Hook • The Ocean
Beauty and the Beast: Belle • Maurice • Chip Potts • Mrs. Potts • Gaston • LeFou • FrouFrou • Chapeau • Plumette • Beast • Cogsworth • Lumiere • The Enchantress
Lilo & Stitch: Lilo Pelekai • Nani Pelekai • David Kawena • Mrs. Hasagawa • Mertle Edmonds • Stitch
DuckTales: Scrooge McDuck • Donald Duck (Classic) • Huey, Dewey, and Louie • Webbigail Vanderquack • Mrs. Beakley • Beagle Boys (Big Time, Burger, and Bouncer) • Gyro • Darkwing Duck • Falcon Graves • Pixiu Chinese Dragon • Peghook's Ghost • Launchpad McQuack • Hack and Slash Smashnikov • Gizmoduck • Shadow Magica • Ma Beagle • Flintheart Glomgold • Pharaoh Toth-Ra • Headless Man-Horse