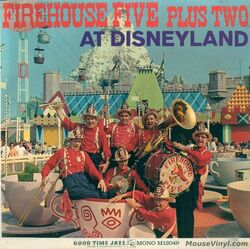 The Firehouse Five Plus Two was a Dixieland jazz band, popular in the 1950s, consisting of members of the Walt Disney Studios animation department.
The members of the band were:
Danny Alguire (cornet)
Harper Goff (banjo)
Ward Kimball (trombone, siren, tambourine)
Clarke Mallery (clarinet)
Monte Mountjoy, Jimmy MacDonald (drums)
Erdman Penner (saxophone, bass saxophone, tuba)
Frank Thomas (piano)
The band appeared in cartoon form in the Goofy cartoon, How to Dance.
The band received an homage in the ending of the 2009 Disney film The Princess and the Frog, with the jazz-playing alligator Louis now belonging to a group called "The Firefly Five Plus Lou".
Another homage to the band can be found in the 1999 direct-to-video film, Mickey's Once Upon a Christmas, where a band of actual firefighters plays a jazzy rendition of "Jingle Bells" to help Mickey and their fellow firefighters with a toy drive.
Gallery
Community content is available under
CC-BY-SA
unless otherwise noted.