Fish Hooks was an American animated television series created by Noah Z. Jones. Twenty-one episodes were ordered for the first season. It premiered on September 24, 2010, after the Phineas and Ferb episode "Wizard of Odd". An 11-minute preview was shown on September 3, 2010, following the Disney Channel Original Movie, Camp Rock 2: The Final Jam. It also premiered on ABC Family on January 15, 2011, at 7/6c. The stars of Fish Hooks are former That's So Raven and Cory in the House star Kyle Massey, StarStruck and Jonas L.A.'s Chelsea Kane, and Justin Roiland. Fish Hooks was cancelled in 2013 and would not be renewed for a fourth season. The final episode aired April 4, 2014.[citation needed]
Plot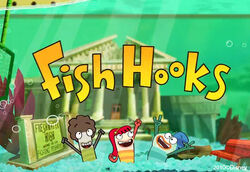 The series revolves around adolescent fish Milo, his shy brother Oscar, and their "overly dramatic" friend Bea Goldfishberg. They attend a school submerged in an aquarium in a pet store. The series chronicles their daily lives as they with everything from eel attacks and field trips to romance and homework.
In the credits sequence of each episode, there is a 30-second short featuring a rattlesnake and a mouse having various conversations and banter (usually about the episode itself).
Production
In 2009, President of entertainment Gary Marsh said of the show, "The Fish Hooks team has created one of the most original, inventive animated series on television – bringing an ingenious twist to the classic archetypes of high school life." The series will be produced using a mix of 2D digital animation and photo collages. The series is created and co-executive produced by children's book illustrator Noah Z. Jones and developed for television by Alex Hirsch and Bill Reiss. Main and recurring cast were announced in a Disney Channel press release on August 26, 2010.
Cast and characters
Main characters
Milo (Kyle Massey) is an adventurous Siamese fighting fish [1] who is a self-proclaimed "party guy" and the main protagonist of the series. He attempts to have fun in any situation and is very loud and often dangerous. It was confirmed in "Doris Flores Gorgeous" that he is 17 years old, and is friends with Bea, a female who is an aspiring actress, and is also friends with his possibly older brother, Oscar. In "Fail Fish", Milo is shown to have an attention disability and only learns by absorbing knowledge in near-death situations.
Oscar (Justin Roiland) is a routinely nervous catfish [2] with an afro. He is a video game lover and regularly serves as the voice of reason and justice between the main cast. He is often very stressed throughout the series, mostly because of Milo's crazy adventures. Oscar has had a secret crush on Bea for the entirety of the series that he has shared with Milo. He is shown as a neat-freak, and despite being brothers with Milo, they are the opposite of each other (along with being an entirely different species). For the first season of the series, a clam named Clamantha was Oscar's stalker and regularly followed him in secret. He used to date Angela, a gamer girl who he met on a rival debate team until Fish Prom when Angela was focus more on her video games then him, Oscar accidentally called her "Bea" when he was asking her to dance and Angela left him, but later in Unresolved Fishues, they made up and became friends. In the series finale, Oscar finally told Bea about his crush on her and Bea told Oscar her feelings for him and became a couple.
Bea Goldfishberg (Chelsea Kane) is a Goldfish who is very "overly dramatic", and wants to be a movie star in the future. Her friend, Oscar, has a huge and regularly unspoken crush on her, which she is completely oblivious to this. She is extremely self-centered and regularly boasts about her acting abilities and various talents. She also has a strong interest in the dramatic arts and constantly enrolls in various school plays. She has a best friend named Shellsea, who usually has to snap Bea out of her dramatic tantrums. In the series finale, she started to have feelings for Oscar but wasn't sure if she does until when she was giving her speech at graduation, she admitted her feelings for Oscar and they shared a kiss at the end.
Recurring characters
Guest stars
Fish Hooks has had at least one guest star in almost every episode of season 1. Notable Guest stars include:
Tiffany Thornton as Doris Flores Gorgeous (Doris Flores Gorgeous)
Dave Wittenberg as the Geckcoach (Underwater Boy, Mascotastrophe, Halloween Haul)
Maile Flanagan as Sunny (Happy Birthfish, Jocktopus)
Lauren Tom as Barb (Bea Becomes an Adult Fish, Employee Discount, Merry Fishmas, Milo)
Jason Earles as Kevin (Fail Fish)
Eric Ladin as Ron (The Tale of Sir Oscar Fish)
Jason Alexander as Mr. Nibbles (Hooray for Hamsterwood, Pamela Hamster Returns)
Sabrina Bryan as Pamela Hamster (Hooray for Hamsterwood, Pamela Hamster Returns, Bea Sneaks Out )
Richard Steven Horvitz as Ninja (Milo Gets a Ninja)
Chris Parnell as Swirlies Announcer (Fishing for Compliments: The Albert Glass Story)
Eva Amurri as Bleak Molly (The Dark Side of the Fish)
George Takei as Bird (Flying Fish, Halloween Haul)
Kevin Michael Richardson as Dave the Cave Fish (Peopleing)
Ozzy Osbourne as the Earth Troll (Legend of the Earth Troll)
Kari Wahlgren as the Freshwater High Cheerleaders (some episodes from Underwater Boy to Break Up, Shake Down)
Jerry O'Connell as Sterling Hamsterton (Pamela Hamster Returns)
Busy Philipps as Clamanda (We've Got Fish Spirit)
Jeff Bennett as Humble Harry (Good Times at Pupu Goodtimes)
Daran Norris as the Mayor (Run Oscar, Run)
April Winchell as Lady Eelbottom (Oscar Makes an Impression)
Dee Bradley Baker as Attila (Adventures in Fish Sitting)
Doug Brochu as Lonnie (Banned Band)
Bobcat Goldthwait as Fish Santa (Merry Fishmas, Milo), Pillow (Milo and Oscar Move In)
Fred Tatasciore as Cabbie (Bea becomes an Adult Fish)
Carlos Alazraqui as Mr. Caliente (Hooray for Hamsterwood)
Rob Paulsen as Magic Hamster Mirror (Hooray for Hamsterwood)
Wallace Shawn as Rat King (Guys' Night Out)
Awards and nominations
Year
Association
Category
Nominee
Result
2011
Environmental Media Awards
Children's Television
"Legend of the Earth Troll"
Nominated
2011
BAFTA Awards - International
Favorite TV Show
-
Won
2012
Annie Awards
Writing in a Television Production
Blake Lemons
William Reiss
C.H. Greenblatt
Derek Evanick
Diana Lafyatis
for "Fish School Musical"
Nominated
2012
Kids' Choice Awards Argentina
Best Animated Series
-
Nominated
Gallery
Reception
The series has received mostly mixed to negative reviews. On IMDB, the series has a 4.8/10 from 1,599 users. It also carries a 4.8 rating from tv.com.
| | |
| --- | --- |
| | This page uses content from the English Wikipedia. The article or pieces of the original article was at Fish Hooks. The list of authors can be seen in the page history. As with Disney Wiki, the text of Wikipedia is available under the GNU Free Documentation License. |
Community content is available under
CC-BY-SA
unless otherwise noted.