"
Fish and Chips
" is the twenty-fifth episode of the first season of
Penn Zero: Part-Time Hero
. It premiered on
June 22
,
2015
.
Synopsis
Penn questions the importance of their mission when the team is tasked with finding Rufus, an unpopular royal fish.
Trivia
The title "Fish and Chips" is, of course, a reference to the popular, chiefly English, hot dish consisting of fried battered fish and fried potato wedges.
Ocean World is visited for the second time in this episode, the first time being "Chicken or Fish?".

Boone is shown to have gotten over his fear of water in this episode.
Oceanaquariopolis is revealed to be in a fish tank at a restaurant near the ocean.
While previously merman Penn was shown slithering on his tail like a snake on land, in this episode he hops on his fin instead.

The picture wall of fame in the lobby of the Odyssey is seen again, including another picture with Penn facing a man-eating burrito like in "I'm Super!".
Larry tries to start up an underwater musical, much to Rippen's annoyance, which is a reference to the film The Little Mermaid.
v - e - d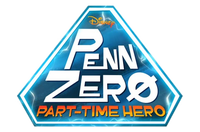 Locations
Middleburg • Middleburg Central High • The Odyssey • Fish Stick on a Stick • North Pole • Knight World • Superhero World • Arabian World • Plush Toy World • Clown World • Dinosaur Cowboy World • Cereal World • Old English World • Giant Monster World • Zombie World • Space World • Ocean World • Color World • Musical Fairy Tale World • Caveman Spy World • Future Barbarian World • Ultrahyperball World • Demon World • Alien World • Galaxy World • Temple World • Dragon World • Gothic Mystery World • Plant World • Animal Barbarian World • Toy World • Outer Space Court World • Robot World • Pirate World • Fairymania World • Steampunk World • Ball World • Ghost World • Rock, Paper, Scissor World • Beast World • Anime World • Sitcom World • Nothingness • Most Dangerous World Imaginable • Least Dangerous World Imaginable
Objects
Multi-Universe Hologram Uplink • Multi-Universe Transprojector • Pigoilet • The QPC Unit • Vortex Tops • Specs