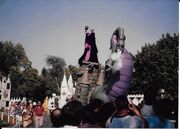 The Flights of Fantasy Parade was a daytime/nighttime parade that ran at Disneyland Park from 1983 to commemorate the opening of the newly-renovated Fantasyland and The Walt Disney Company's 60th anniversary. The parade featured scenes from Disney's most fantastic animated films.
Due to it also being a nighttime parade, it replaced the Main Street Electrical Parade for that season.
Parade Units
Opening: The famous Disney characters, incluidng Mickey Mouse, Minnie Mouse, Donald Duck, Goofy and Pluto, float down the street in hot air balloons.
Winnie the Pooh: This unit comprises Winnie the Pooh and his friends, including Tigger, Owl, Rabbit, Eeyore, Kanga and Roo. Behind the characters is a large honey tree where Piglet is fishing in a nearby pond, followed by a parade of giant heffalumps and woozles.
Snow White: In this unit, the wicked queen is cooking up a poisoned apple by the dwarfs' cottage, and then the viewers are terrorized by a hauntingly alive forest.
Babes in Toyland: Featuring an army of wooden soldiers and giant toy ships.
Pinocchio: You'll see Pinocchio perform in a puppet show, with Jiminy Cricket, Honest John and Gideon watching. You'll even encounter Stromboli and take a trip to Pleasure Island.
Fantasia: After an encounter with giant magic brooms and Yen Sid, we go to the famous "Dance of the Hours" scene, where dancing hippos, alligators and ostriches cavort around the guests.
Sleeping Beauty: While a bunch of goons threaten the spectators, Maleficent stands high on a tower with a towering 30-foot dragon at her command.
Alice in Wonderland: We see Alice, the Mad Hatter and the March Hare throwing an unbirthday party, while a horde of cards heralds the arrival of the Queen of Hearts.
Cinderella: For a grand finale, we attend Cinderella's ball and see her dance with her Prince Charming.
Show facts
Songs featured

OPENING UNIT​
WINNIE THE POOH UNIT
Snow White Unit
BABES IN TOYLAND UNIT
'Pinocchio Unit

Hi-Diddly-Dee/Give a little Whistle

FANTASIA UNIT
ALICE IN WONDERLAND UNIT

The Unbirthday Song/A-E-I-O-U/"March of the Cards"

Cinderella Unit
After it's end
Most of the floats we're used for Fantasy on Parade. The Sorcerer's Apprentice float was converted to a Dance of the Hours float but was put back to the usual way in 1985. The Caterpillar float was relocated to Walt Disney World but with the inflatable Caterpillar removed and Alice sits on top of it for the 1984 Fantasy on Parade. The Babes in Toyland floats we're seen during the 1983 Fantasy on Parade.
v - e - d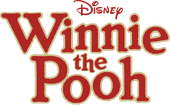 Songs
Movie Songs
Winnie the Pooh and the Honey Tree: "Winnie the Pooh" • "Up, Down, Touch the Ground" • "Rumbly in My Tumbly" • "Little Black Rain Cloud" • "Mind Over Matter"
Winnie the Pooh and the Blustery Day: "A Rather Blustery Day" • "The Wonderful Thing About Tiggers" • "Heffalumps and Woozles" • "Rain, Rain, Rain Came Down, Down, Down" • "Hip-Hip-Hooray!"
Boo to You Too! Winnie the Pooh: "I Am Not Afraid" • "I Wanna Scare Myself"
Pooh's Grand Adventure: The Search for Christopher Robin: "Forever & Ever" • "Adventure is a Wonderful Thing" • "If It Says So" • "Wherever You Are" • "Everything is Right"
The Many Songs of Winnie the Pooh: "It Really Was a Woozle, Yes it Was"
Sing a Song with Pooh Bear: "Kanga Roo Hop" • "You're the One and Only One" • "Harvest What You Grow" • "My Song"
Winnie the Pooh: A Valentine for You: "Girls are Like Boys" • "When the Love Bug Bites" • "Places in the Heart"
Winnie the Pooh: A Very Merry Pooh Year: "Jingle Bells" • "Snow Snows" • "Merry Pooh Year" • "Hunny, Not for Me" • "Auld Lang Syne"
The Tigger Movie: "Someone Like Me" • "Whoop-de-Dooper Bounce" • "Lull-a-Bee" • "Round My Family Tree" • "How to Be a Tigger" • "Your Heart Will Lead You Home"
Piglet's Big Movie: "If I Wasn't So Small" • "A Mother's Intuition" • "With a Few Good Friends" • "Sing-Ho (For the Life of a Bear)" • "The More It Snows (Tiddely-Pom)" • "The More I Look Inside" • "Comforting to Know"
Springtime With Roo: "We're Huntin' Eggs Today" • "Sniffley Sniff" • "Easter Day With You" • "The Way It Must Be Done"
Pooh's Heffalump Movie: "Little Mr. Roo" • "The Horribly Hazardous Heffalumps" • "The Name Game" • "Shoulder to Shoulder" • "In the Name of the Hundred Acre Wood/What Do You Do?"
Pooh's Heffalump Halloween Movie: "Trick 'R Treating With Our Friends" • "Brave Together"
Winnie the Pooh: "The Tummy Song" • "A Very Important Thing to Do" • "The Winner Song" • "The Backson Song" • "It's Gonna Be Great" • "Everything is Honey" • "Pooh's Finale"
Christopher Robin: "Goodbye, Farewell" • "Busy Doing Nothing" • "Christopher Robin"
Television Songs
Welcome to Pooh Corner: "Welcome to Pooh Corner Theme Song" • "Try a Little Something New" • "The Right Side" • "Yes, I Can" • "You're the Only You" • "I Hum to Myself" • "Please and Thank You" • "Responsible Persons" • "Welcome to Pooh Corner Ending Theme"
The New Adventures of Winnie the Pooh: "Pooh Bear" • "'Cause It's Make Believe" • "The Floating Song" • "Nothing's Too Good for a Friend" • "Under the Bed" • "I Don't Have A Name" • "King of the Beasties" • "The End" • "Pirates is What We'll Be" • "Tigger, the Private Ear is Here"
The Book of Pooh: "Everyone Knows He's Winnie the Pooh" • "Goodbye for Now" • "Your Best Wishes" • "On the Double" • "Who is Me" • "Think, Think, Think" • "What Piglets Are" • "I Watch for Signs" • "We're Making a Cake" • "If I Could Be Big" • "Isn't that Funny?" • "Find the X" • "Everyone Wants a Valentine" • "That's What We Do" • "Keep it Simple" • "Have You Got a Book For Me?" • "Give It a Try" • "On Your Way Back Home" • "The Birdbird Song" • "Nightmare Wranglers" • "Carry On" • "What's Your Name, River" • "Where Do Words Go?" • "Under a Spelling Bee's Spell" • "Adventure" • "Mental Altitude" • "I Want to Know Everything Now" • "Happy Tailiversary" • "Get Growin'" • "Tigger's Lullaby" • "Perfect Party" • "If We Were Talkin'" • "Someone New to Meet" • "My Hero" • "I Want To Be Scary" • "Broken Friendships" • "Do the Roo" • "Call Me Buck-a-Roo" • "At Chez Piglet" • "Nothing Ever Happens" • "Too Much Honey" • "Lost in a Book"
My Friends Tigger and Pooh: "A Few Simple Rules" • "Bouncin'" • "The Grass is Greenier" • "The Password Song" • "Underneath the Same Sky" • "One Big Happy Family" • "Think, Think, Think" • "The Question Song" • "Floating in a Cloud" • "Different Can Be Good" • "The Little Things You Do" • "There's a Party" • "No More Fun In the Snow" • "Butterflies" • "What Makes a Pony a Pony" • "When We Work Together" • "Christmas Comes Tomorrow" • "Time to Go (On a Trek Through the Snow)" • "Snowman Song"
Miscellaneous: "Luv-a-bye" • "Playtime Song" • "Learning Song" • "Friendship Song"

Community content is available under
CC-BY-SA
unless otherwise noted.