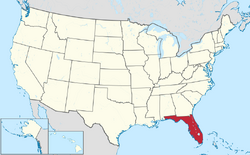 Florida is a state in the southeastern region of the United States, bordered to the west by the Gulf of Mexico, to the north by Alabama and Georgia and to the east by the Atlantic Ocean. Florida is the 22nd most extensive, the 3rd most populous, and the 8th most densely populated of the 50 United States. The state capital is Tallahassee, its largest city is Jacksonville, and the Miami metropolitan area is the largest metropolitan area in the southeastern United States.
Much of Florida is situated on a peninsula between the Gulf of Mexico, the Atlantic Ocean, and the Straits of Florida. Its geography is marked by a coastline, by the omnipresence of water and the threat of hurricanes. Florida has the longest coastline in the contiguous United States, encompassing approximately 1350 miles (2170 kilometers), and is the only state to border both the Gulf of Mexico and the Atlantic Ocean. Much of the state is at or near sea level and its terrain is characterized by sedimentary soils. The climate varies from subtropical in the north to tropical in the south. Its symbolic animals like the American alligator, Florida panther, and the manatee, can be found in the Everglades, one of the most famous national parks in the world. It is also known as the theme park capital of the world.
Films/TV
Ernest Saves Christmas (filmed in Orlando at the future MGM Studios theme park)
Once Upon a Time (Tallahassee is mentioned)
Books
Cities and Locations
Orlando
Tampa
Fort Lauderdale
Daytona Beach
Port Canaveral
St. Petersburg
Jacksonville
Winter Haven
Tallahassee
Clearwater
Sarasota
Panama City
Hollywood
Key West
Attractions
Actors/Actresses and Crew born in Florida
Gallery
v - e - d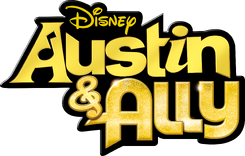 Songs
"Can't Do it Without You" • "Double Take" • "Break Down the Walls" • "A Billion Hits" • "Not a Love Song" • "It's Me, It's You" • "The Butterfly Song" • "Trash Talka" • "Better Together" • "You Don't See Me" • "Heard it on the Radio" • "Heart Beat" • "Na Na Na (The Summer Song)" • "The Way That You Do" • "Illusion" • "Don't Look Down" • "Who I Am" • "Got It 2" • "Christmas Soul" • "Can You Feel It" • "Face to Face" • "No Ordinary Day" • "You Can Come to Me" • "I Think About You" • "Finally Me" • "The Ally Way" • "Steal Your Heart" • "Timeless" • "Living in the Moment" • "I Got That Rock and Roll" • "The Me That You Don't See" • "Better Than This" • "Chasin' the Beat of My Heart" • "You Wish You Were Me" • "Redial" • "I Love Christmas" • "Austin & Ally Glee Club Mash Up" • "Who U R" • "Upside Down" • "Stuck on You" • "Me and You" • "What We're About" • "Look Out" • "Superhero" • "Parachute" • "No Place Like Home" • "Play My Song" • "Dance Like Nobody's Watching" • "Take it from the Top" • "Jump Back, Kiss Yourself" • "Perfect Christmas" • "You've Got a Friend" • "Two in a Million"
Community content is available under
CC-BY-SA
unless otherwise noted.