"Flurgle Burgle" is the tenth episode of the first season of Penn Zero: Part-Time Hero. It premiered on February 23, 2015.
Synopsis
The team is zapped into a new world as spaceship heroes to save a damaged starship from certain destruction, but Sashi accidentally turns Penn into a weird space animal.
Plot
Trivia
Space World in general is an allusion to the original Star Trek series.

Often in the episode, Penn speaks like William Shatner, who played Captain Kirk in the original Star Trek.

Larry can be seen walking in front of Middleburg Central High in the opening shot.
Mr. Kobayashi and Mrs. Kobayashi, Sashi's parents, make their first appearance.

A brother of Sashi's is also mentioned, though it's unknown if it's the same brother who appeared in a flashback in "Babypocalypse".

On a bus passing by the Odyssey, these is an advertisement for the famous juggler Madivaqua, who was shown on a magazine in "Chuckle City".
v - e - d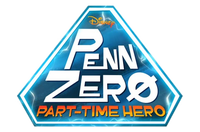 Locations
Middleburg • Middleburg Central High • The Odyssey • Fish Stick on a Stick • North Pole • Knight World • Superhero World • Arabian World • Plush Toy World • Clown World • Dinosaur Cowboy World • Cereal World • Old English World • Giant Monster World • Zombie World • Space World • Ocean World • Color World • Musical Fairy Tale World • Caveman Spy World • Future Barbarian World • Ultrahyperball World • Demon World • Alien World • Galaxy World • Temple World • Dragon World • Gothic Mystery World • Plant World • Animal Barbarian World • Toy World • Outer Space Court World • Robot World • Pirate World • Fairymania World • Steampunk World • Ball World • Ghost World • Rock, Paper, Scissor World • Beast World • Anime World • Sitcom World • Nothingness • Most Dangerous World Imaginable • Least Dangerous World Imaginable
Objects
Multi-Universe Hologram Uplink • Multi-Universe Transprojector • Pigoilet • The QPC Unit • Vortex Tops • Specs