Follow the Leader is the fifth book in The Lion King: Six New Adventures.
Plot
Zazu comes tiptoeing up to Simba, apologizing for disrupting him, but stops when he sees how content Simba looks as he basks in the sun. Zazu tries to get Simba's attention again, and the lion king finally looks up, looking weary. All day, animals had been coming to him with questions and problems, and he felt like it would never end. He irritably asks Zazu what the trouble was, repeating the errands he'd had to run earlier. Zazu awkwardly tells him that the cape buffaloes were hogging the waterhole, and the hippos were angry. Simba tells Zazu that he had told the buffaloes to move, but Zazu tells him that they hadn't, and were continuing to hog the waterhole.
Without answering, Simba stares out over the grassy plain. From where he sat, on Pride Rock, he could see his whole kingdom spread out before him, from the Zuberi River to other rocky hills, like Pride Rock. Turning back to Zazu, he mutters that there was always something going on. He then tells Zazu to tell the buffaloes that if they didn't share the waterhole, they would have to move to the river. Zazu gasps and protests, reminding Simba that there were crocodiles in the river. Simba smiles and tells Zazu that he knows. As Zazu flies off to deliver Simba's message, the lion king rolls onto his back and begins to soak in the sun.
But just as he's about to fall asleep, his son, Kopa, begins yelling for him, then jumps onto his stomach. Simba groans and looks up at Kopa, who's standing on his chest. Kopa begins bouncing up and down, asking his dad to wrestle with him, since they hadn't wrestled since that morning. Simba is amused and asks him if it had really been that long. He gently bats Kopa on the head, and Kopa charges at him and butts him with his head. But Simba grabs his head and flips him over, playfully taunting him as he fights. But as they're fighting, Zazu interjects again, and Simba looks up to see him standing beside Rafiki.
After greeting Rafiki, Simba asks Zazu what's wrong. Zazu then tells him that it was "that snooty giraffe", the one he calls "Nassor the Nasty". The giraffe was now fighting with the elephants. Zazu then begins to rant on how Nassor was always fighting. That last week he had fought the gazelles, and the week before, he had taken on the cheetahs. He then asks Simba why anyone would take on a cheetah, for no one could trust them! Simba gently pushes Kopa away and asks what the trouble was all about. Zazu then explains that Nassor was accusing the elephants of destroying the acacia trees and eating the bark. Simba comments that that didn't surprise him, then asks Zazu if they had plenty more acacia trees.
Rafiki then speaks up for the first time, telling Simba that he didn't have as many as he thought, and that there had been more when Mufasa was king. Kopa then asks Rafiki where the trees had gone. Rafiki explains that most were killed by the elephants, while others were killed by disease and neglect. Kopa then turns to Simba and urges him to talk the elephants out of destroying the trees. Simba then asks if it could wait, for he hadn't had time to himself all day. Zazu then comments that a king's work is never finished. Simba groans, and Kopa scampers off.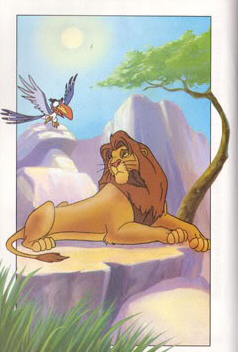 Just then, Simba hears a high-pitched voice, and looks up to see Pumbaa walking by, with Timon giving orders to him atop his back. Simba glances thoughtfully at his friends, and remembers how had he had first met them, after the death of his father. He remembers everything that had happened afterward, up until the birth of Kopa, then watches them in amusement as Pumbaa marches to the beat of Timon's voice. Simba thinks that his long tail resembles a flag as it waves wildly in the air, but Zazu is not thrilled that the two are arriving, and even groans his disapproval of the twos' arrival.
Timon then orders Pumbaa to halt, and leaps off his back. He then salutes and bows to Simba, reminding the king that he hadn't seen him in forever. He asks Simba where he's been, since the king hasn't been hanging out in any of their familiar spots. Zazu explains that Simba had been caught up in official matters, and Rafiki nods his agreement. Pumbaa is a bit surprised, and asks Simba if it was true, and Simba confirms it, lamenting on how there was so much to do and so many decisions to make. Timon then comments that all work and no play isn't fun at all, and asks Pumbaa if he agrees. The warthog nods his agreement, and tells Simba that he should come hang out with them and eat grubs, just like in the old days.
Timon then offers Simba to come with them now, for they were going to find a big, bug rock where they could take a little snooze. Simba comments that it sounds heavenly, and Pumbaa asks if he would come. Simba starts to accept, when Zazu barges in and tells Timon and Pumbaa that Simba was busy. Rafiki then adds that Simba has duties to attend to, and apologizes to the two. Pumbaa is disappointed, but Simba assures the two that he would hang out with them later. But Timon and Pumbaa tell him that he's starting to work all the time, and is getting to be a real "drudge". Rafiki then calmly reminds the two that duty came before pleasure. Timon then tells Simba it was okay, and reminds him of their motto, Hakuna Matata. With a wave, he leaves the king to his duties.
Simba watches the two disappear into the distance, and Zazu speaks up, reminding Simba of the elephants and asking what he would like to do about it. Simba, who's disgruntled over the fact that he can't hang out with his friends, snarls at Zazu whether it mattered if the acacia trees were saved that day or the next. Didn't a king ever get a break? Rafiki smiles, and agrees that Simba has been working hard lately and deserves a break, which Simba quickly agrees. But Rafiki gently reminds Simba that his duties came first, for that was the way. Simba asks what he meant by "the way", and Rafiki explains that it was the way of all things. Everyone has a task, and Simba's task is to make sure the kingdom runs smoothly. Zazu then adds that it was their duty to make sure Simba runs smoothly.
Simba then comments that he would run much smoother if he had time to himself. With a final stretch, he agrees to their gentle reminders and asks where the elephants could be found. Zazu tells him that they were near the acacia grove by the water hole, then asks if he would like them to join him. But Simba declines, telling them it was not necessary and that he might check on the buffaloes on his way back. With a flick of his tail, he leaves to deal with the problem, and Zazu comments to Rafiki that he wasn't a happy camper.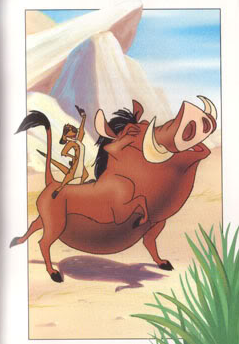 But no sooner had the king left, when a distressed ostrich, Haraka, demands to know where the king had gone. Zazu informs Haraka that the king had gone to talk with the elephants, then asks what's going on. Haraka breathlessly announces that he has bad news, and Rafiki gently prompts the ostrich to continue. It's said that Haraka's long legs got him around, and he was usually the first to hear important news. Haraka stumbles over his words for a moment, but finally tells them that "it's about the baboons".
Interested, Rafiki leans forward and asks where the baboons are. Haraka tells him that they're in "Fast Falls", then corrects himself and says, "Grass Walls". Rafiki asks what's going on, and Haraka tries hard to remember what the baboons were having trouble with. He contemplates locusts being the cause of the problem, then hyenas, then wonders if it was both. He begins going into a spiral of guesses until Rafiki finally demands him to think, for it was important. Haraka, still confused, admits that he didn't remember, and that all he knew was that the baboons were in deep trouble. With a hasty goodbye, he takes off.
Immediately after the conversation, Rafiki announces that he must go. Zazu is surprised, and asks why and where he was going. Rafiki reminds Zazu of what Haraka had said, and says that he must help the baboons. Zazu eyes Rafiki doubtfully, commenting that Grass Walls was so far away, and reminds Rafiki that his knee was bothering him. Without answering, Rafiki hobbles away and comments that he must go now. Zazu tells Rafiki to wait and tell Simba, but Rafiki tells Zazu to tell Simba for him. Without another word, Rafiki climbs down Pride Rock and begins his long journey to Grass Walls.
Zazu, completely flustered and baffled by Rafiki's decision, decides to look for help before the old baboon got himself into trouble. He takes to the air, and spots Nala resting on a nearby boulder. Quickly darting down to her, he breathlessly exclaims that he was happy he found her and that they need to talk. Nala had just got back from a busy morning of hunting, and furrows her brow worriedly, greeting Zazu and asking what was the matter.
Zazu explains that Haraka had just got done delivering bad news, and Rafiki was off traveling to Grass Walls to save his kin. Nala sits up and asks if he's by himself, which Zazu confirms. Nala asks if Simba knew, and Zazu tells her that he doesn't know yet, for he was solving a dispute between Nassor and the elephants. Nala stands up and announces that she would go find him. Zazu starts to tell her that he was planning to go to the acacia grove, when Kopa comes skidding around the corner. Sliding into Zazu, he knocks the horn bill over and declares that he "got him".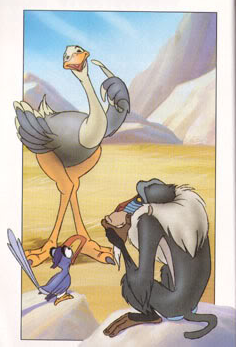 Zazu squawks, and Nala scolds her son, reminding him that he knows better. Kopa innocently declares that he slipped, and Zazu gets back to his feet, muttering that his dignity was still intact. Nala smiles apologetically at Zazu and gives him a sincere apology. He knew how cubs could be sometimes, getting carried away with themselves. Nala pauses and then asks if Zazu would mind watching Kopa while she went to talk with Simba. Zazu protests, but Nala tells him that she won't be long. Zazu sees Kopa grinning at him and reluctantly agrees.
Nala orders Kopa to be good and gives him an affectionate lick, causing him to complain. Nala then leaves, and Kopa asks Zazu what he wants to play. Zazu offers they play dead, and lie down without saying a word. But Kopa disagrees, telling Zazu that he wanted to play good guys and bad guys. He would be the bad guy and he would chase the good guy. Zazu exclaims in protest, but Kopa begins slinking forward, warning the "good guy" to look out, for the bad guy was coming. Zazu continues shouting protest and backing away, but Kopa only growls and springs forward. Zazu turns to run, whining to himself that he hates babysitting, and starts yelling for help.
Meanwhile, Nala is climbing down Pride Rock to emerge on the grassy plain. At a rapid trot, Nala races to the acacia grove to find Simba standing between an arguing Nassor and Pembe. She hears Nassor say that he had never liked elephants and didn't understand why they always bunched together. Nala interrupts the argument by calling out Simba's name, and Simba asks Nala what's going on. She explains to him that Haraka had told Rafiki that Grass Walls was in trouble, and now the old baboon was on his way to save his kin. Nassor is surprised, and comments that Grass Walls is far away.
Nala agrees and asks Simba if he thought Rafiki needed any help. Simba shakes his head and comments that Rafiki could handle it. And besides, he was "running on empty" and needed some time to himself. Nala protests, reminding Simba that Grass Walls was very far away and Rafiki might run into trouble. But Simba hesitates, then firmly refuses to go to Grass Walls. Nala is shocked and reminds Simba that Rafiki may need him and that it was his duty, or did he forget? Simba finally gives in and admits that he hadn't forgotten, only avoided his duty.
He then tells her that he would go after Rafiki, and asks her to tell Zazu he was in charge until his return. He then glances at Pembe and reminds her to leave some bark on the acacia trees. Nala asks how long he'll be gone and he says he doesn't know, but hopes soon. He then runs off in the direction of Grass Walls, reflecting that baboons can travel great distances, but Rafiki had a bad knee, so Simba should easily overtake him. Simba continues running along, passing by familiar places, until he runs far enough that he doesn't recognize where he is.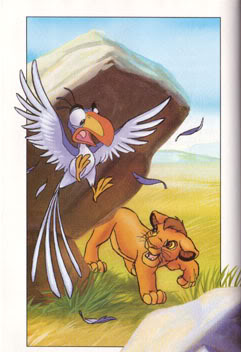 Simba pauses and sniffs the air. The unfamiliarity continues as Simba spots a leopard watching him from a tree and a lizard scurrying past his paws. When he catches Rafiki's scent, he picks up a trail through a patch of dense bushes. As he makes his way through the thorny patch, he looks in frustration for Rafiki. When the bushes finally let up, he finds himself on the edge of a grassy field. But no sooner had he arrived when he heard the thundering of hooves. Moments later, he hears a cry for help, and looks up to see Rafiki running from a charging rhino!
The old baboon had dropped his walking stick and was hobbling toward a patch of rocks. But the rhinoceros closes in, and Rafiki trips and falls, due to his bad knee. Simba roars and bounds through the grass, cutting the rhino off from Rafiki. Getting back up, Rafiki hobbles towards the high rocks, where he climbs to safety. The rhino stops, confused, for it has bad eyesight and very keen hearing. As it searches for its prey, Simba lures it away from Rafiki with his powerful voice. After picking up Simba's location, the rhino wheels around and charges.
Meanwhile, Rafiki had climbed to safety, and calls to Simba to join him. Simba races towards the rocks, but notes that the rhino was uncontrollably angry. As Rafiki yells that the rhino is closing in, Simba feels himself weakening from the long journey and wonders if he'll make it to safety in time. But, using the last of his strength, Simba leaps an manages to climb onto the rocks with Rafiki. Rafiki is relieved and the two begin climbing higher. The rhino comes to a stop below them, and after not seeing or smelling anything, turns and lumber off.
Simba breathes a sigh of relief and asks Rafiki if he's okay. The old baboon comments that nothing was broken, and that it was a good thing Simba had come. He pauses, then asks why Simba was there in the first place. Simba answers with the same question, then tactfully mentions that he had heard Rafiki's kin were in trouble. Rafiki stares off into the distance and says that his homeland is in trouble and he must help them. Simba is surprised that Grass Walls is Rafiki's original home. The baboon was known for wandering around the Pride Lands in search of herbs for healing.
With a faraway look in his eyes, Rafiki dusts himself off and comments that there was still a long way to go. Simba immediately volunteers to come with him. Rafiki asks the determined king if he's sure that he wants to come, for even Rafiki did not know the road ahead. But Simba is certain that he wants to help, and reminds Rafiki that he had been helping his family since the reign of Ahadi. Rafiki neutrally agrees, then points to a set of hills in the distance, informing Simba that Grass Walls is just beyond. He tells the king that it is a land of wonder and beauty, and Simba is eager to see it for himself. Rafiki agrees, but wonders if anyone will recognize him, since he hasn't been there in such a long time.

Simba helps Rafiki retrieve his walking stick, then the two set out toward the hills. It takes all afternoon, but by the end of he day, they reach the hills. They begin making their way up a wall of rocks, and Rafiki tells Simba that once they get to the top of the plateau, Grass Walls will lie beyond. He is the first to reach the top. At first, he smiles as he takes in the beauty of his homeland, but then he rubs his eyes and shouts in dismay. Simba scrambles up beside him and asks what's the matter. Rafiki shakes his head in dismay. Rafiki hurried down the face of the plateau, sure that something is wrong. He picks up a handful of dust, sifts it through his fingers, then lets it fall. The two begin walking slowly, quietly drinking in the dry and dusty land. Their feet kick up dust and each patch of grass is dead and brittle. Rafiki asks himself where the baboon troop is. What had happened to his family? Simba comments that he had seen no signs of life, to which Rafiki declares that they must visit the Great Pond where everyone gathers. Simba is hesitant, for his paws are burning and were tiring from the long journey. What had ever happened to Grass Walls?
But as they pass a clump of bushes, Rafiki points at something. Far off, Simba sees a spot of shimmering water and Rafiki exclaims that he's found them. They hurry to the Great Pond, but upon reaching it, find it the size of a big puddle. Baboons are hovered around it. Most are sitting on the shore, but some lie in the shade of the nearby trees. Suddenly, a baboon calls out to Rafiki, asking if it was truly him. Rafiki smiles and says hello to the baboon, whom he calls Bahati. He greets many other baboons by name, then approaches a female baboon trying to wash her baby's hands. Rafiki asks the baboon, Dalila, what had happened, and she tells him that they have no water. Everything is dried up!
He asks where their leader is and a young baboon tells him that Rafiki's cousin, Jelani, would just as soon let them die. Rafiki asks to be taken to him and Dalila weakly staggers to her feet. The baby clings tightly to her stomach, and Dalila gently explains to it that they were going to see Jelani. With a weakness in her step, she sets off toward her destination, with Simba and Rafiki following close behind. As they journey deeper into Grass Walls, Simba and Rafiki notice more baboons lying in what little shade there is, all of them looking thin and tired. Rafiki asks Dalila about Jelani and how long he's been ruling, and Dalila explains that he had been leader a long time, ever since the previous leader, Khalfani, was killed by a leopard.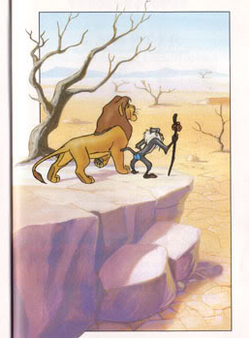 Rafiki comments on how wise a leader Khalfani was and Dalila softly agrees with him. But at that moment, they are interrupted by a shrill voice calling Rafiki's name. Rafiki strains his eyes as an old baboon comes limping towards him. Her fur is dull and shaggy and she has no teeth, but her smile is genuine as she comes up and grasps Rafiki by the hand. When Rafiki remains silent, the baboon asks if Rafiki remembered her. Slowly, a smile spreads across Rafiki's face and he recognizes the baboon as his cousin, Karibu. Turning to Simba, he explains that his cousin and him used to be very good friends when they were young. Karibu was the best at hunting birds' eggs in the troop. He then introduces Karibu to Simba, the lion king.
Simba greets her politely, then asks what's going on. Karibu explains that the water supply is drying up and that food is scarce. The other animals left long ago, and now the baboons are slowly dying. Rafiki asks why Jelani hasn't found them a new dwelling place, and Dalila cries out that her nephew was a lazy leader and only cared for himself. Simba and Rafiki wonder how anyone could be so selfish. Rafiki then explains that they're on their way to see Jelani, and asks Karibu if she knew where he was. Karibu turns and points at a tree, revealing Jelani resting in its shade. Rafiki stalks toward the tree, and his three companions follow suit.
A big baboon is seen resting beneath the tree, with a couple youngsters scuffling in the dust around him. Rafiki stops in front of the baboon, and Simba notes that Jelani looks young and strong. He stands out of the way with Dalila and Karibu. Jelani's eyes are closed, but Rafiki jolts him awake in a loud voice. Jelani opens his eyes and asks in a monotonic voice what Rafiki wants. Rafiki explains that he is Jelani's third cousin, once removed, and that Grass Walls is his home. Jelani mutters a welcome, then closes his eyes. In a trembling voice, Rafiki exclaims that this was not a good welcome. Much had changed since he was last here; his people were no longer happy or well-fed, the water is drying up, and all the other animals are gone. Jelani shrugs and reminds Rafiki that "things happen."
Frustrated, Rafiki bang his stick against the ground and demands to know why Jelani hasn't taken the troop to a new dwelling place. In an annoyed huff, Jelani spurts that he didn't feel like it. Rafiki angrily asks Karibu why no one had challenged him and Karibu explains that they've tried, but Jelani is still the strongest baboon in the troop. Rafiki tries to object, but finds nothing to say, He gazes around the broken landscape, then shakes Jelani's shoulder. Jelani opens his eyes with a start and tells Rafiki off with annoyance, claiming that he's busy and even going as far as to call Rafiki, "Grandpa."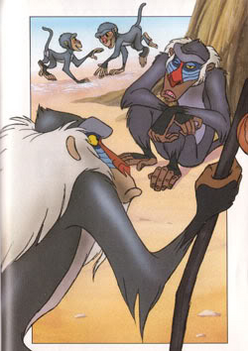 Deeply offended, Rafiki clenches his fist and tells Jelani it was time he learned to be a proper leader. Jelani stands up and towers over Rafiki. Simba tells Rafiki from the sidelines to take an easy. In a shaky voice, Rafiki demands Jelani to find his troop a new nesting place. Jelani leans forward menacingly and asks who's going to make him. Rafiki plants his feet firmly in the dust and says, "I am."
Without waiting for an answer, Rafiki turns to the gathered baboons and announces that the troop is going to find a new dwelling place. One of the young baboons frets that the journey will be long and that many of them are sick. He asks who will lead them, to which Rafiki informs the troop that he would lead them. The baboons begin buzzing with excitement, but Jelani's booming voice breaks through the noise. He tells Rafiki that this would not happen if he could help it. The crowd gradually draws away and Rafiki is left alone to face Jelani. Rafiki waves his stick in Jelani's face and tells him to stay where he is. But Jelani only laughs and asks if he was going to hit him with the stick.
At this moment, Simba breaks through the crowd and growls that if it were up to him, he'd just chew on Jelani's toes for a while. Jelani steps back in surprise and asks where Simba had come from. Simba tells Jelani that he's the lion king, ruler of the Pride Lands, and that he understands the troop is moving out. Jelani makes a face and comments that it's a lot of hard work to move out, and "it will rain soon enough." Simba roars and says that it wasn't "soon enough" for him. He announces that they're leaving in the morning and asks Jelani if he will come. Jelani swallows nervously and begrudgingly agrees. Simba and Rafiki exchange a smile and Simba says that he'd thought Jelani would see their way. As the crowd moves away, Rafiki pats Simba on the back and the lion king asks where they would take the baboons. Rafiki smiles and tells Simba not to worry, for during his travels, he had seen a place where he thought his troop could settle in with peace and safety.
Early the next morning, the baboons are up and ready to go. When Simba first awakens, he sees Rafiki under an acacia tree. He watches Rafiki take a gourd off his walking stick and open it up. He takes ointment out of the gourd and spreads it across his hands and the soles of his feet. The procedure reminds Simba of when Kopa was first born, and how Rafiki had spread the paste across Kopa's forehead. He asks Rafiki what the paste is for, and Rafiki tells him that on this day, they would all need a little extra help.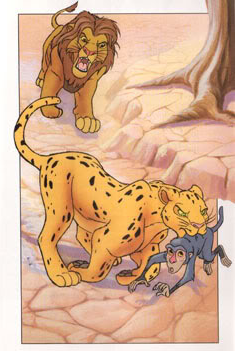 The baboons were soon gathered and ready to leave. As they stand waiting, Rafiki pulls them into a circle. He then spreads paste on all the baboons' hands and feet, even those of Jelani. When he is finished, he is eager to get the journey started. He points west and declares that is where their new home will be. As the troop heads out, Rafiki takes up position in the front and Simba in the rear. In the early morning, the troop makes good progress. But as the sun climbs higher, their pace slackens tremendously. A young baboon complains to his mother that he's thirsty and asks when they'll reach their new home. As Rafiki gazes into the distance, Dalila asks him when they can take a break, for she was growing weak for food.
Rafiki answers that they must keep going, for they still had far and long to travel. As they continued across the dusty plain, the sun beats down on the baboons and the pace slackens even further. Even Simba begins to feel the effects of the long journey. Karibu, who is at his side, is puffing for breath. She murmurs about "what she would give for a river or shady forest," and comments on how vulnerable and unprotected they were. Simba surveys the landscape and quietly agrees with her. But as they pass through a grove of leafless acacia trees, Karibu suddenly yells, "Watch out!"
At the same moment, a leopard who had been perched in the dead branches, leaps and lands on Dalila's back. The baboons began shrieking and barking as they scatter across the plain. Dalila's baby, Mosi, falls to the ground and cries out for his mother. The leopard scoops the baby up in its jaws and runs off. Dalila screams her son's name and the little baboon wails as he's carried away. Simba immediately imagines his own son, Kopa, meeting such a gruesome fate, and takes off after the leopard. Leopard are fast runners, but Simba was determined to run faster. He chases the leopard across the dusty plain. As they come to a dry riverbed, the leopard pauses to pounce and Simba sees his chance. He leaps and the leopard drops Mosi. The two cats get in an epic struggle. They roll in the dust with their claws unsheathed and their teeth bared.
But finally, Simba snarls at the leopard to stay away and uses a massive paw to send it sprawling into the dust. The leopard rolls to a stop and slinks back to its paws. Hissing at Simba, it stalks away. Simba hurries to Mosi and asks the baboon is he's alright. He nods and Simba tells him to come on. Simba takes Mosi by his scruff hurries back to where the troop is waiting anxiously. Dalila cries out for her son and the baboons gather around the reunited mother and child. Rafiki approaches Simba and says that they must continue. They immediately set back out on their journey, but even the stronger baboons, including Jelani, are lagging behind.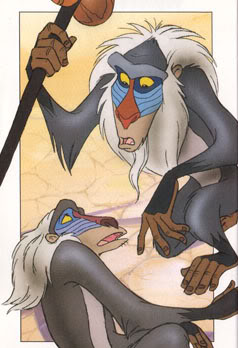 One of the mother baboons tells Rafiki that she's thirsty and that her baby has nothing to drink. Rafiki assures her that they'll find land soon, but Karibu asks how soon, for they were all growing steadily weaker. Again, Rafiki says, "Soon." Simba surveys the dying landscape and gravely admits to himself that if they didn't find water soon enough, they wouldn't make it. He trudges along behind the last of the baboons, wondering where Rafiki was taking them. At almost the same moment, he hears a baboon calling Rafiki's name. The baboons stop and begin clustering around a baboon lying on its side. Simba realizes with a jolt that its Karibu. She's lying on her side with her eyes gently closed.
Rafiki kneels beside her and urges her to keep walking. But Karibu tells him that her walking days are over, and that the troop must go on without her. But Rafiki refuses, and tells her that her time has not come yet. Jelani pushes through the crowd and urges his aunt to get up. But once again, Karibu refuses. Finally, Jelani reaches down and gently hoists his aunt onto his shoulders. The baboons grow quiet and stare at Jelani until he asks them what they're waiting for. The pace quickens. Soon, the landscape starts to change. Brittle grass begins appearing, while the land slopes with gentle hills. Trees grow thicker and Simba soon spots cliffs in the distance. Rafiki keeps marching onward and the grass soon turns from brown to green. Simba even spots a flock of parrots fly overhead.
Rafiki then comes to a stop and holds up his walking stick. He puts his finger to his lips, tips his head to the side, and begins listening intently. One of the young baboons asks Rafiki what he can hear. Rafiki suddenly smiles and tells the other baboons to listen. The young baboon suddenly bursts out that it was a waterfall! Another baboon shouts that they had found water and the troop begins talking all at once. Rafiki breaks into a fast wobble and declares that it was "this way." He leads them into a thick forest canopy where birds fly overhead, monkeys chatter in the trees, and bugs sift through the rich soil.
As they walk, the roar of the falls grows louder. A shaft of sunlight breaks through the trees, and the baboons see the waterfall lying ahead. The torrent of water steadily crashes into a swift-flowing stream. The baboon run forward and eagerly wade into the river, taking in great gulps of precious water. The younger baboons splash playfully as Jelani carries his aunt to the river's edge. He asks if she's feeling better, and she thanks him earnestly. Simba pads to the water's edge and takes in a good drink. When he notices Rafiki sitting off to the side, he walks over and joins him. With obvious relief, he comments that they had finally made it. Rafiki chuckles and says, "We certainly did."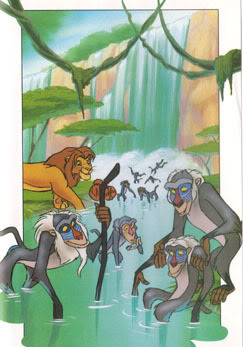 That night, Rafiki and Simba rest by the waterfall with the rest of the troop. The next morning, Jelani comes to them and says that he had woken up early that morning and explored the area. He eagerly tells them that he had found a safe area near the waterfall where the troop could rest and live. Rafiki comments that Jelani has changed and Jelani says that he was wrong to neglect his troop. He should have moved them long ago, but he was too selfish and lazy. He admits that when he saw his aunt fall, he had come to his senses, and realized that it was his fault they were in such a mess. The baboons had struggled so hard to make it here, and had come close to death. If it hadn't been for Rafiki and Simba.... Jelani shakes his head and says that from now on, he would think of the troop first. Rafiki nods and tells Jelani that he is happy to hear it and that now Jelani understood what it meant to be a leader.
Simba and Rafiki then set off for home. On the way to the Pride Lands, Simba thinks over everything that had happened in the past few days. He tells Rafiki that being a leader was an important job, and that it's not always easy. Rafiki agrees and adds that a leader must take his responsibilities seriously. Simba says it applied most to a king. He reflects on his grumbling from the other day, and remembers what had happened when a leader put his own interest over his people's well being. Jelani had almost let his troop starve! Rafiki nods and begins to say something else, when he is interrupted by an urgent call of Simba's name.
Timon and Pumbaa gallop into view with Timon hanging on to Pumbaa's neck. They come to a stop in front of Rafiki and Simba. Alarmed, Simba asks if everything's alright, and Pumbaa comments that it was a good thing Simba was back. Again, Simba asks what had happened. Timon wrings his hands and says that they had a problem they'd like Simba to help solve, like what he'd done with Nassor. Simba patiently asks what's going on and Timon asks him what he thought was better for a sore throat: mashed beetle or ground chicory leaves. Simba is surprised, but Timon doesn't seem to notice as he declares that it was chicory leaves, to which Pumbaa interrupts that beetle was better.
Timon asks Pumbaa how he could say that and the two start arguing. Simba growls to get their attention and tells them to quiet down. He then asks them if that was their problem. Pumbaa says it was certainly a doozy. Simba tries not to smile as he asks them if anyone was in danger. Both shake their heads. Simba asks if the Pride Lands are in danger. Again, they shake their heads. Simba gently tells them then that it's a problem they can work out themselves. Timon is disappointed, but Rafiki interrupts that the king is usually called in for larger disputes than personal arguments. Pumbaa understands and declares that they're issue wasn't as important as other issues Simba needed to deal with. Simba tells him he's right, then apologizes to them. He assures them that it's not that he doesn't care, but that he'd been away for two long days. He was on his way back to Pride Rock and if there were no more serious problems....
Pumbaa urges him on and Simba declares that he's going to find a nice, warm rock and take a long snooze. Rafiki adds that it was a well-deserved snooze and that, "Once the basket is full, the hunter can eat." Simba laughs, then asks Timon and Pumbaa if they'd like to join him. Timon hastily agrees, then turns to Pumbaa and says to call the argument even. When Pumbaa gets a sore throat, he can use mashed beetle, but when Timon gets sore throat, he'll use chicory leaves. Pumbaa grins and hastily agrees, reminding Timon of their moto, "Hakuna Matata". He then yawns and agrees that a nap sounded good. Suddenly, they notice that Rafiki and Simba had gone on without them.
Timon yells after them to wait, for it was almost nap time! Pumbaa adds that they don't want to be late, and the two friends take off after Simba. They soon pass him and bound up Pride Rock in an excited frenzy. Simba comments that it's good to be home, and Rafiki adds that it was good to have a home to come back to. He then tells Simba to hurry, for Nala and Kopa were waiting for him. Simba asks Rafiki if he would mind if Simba ran ahead, and Rafiki simply replies, "Hakuna Matata." Simba breaks into a run and soon disappears from sight. Rafiki picks up the pace and comments to himself that he hoped he wasn't late for the nap.
Community content is available under
CC-BY-SA
unless otherwise noted.