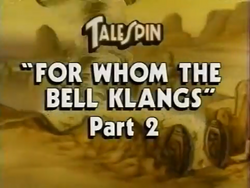 "For Whom the Bell Klangs" is a two-part episode of The Disney Afternoon animated series, TaleSpin. The episodes premiered on November 27 and November 28, 1990. It is the thirty-ninth and fortieth episodes in broadcast order.
Plot
Part I
The episode starts out in the frozen wasteland, with Baloo and Louie fleeing from an angry walrus. Baloo manages evade the walrus by sliding on his belly while Louie hitches a ride. The two land in the ocean and start paddling their way to the Sea Duck, whereupon the walrus lands in the ocean with a big splash, creating a tidal wave which throws Baloo and Louie inside the plane. Baloo starts the Sea Duck and prepares for takeoff. The walrus hitches a ride, but Baloo manages to shake it off. When Louie asks Baloo what he wants to do for the rest of the vacation, Baloo responds, "No more treasure hunting." The two make a promise not to fall for any more pretty faces with bizarre stories while they fly to a warmer place to dry off.
Meanwhile, outside in the desert wastelands near the city of Ghafia, an archaeologist by the name of Katie Dodd has been digging in a small pit. finally, she uncovers something - something she has been itching to find for the past five years - the three Bells of Tinabula.
To be expanded...
Part II
To be added...
Gallery
Home video releases
VHS
TaleSpin: Search for the Lost City
DVD
Trivia
The title is a pun based on the saying "For Whom the Bell Tolls".
Community content is available under
CC-BY-SA
unless otherwise noted.