The France Pavilion is part of the World Showcase in Epcot at the Walt Disney World Resort in Orlando, Florida.
Layout
The France Pavilion is themed to look like a Paris neighborhood with a pool and fountains and with a view of the Eiffel Tower in the distance. Most of the shops on the streets are actual shops selling French goods such as Guerlain perfume. The pavilion also features Impressions de France, a panoramic movie which visits France's cities and historical structures. At Destination D 2018, it was announced that a Beauty and the Beast singalong film would join Impressions de France as an alternating feature. It also includes two French restaurants, the Bistro de Paris and Les Chefs de France, and a bakery, the Boulangerie Patisserie. Gardens near the International Gateway bridge and canal are inspired by Georges Seurat's painting "A Sunday Afternoon on the Island of La Grande Jatte".
With the 2020 expansion of the pavilion for Remy's Ratatouille Adventure, the attraction and a new courtyard are being constructed at the back of the pavilion, with the actual show building for the attraction is being built in space behind the Morocco Pavilion.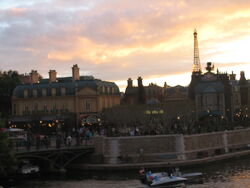 Belle, Beast, and Gaston from the 1991 Disney film Beauty and the Beast, which was partly inspired by the version by French filmmaker Jean Cocteau, make appearances at the pavilion. Other characters with French backgrounds, such as those from The Hunchback of Notre Dame and The Aristocats also appear frequently. Additionally, Disneyland Paris advertisements and merchandise have occasionally been featured in the pavilion's shops.
Attractions and Entertainment
Current
Former
Future
Entertainment
Restaurants
Les Chefs de France
Les Creperie de Paris
Boulangerie Patisserie
Monsieur Paul
Le Vins des Chefs de France
L'Artisan des Glaces
Les Halles Boulangerie-Patisserie
Former restaurants
Creps des Chefs de France
Shops
La Signature
Les Vins de France
Plume et Palette
Souvenirs de France
Gallery
4