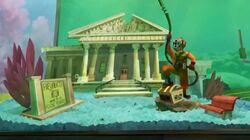 Freshwater High
is a high school located in a fish tank that is located in a pet store.
Mr. Baldwin
is the homeroom teacher,
Coach Salmons
is the P.E. teacher and health instructor,
Mr. Mussels
is the head of the drama department,
Principal Stickler
is of course the principal and
Dr. Frog
is the journalist/creative writing teacher.
Teachers
Mr. Baldwin (homeroom teacher)
Mr. Mussels (drama teacher)
Coach Salmons (P.E. teacher, health instructor)
Principal Stickler (former principal 2010-2012)
Bea Goldfishberg (temporary principal 2012)
Nurse Fishington (Nurse/current principal 2012-present)
Dr. Frog (woodshop/ex journalism teacher)
Ms. Lips (school counselor)[1]
Lunch Lady (lunch lady)
Lunch Lady Eelya (lunch lady)
Unnamed Music Teacher
Unnamed Band Teacher
Unnamed Art Teacher
Unnamed Technology Teacher
Unnamed Librarian
Appearances
"Bea Stays in the Picture (First appearance)
"Fish Sleepover Party"
"Fish Out of Water"
"Doris Flores Gorgeous"
"Underwater Boy"
"Happy Birthfish, Jocktopus"
"Bea Becomes an Adult Fish"
"Queen Bea"
"Fail Fish"
"Funny Fish"
"Baldwin the Super Fish"
"The Tale of Sir Oscar Fish"
"Milo Gets a Ninja"
"Dropsy!"
"Fishing for Compliments: The Albert Glass Story"

"The Dark Side of the Fish"
"Big Fish"
"Fish Floaters"
"Flying Fish"
"Two Clams in Love"
"Legend of the Earth Troll"
"Parasite Fright"
"Pamela Hamster Returns"
"Milo's Big Idea"
"Mascotastrophe
"Good Morning, Freshwater"
"Diary of a Lost Fish"
"We've Got Fish Spirit"
"Hairanoid"
Backround Information
The school has a French Class taught by Dr. Frog ("Hairanoid").
The School has a Basketball and Football team called The Fish Hooks.
References
v - e - d
Locations
Bud's Pets • Freshwater High • Fish Mall • Hamsterwood