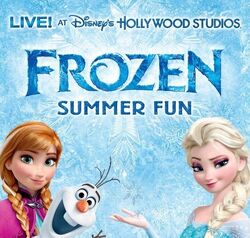 Frozen Summer Fun was a Frozen-themed annual event.
The inaugural event, which began on June 4, 2014 at Disney's Hollywood Studios, features seasonal attraction overlays and entertainment offerings, as well as the opening of For the First Time in Forever: A Frozen Sing-Along Celebration. The event began at Disneyland Paris on June 11, 2015.
Disney California Adventure's event was started from January 7, 2015 to April 17, 2016. Hong Kong Disneyland's event was started from the event on June 11 to October 4, 2016 under the name "Frozen" Village.[1]
Offerings
Major offerings of Frozen Summer Fun include:
Hot Frozen Nights DJ Dance Party
Olaf's Summer Cool Down
Olaf's Snow Fest
"Freeze the Night! A Family Dance Party"
"Frozen" Festival Square
"Frozen" Processional
See also
References