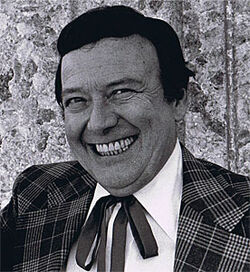 Fulton Burley (June 12, 1922 – May 7, 2007) was an Irish-born Disney Legend who performed as an Irish tenor at Disneyland's Golden Horseshoe Revue from 1962 to 1987. His is also the voice of "Michael," one of the macaw hosts of Walt Disney's Enchanted Tiki Room.
Burley was born in Tipperary and raised in Ontario, coming to the United States in 1943 after landing a singing lead in the Broadway musical, Diamond Horseshoe Revue. He continued to tour the United States after World War Two, performing primarily in musical comedies. It was during this time that Burley honed what would become a near-legendary repertoire of jokes.
While playing at the Hacienda Hotel in Las Vegas in 1962, Burley received a call from Golden Horseshoe Revue entertainer (and fellow Disney Legend) Wally Boag, with whom he worked as a contract player at Metro Goldwyn Mayer. A regular at the Golden Horseshoe Revue had taken ill and Boag concluded that Burley would fit the role perfectly. It was during that time that Burley recorded the voice of "Michael" and Boag the voice of "José" for the Enchanted Tiki Room.
Burley retired from the Golden Horseshoe Revue in 1987 and was named a Disney Legend soon after.
External links and references
Community content is available under
CC-BY-SA
unless otherwise noted.