"Fun and Fancy Free" is the title song of the 1947 Disney animated film of the same name. It is sung in three parts, during the opening of the film, during the part where Jiminy Cricket receives an invitation from Luana Patten, Mortimer Snerd, and Edgar Bergen at a party, and at the end of the film when Willie the Giant walks around Hollywood to search for Mickey Mouse.
Lyrics
Fun, fun, fun and fancy-free
Da, da, da, da
Da, da, da
Full of fun and fancy-free
That's the way I wanna be
I don't let my troubles trouble me
Da-da-da
Da-da-da
Fancy-free
Full of, full of fun
Got no time to worry none
Too busy singin' in the sun, sweet sun

If you should have a chronic ache
Pills won't make you strong
The only tonic you should take
Is a teaspoonful of song

So if you'd really like to be
Happy-go-lucky, just like me
Drown your frowns, my friend, and you will see
You'll see
That you'll be full of fun and fancy-free

Come along, lend an ear; see it for yourself
Meet a guy who's got a song
Troubles are on the shelf
He's so happy all the livelong day
Livin' life the simple way
Knowin' it's the only way to be
Just full of fun, full of fun and fancy-free
Join the party, come along
It's a cinch, can't go wrong
Now's the time to see what you can see
The house is just across the way
Better hurry, don't delay
You'll be full of fun and fancy-free
Now some folks don't believe in giants
Castles up above
And others say that bears don't talk
And never fall in love
If you really wanna find
Happiness, peace of mind
Believe in all your dreams and you will see
You'll be full of fun and fancy
Free and full of fun and fancy-free
v - e - d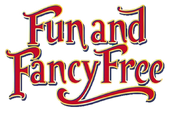 Disney Parks
Sir Mickey's
Community content is available under
CC-BY-SA
unless otherwise noted.